Bread slicer that includes remote fault-finding and remote software upgrades
When one of Britain's leading manufacturers of automatic bread slicing and packaging equipment won an order from a bakery in Kazakhstan, it decided that remote access was essential. Software upgrades and fault-finding had to be made possible remotely from Norwich, England, without having to send an engineer 6,000 km to visit the customer site.
That's when the company invited several automation suppliers, including Omron, to propose solutions for adding remote access to the machine's control system. "There was absolutely no doubt that Omron clearly understood our requirements and knew how to meet them efficiently and cost effectively", says Chris Barfe, Ibonhart Director. "Omron was able to show us similar projects it had worked on with other clients, all of which were operating very successfully."
The decision was, therefore, taken to use Omron automation equipment for all key functions in the new control system.
Omron supplied and integrated all of the automation equipment, which reduced time and development costs. In addition, all of the components were already available and optimised for the food-industry, to save further costs.
More Customer References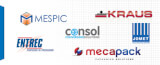 At Omron, we like to listen to our customers. We could spend all day listening to their needs  – it gives us ideas. And because we've been listening to our packaging machine customers for more than 20 years, you won't be surprised that we've had quite a lot of good ideas.

read more