Quattro
Four-axis parallel robot achieves high speed and high precision
Ethernet capability to control the robot through the familiar programming language (IEC 61131-3) of NX/NJ machine controller
Four-axis arm evenly distributes the load on the robot
Fast and high-precision conveyance and assembly
Designed with a high payload to support multi-hand (multi-picking)
650HS model is USDA accepted for primary food handling
1,300 and 1,600 working range models
Up to 15 kg max. payload
IP65 protection class (IP66 for HS model)
Specifications & ordering info
| Product | Payload | Reach | Robot controller | Z-Stroke | Degree of protection (IP) | Rotation -/+ | Platform type | Description |
| --- | --- | --- | --- | --- | --- | --- | --- | --- |
| | 15 kg | 650 mm | EX Controller | 500 mm | IP20 | 0 ° | P30 | Quattro 650H, Add-On, 15 kg payload, 1300mm diameter reach, P30, 0º rotation, 4 axis, 500mm Zaxis, IP20 Base, IP67 Tooling, ePLC |
| | 6 kg | 650 mm | EX Controller | 500 mm | IP20 | 46.25 ° | P31 | Quattro 650H, Add-On, 6 kg payload, 1300mm diameter reach, P31, 46.25º rotation, 4 axis, 500mm Zaxis, IP20 Base, IP67 Tooling, ePLC |
| | 6 kg | 650 mm | EX Controller | 500 mm | IP20 | 92.5 ° | P32 | Quattro 650H, Add-On, 6 kg payload, 1300mm diameter reach, P32, 92.5º rotation, 4 axis, 500mm Zaxis, IP20 Base, IP67 Tooling, ePLC |
| | 6 kg | 650 mm | EX Controller | 500 mm | IP20 | 185 ° | P34 | Quattro 650H, Add-On, 6 kg payload, 1300mm diameter reach, P34, 185º rotation, 4 axis, 500mm Zaxis, IP20 Base, IP67 Tooling, ePLC |
| | 8 kg | 650 mm | EX Controller | 500 mm | IP67 | 0 ° | P30 | Quattro 650HS, Add-On, 8 kg payload, 1300mm diameter reach, P30, 0º rotation, 4 axis, 500mm Zaxis, IP67 Base, IP67 Tooling, ePLC, USDA |
| | 3 kg | 650 mm | EX Controller | 500 mm | IP67 | 46.25 ° | P31 | Quattro 650HS, Add-On, 3 kg payload, 1300mm diameter reach, P31, 46.25º rotation, 4 axis, 500mm Zaxis, IP67 Base, IP67 Tooling, ePLC, USDA |
| | 3 kg | 650 mm | EX Controller | 500 mm | IP67 | 92.5 ° | P32 | Quattro 650HS, Add-On, 3 kg payload, 1300mm diameter reach, P32, 92.5º rotation, 4 axis, 500mm Zaxis, IP67 Base, IP67 Tooling, ePLC, USDA |
| | 3 kg | 650 mm | EX Controller | 500 mm | IP67 | 185 ° | P34 | Quattro 650HS, Add-On, 3 kg payload, 1300mm diameter reach, P34, 185º rotation, 4 axis, 500mm Zaxis, IP67 Base, IP67 Tooling, ePLC, USDA |
| | 15 kg | 650 mm | EX Controller | 500 mm | IP65 | 0 ° | P30 | Quattro 650H, Add-On, 15 kg payload, 1300mm diameter reach, P30, 0º rotation, 4 axis, 500mm Zaxis, IP65 Base, IP67 Tooling, ePLC |
| | 6 kg | 650 mm | EX Controller | 500 mm | IP65 | 46.25 ° | P31 | Quattro 650H, Add-On, 6 kg payload, 1300mm diameter reach, P31, 46.25º rotation, 4 axis, 500mm Zaxis, IP65 Base, IP67 Tooling, ePLC |
| | 6 kg | 650 mm | EX Controller | 500 mm | IP65 | 92.5 ° | P32 | Quattro 650H, Add-On, 6 kg payload, 1300mm diameter reach, P32, 92.5º rotation, 4 axis, 500mm Zaxis, IP65 Base, IP67 Tooling, ePLC |
| | 6 kg | 650 mm | EX Controller | 500 mm | IP65 | 185 ° | P34 | Quattro 650H, Add-On, 6 kg payload, 1300mm diameter reach, P34, 185º rotation, 4 axis, 500mm Zaxis, IP65 Base, IP67 Tooling, ePLC |
| | 10 kg | 800 mm | EX Controller | 500 mm | IP20 | 0 ° | P30 | Quattro 800H, Add-On, 10 kg payload, 1600mm diameter reach, P30, 0º rotation, 4 axis, 500mm Zaxis, IP20 Base, IP67 Tooling, ePLC |
| | 4 kg | 800 mm | EX Controller | 500 mm | IP20 | 46.25 ° | P31 | Quattro 800H, Add-On, 4 kg payload, 1600mm diameter reach, P31, 46.25º rotation, 4 axis, 500mm Zaxis, IP20 Base, IP67 Tooling, ePLC |
| | 4 kg | 800 mm | EX Controller | 500 mm | IP20 | 92.5 ° | P32 | Quattro 800H, Add-On, 4 kg payload, 1600mm diameter reach, P32, 92.5º rotation, 4 axis, 500mm Zaxis, IP20 Base, IP67 Tooling, ePLC |
| | 4 kg | 800 mm | EX Controller | 500 mm | IP20 | 185 ° | P34 | Quattro 800H, Add-On, 4 kg payload, 1600mm diameter reach, P34, 185º rotation, 4 axis, 500mm Zaxis, IP20 Base, IP67 Tooling, ePLC |
| | 7 kg | 800 mm | EX Controller | 500 mm | IP67 | 0 ° | P30 | Quattro 800HS, Add-On, 7 kg payload, 1600mm diameter reach, P30, 0º rotation, 4 axis, 500mm Zaxis, IP67 Base, IP67 Tooling, ePLC, USDA |
| | 1 kg | 800 mm | EX Controller | 500 mm | IP67 | 46.25 ° | P31 | Quattro 800HS, Add-On, 1 kg payload, 1600mm diameter reach, P31, 46.25º rotation, 4 axis, 500mm Zaxis, IP67 Base, IP67 Tooling, ePLC, USDA |
| | 1 kg | 800 mm | EX Controller | 500 mm | IP67 | 92.5 ° | P32 | Quattro 800HS, Add-On, 1 kg payload, 1600mm diameter reach, P32, 92.5º rotation, 4 axis, 500mm Zaxis, IP67 Base, IP67 Tooling, ePLC, USDA |
| | 1 kg | 800 mm | EX Controller | 500 mm | IP67 | 185 ° | P34 | Quattro 800HS, Add-On, 1 kg payload, 1600mm diameter reach, P34, 185º rotation, 4 axis, 500mm Zaxis, IP67 Base, IP67 Tooling, ePLC, USDA |
| | 10 kg | 800 mm | EX Controller | 500 mm | IP65 | 0 ° | P30 | Quattro 800H, Add-On, 10 kg payload, 1600mm diameter reach, P30, 0º rotation, 4 axis, 500mm Zaxis, IP65 Base, IP67 Tooling, ePLC |
| | 4 kg | 800 mm | EX Controller | 500 mm | IP65 | 46.25 ° | P31 | Quattro 800H, Add-On, 4 kg payload, 1600mm diameter reach, P31, 46.25º rotation, 4 axis, 500mm Zaxis, IP65 Base, IP67 Tooling, ePLC |
| | 4 kg | 800 mm | EX Controller | 500 mm | IP65 | 92.5 ° | P32 | Quattro 800H, Add-On, 4 kg payload, 1600mm diameter reach, P32, 92.5º rotation, 4 axis, 500mm Zaxis, IP65 Base, IP67 Tooling, ePLC |
| | 4 kg | 800 mm | EX Controller | 500 mm | IP65 | 185 ° | P34 | Quattro 800H, Add-On, 4 kg payload, 1600mm diameter reach, P34, 185º rotation, 4 axis, 500mm Zaxis, IP65 Base, IP67 Tooling, ePLC |
| | 15 kg | 650 mm | EX Controller | 500 mm | IP20 | 0 ° | P30 | Quattro 650H, 15 kg payload, 1300mm diameter reach, P30, 0º rotation, 4 axis, 500mm Zaxis, IP20 Base, IP67 Tooling, ePLC |
| | 6 kg | 650 mm | EX Controller | 500 mm | IP20 | 46.25 ° | P31 | Quattro 650H, 6 kg payload, 1300mm diameter reach, P31, 46.25º rotation, 4 axis, 500mm Zaxis, IP20 Base, IP67 Tooling, ePLC |
| | 6 kg | 650 mm | EX Controller | 500 mm | IP20 | 92.5 ° | P32 | Quattro 650H, 6 kg payload, 1300mm diameter reach, P32, 92.5º rotation, 4 axis, 500mm Zaxis, IP20 Base, IP67 Tooling, ePLC |
| | 6 kg | 650 mm | EX Controller | 500 mm | IP20 | 185 ° | P34 | Quattro 650H, 6 kg payload, 1300mm diameter reach, P34, 185º rotation, 4 axis, 500mm Zaxis, IP20 Base, IP67 Tooling, ePLC |
| | 8 kg | 650 mm | EX Controller | 500 mm | IP67 | 0 ° | P30 | Quattro 650HS, 8 kg payload, 1300mm diameter reach, P30, 0º rotation, 4 axis, 500mm Zaxis, IP67 Base, IP67 Tooling, ePLC, USDA |
| | 3 kg | 650 mm | EX Controller | 500 mm | IP67 | 46.25 ° | P31 | Quattro 650HS, 3 kg payload, 1300mm diameter reach, P31, 46.25º rotation, 4 axis, 500mm Zaxis, IP67 Base, IP67 Tooling, ePLC, USDA |
| | 3 kg | 650 mm | EX Controller | 500 mm | IP67 | 92.5 ° | P32 | Quattro 650HS, 3 kg payload, 1300mm diameter reach, P32, 92.5º rotation, 4 axis, 500mm Zaxis, IP67 Base, IP67 Tooling, ePLC, USDA |
| | 3 kg | 650 mm | EX Controller | 500 mm | IP67 | 185 ° | P34 | Quattro 650HS, 3 kg payload, 1300mm diameter reach, P34, 185º rotation, 4 axis, 500mm Zaxis, IP67 Base, IP67 Tooling, ePLC, USDA |
| | 15 kg | 650 mm | EX Controller | 500 mm | IP65 | 0 ° | P30 | Quattro 650H, SmartController EX, 15 kg payload, 1300mm diameter reach, P30, 0º rotation, 4 axis, 500mm Zaxis, IP65 Base, IP67 Tooling, ePLC |
| | 6 kg | 650 mm | EX Controller | 500 mm | IP65 | 46.25 ° | P31 | Quattro 650H, SmartController EX, 6 kg payload, 1300mm diameter reach, P31, 46.25º rotation, 4 axis, 500mm Zaxis, IP65 Base, IP67 Tooling, ePLC |
| | 6 kg | 650 mm | EX Controller | 500 mm | IP65 | 92.5 ° | P32 | Quattro 650H, SmartController EX, 6 kg payload, 1300mm diameter reach, P32, 92.5º rotation, 4 axis, 500mm Zaxis, IP65 Base, IP67 Tooling, ePLC |
| | 6 kg | 650 mm | EX Controller | 500 mm | IP65 | 185 ° | P34 | Quattro 650H, SmartController EX, 6 kg payload, 1300mm diameter reach, P34, 185º rotation, 4 axis, 500mm Zaxis, IP65 Base, IP67 Tooling, ePLC |
| | 10 kg | 800 mm | EX Controller | 500 mm | IP20 | 0 ° | P30 | Quattro 800H, 10 kg payload, 1600mm diameter reach, P30, 0º rotation, 4 axis, 500mm Zaxis, IP20 Base, IP67 Tooling, ePLC |
| | 4 kg | 800 mm | EX Controller | 500 mm | IP20 | 46.25 ° | P31 | Quattro 800H, 4 kg payload, 1600mm diameter reach, P31, 46.25º rotation, 4 axis, 500mm Zaxis, IP20 Base, IP67 Tooling, ePLC |
| | 4 kg | 800 mm | EX Controller | 500 mm | IP20 | 92.5 ° | P32 | Quattro 800H, 4 kg payload, 1600mm diameter reach, P32, 92.5º rotation, 4 axis, 500mm Zaxis, IP20 Base, IP67 Tooling, ePLC |
| | 4 kg | 800 mm | EX Controller | 500 mm | IP20 | 185 ° | P34 | Quattro 800H, 4 kg payload, 1600mm diameter reach, P34, 185º rotation, 4 axis, 500mm Zaxis, IP20 Base, IP67 Tooling, ePLC |
| | 7 kg | 800 mm | EX Controller | 500 mm | IP67 | 0 ° | P30 | Quattro 800HS, SmartController EX, 7 kg payload, 1600mm diameter reach, P30, 0º rotation, 4 axis, 500mm Zaxis, IP67 Base, IP67 Tooling, ePLC, USDA |
| | 1 kg | 800 mm | EX Controller | 500 mm | IP67 | 46.25 ° | P31 | Quattro 800HS, SmartController EX, 1 kg payload, 1600mm diameter reach, P31, 46.25º rotation, 4 axis, 500mm Zaxis, IP67 Base, IP67 Tooling, ePLC, USDA |
| | 1 kg | 800 mm | EX Controller | 500 mm | IP67 | 92.5 ° | P32 | Quattro 800HS, SmartController EX, 1 kg payload, 1600mm diameter reach, P32, 92.5º rotation, 4 axis, 500mm Zaxis, IP67 Base, IP67 Tooling, ePLC, USDA |
| | 1 kg | 800 mm | EX Controller | 500 mm | IP67 | 185 ° | P34 | Quattro 800HS, SmartController EX, 1 kg payload, 1600mm diameter reach, P34, 185º rotation, 4 axis, 500mm Zaxis, IP67 Base, IP67 Tooling, ePLC, USDA |
| | 10 kg | 800 mm | EX Controller | 500 mm | IP65 | 0 ° | P30 | Quattro 800H, SmartController EX, 10 kg payload, 1600mm diameter reach, P30, 0º rotation, 4 axis, 500mm Zaxis, IP65 Base, IP67 Tooling, ePLC |
| | 4 kg | 800 mm | EX Controller | 500 mm | IP65 | 46.25 ° | P31 | Quattro 800H, SmartController EX, 4 kg payload, 1600mm diameter reach, P31, 46.25º rotation, 4 axis, 500mm Zaxis, IP65 Base, IP67 Tooling, ePLC |
| | 4 kg | 800 mm | EX Controller | 500 mm | IP65 | 92.5 ° | P32 | Quattro 800H, SmartController EX, 4 kg payload, 1600mm diameter reach, P32, 92.5º rotation, 4 axis, 500mm Zaxis, IP65 Base, IP67 Tooling, ePLC |
| | 4 kg | 800 mm | EX Controller | 500 mm | IP65 | 185 ° | P34 | Quattro 800H, SmartController EX, 4 kg payload, 1600mm diameter reach, P34, 185º rotation, 4 axis, 500mm Zaxis, IP65 Base, IP67 Tooling, ePLC |
Compare products
Show more products
Accessories
Ordering information
Apperance
Type
Name/Specifications
Order code
Robot Controller
SmartController EX
19200-000
SmartController EX + Front Panel
19300-000
Pendant
T20 Pendant with 10 m Cable
10046-010
T20 Pendant-Jumper Plug
10048-000
T20 Pendant Wall Bracket
10079-000
T20 Adapter Cable, 3 m
10051-003
Vision Controller
IPC Application Controller
AC1-152000
SmartVision MX
14189-901
Camera
GigE PoE, 658 x 492 pixels, 120 fps, Monochrome, CCD (1/4-inch equivalent), camera cables included (10 m)
24114-100
GigE PoE, 658 x 492 pixels, 120 fps, Color, CCD (1/4-inch equivalent), camera cables included (10 m)
24114-101
GigE PoE, 1296 x 964 pixels, 30 fps, Monochrome, CCD (1/3-inch equivalent), camera cables included (10 m)
24114-200
GigE PoE, 1296 x 964 pixels, 30 fps, Color, CCD (1/3-inch equivalent), camera cables included (10 m)
24114-201
GigE PoE, 1602 x 1202 pixels, 60 fps, Monochrome, CMOS (1/1.8-inch equivalent), camera cables included (10 m)
24114-250
GigE PoE, 1602 x 1202 pixels, 60 fps, Color, CMOS (1/1.8-inch equivalent), camera cables included (10 m)
24114-251
GigE PoE, 2048 x 2048 pixels, 25 fps, Monochrome, CMOS (1-inch equivalent), camera cables included (10 m)
24114-300
GigE PoE, 2048 x 2048 pixels, 25 fps, Color, CMOS (1-inch equivalent), camera cables included (10 m)
24114-301
Belt Encoder
(Conveyor-Tracking)
Encoder Kit IP65
09742-001
Y-Adapter Cable, 3 m
09443-000
Encoder Extension Cable, 5 m
09446-050
SCEX-BELT,Y-Adapter Cable, 0.5 m
09550-000
XBELTIO Cable, 0.6 m
13463-000
Additional I/O Options
IO Blox (connect to robot), 8 inputs/8 outputs, cables included (0.3 m)
90356-30200
IO Block (connect to previous IO Blox), 8 inputs/8 outputs, cables included (0.3 m)
90356-30100
IO Blox-to-robot Cable, 3 m
04677-030
IO Blox-to-IO Blox Cable, 3 m
04679-030
IO Blox-to-IO Blox Cable, 0.3 m
04679-003
XIO Termination Block, 12 inputs/8 outputs, cables included (1.8 m)
90356-40100
XDIO Termination Block, 50 pin, cables included (2 m)
09747-000
Front Panel
Front Panel with 3 m cable
90356-10358
Front Panel Cable, 3 m
10356-10500
Power Supply/Cable
AC Power Cable, 5 m
04118-000
24 VDC Power Cable, 5 m
04120-000
24 VDC, 6.5 A, 150 W (Front Mounting), Power Supply
S8FS-G15024C

2

Refer to the Switch Mode Power Supply Datasheet (Cat.No.T207) for details.
24 VDC, 6.5 A, 150 W (DIN-Rail Mounting), Power Supply
S8FS-G15024CD

2

Refer to the Switch Mode Power Supply Datasheet (Cat.No.T207) for details.
1394 Cable, 4.5 m
13632-045
eAIB XSYSTEM Cable Assembly, 1.8 m
13323-000
DB9 Splitter, 0.3 m
00411-000
eAIB XSYS Cable, 4.5 m
11585-000
Ethernet Cable
XS6W-6LSZH8SS⬜⬜⬜CM-Y

2

Refer to the Industrial Ethernet Cables Catalog (Cat.No.G019) for details.
Industrial Switching Hubs
W4S1-05C

2

Refer to the Industrial Switching Hubs Catalog (Cat.No.V227) for details.
Solenoid Valve Kit
eCobra robots (600, 800, 800 Inverted)
02853-000
Cable Seal Kit
Hornet 565 IP65/67, Quattro 650HS IP65/67, Quattro 800HS IP65/67
08765-000
Quattro 650HS Standard, Quattro 800HS Standard
09564-000
eCobra 800 IP65/67
04813-000
eCobra 800 Inverted IP65
09073-000
ACE License
Automation Control Environment (for ACE 4.x)
Please download it from following URL:
http://www.adept.com/Robots-Tool
ACE PackXpert (for ACE 4.x)
20409-000
ACE Sight Vision Software (for ACE 4.x)
20410-000
ACE PackXpert with ACE Sight Vision (for ACE 4.x)
This license contains an ACE PackXpert license and an ACE Sight license.
20433-000
Related Products
Machine Automation Controller NX/NY/NJ Series
NX/NY/NJ

2

Refer to the Sysmac Catalog (Cat.No.P072) for details.
Automation Software Sysmac Studio
SYSMAC-SE2⬜⬜⬜

2

Refer to the Sysmac Catalog (Cat.No.P072) for details.
Collection of software functional componentsSysmac LibraryAdept Robot Control Library
SYSMAC-XR009

2

Refer to the Sysmac Library Catalog (Cat.No.P106) for details.
Note:
Contact your Omron representative for lenses, lights, and licenses.
Sysmac Library
The Sysmac Library is a collection of software functional components that can be used in programs
for the NX/NY/NJ Machine Automation Controllers.Please download it from following URL and install to Sysmac Studio Automation Software.http://www.ia.omron.com/sysmac_library/The Adept Robot Control Library allows you to control Delta, Articulated and SCARA robots manufactured
by Omron Adept Technologies Inc. from the NX/NY/NJ Machine Automation Controller by using the same
instructions and programming methods.
How can we help you?
If you have a question or would like to ask for a quote, please contact us or send a request.
Pricing
Request a quote
Thank you for requesting a quotation. We will provide you with the required information as soon as possible.
We are experiencing technical difficulties. Your form submission has not been successful. Please accept our apologies and try again later. Details: [details]
Download
Delta Robot Series
Quattro 800H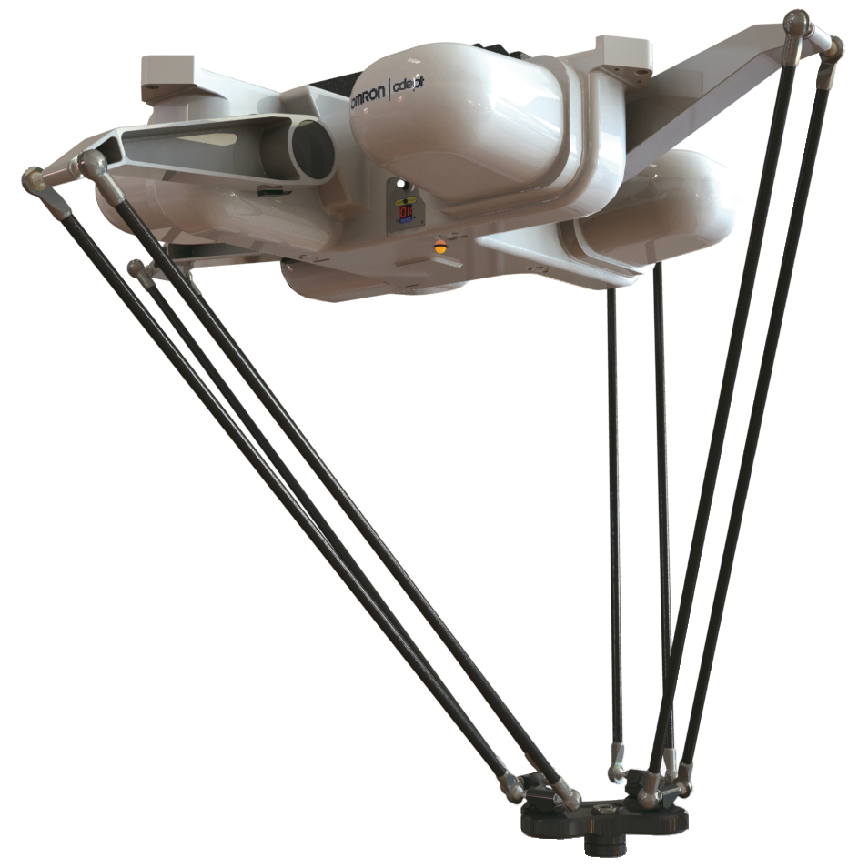 Rated working range: Ø 1,600 x 215 mm (Max. 500 mm)
Max. payload range: 4 to 10 kg
Number of axis: 4
IP65 (with optional cable sealing kit)
Quattro 650H/HS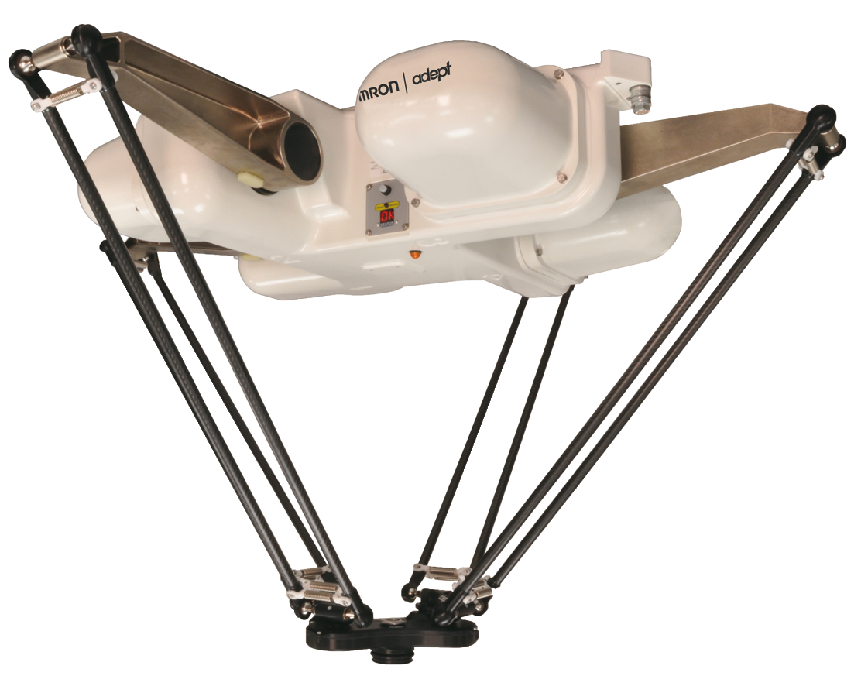 Rated working range: Ø 1,300 x 215 mm (Max. 500 mm)
Max. payload range: 3 to 15 kg
Number of axis: 4
IP65 (with optional cable sealing kit), IP66 HS model
Quattro 650HS is USDA accepted for primary food handling
Control Units
Robot Control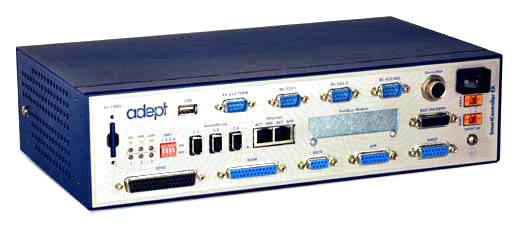 SmartController EX
An ultra-compact, high-performance, distributed robot motion controller capable of controlling an entire production line including up to 4 robots and third-party peripherals. The controller's distributed architecture, embedded software, integrated belt tracking and high-speed communications allows users to integrate their automation systems with the user-friendly interface of the ACE PC-based software.
Designed for use with Cobra SCARA robots, Viper six-axis robots, Quattro and Hornet parallel robots, the controller features Gigabit Ethernet, a high-speed processor and new software, called Adept eV+. Integration with the SmartVision delivers seamless control of your vision systems, belts and robots. The SmartController EX is smart control delivered.
Communications Interfaces / Software
RS- 232 serial port (115kbps), RS- 422/485 serial por, Gigabit Ethernet, DeviceNet, SmartServo interface (3x), eV+ real-time multi-tasking operating system and programming language, ACE™, TCP/IP Interface
Robot Support
Cobra robots, Viper robots, Quattro and Hornet robots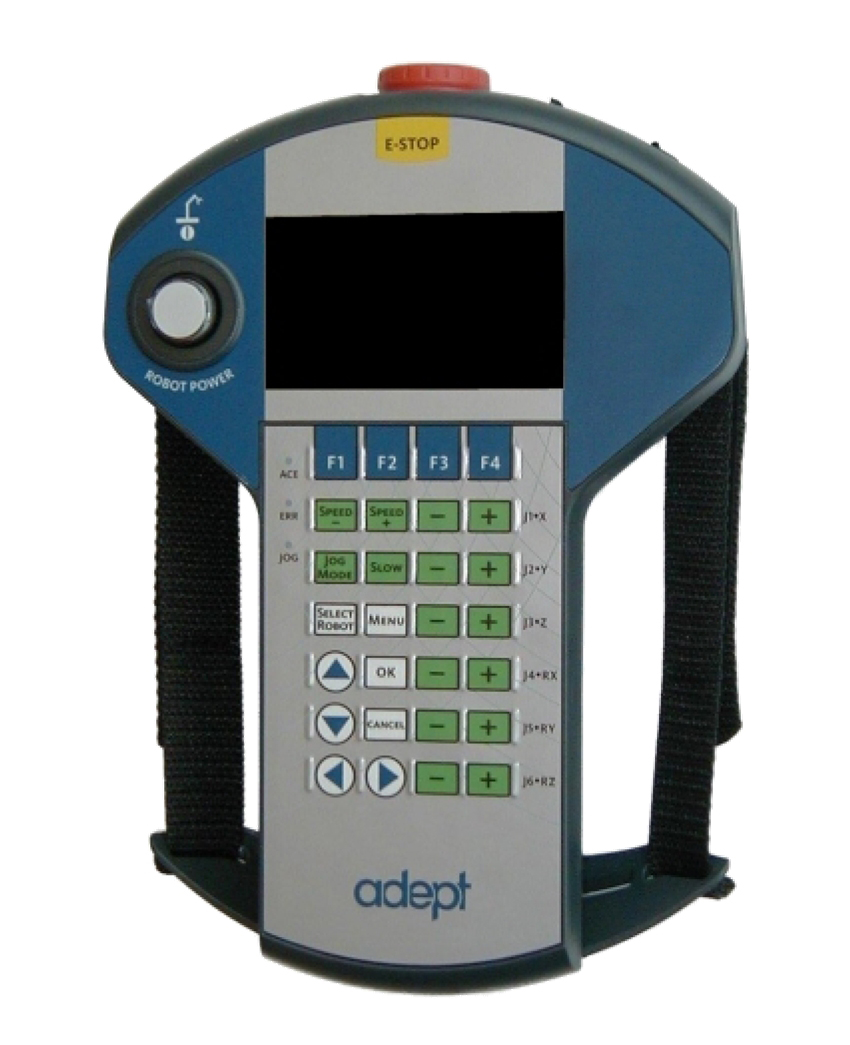 T20 Pendant
The T20 manual control pendant provides an ergonomic and durable package which users can manually teach the robot system. All gripping and holding positions enable comfortable and fatigue-free operation. The T20 pendant is compatible with any robot that is controlled by the SmartController EX motion controller.
Product Details- Supports
Enable/disable power
Jog the robot in different modes (joint, world, tool, frame)
E-Stop button and 3-position enable switch
Colorful and high resolution User Interface
Teach locations
Display robot position, digital I/O, and system status
Display IP address of controller
Product Includes
T20 Pendant with 10m cable attached, 3m adapter cable with bulkhead connector and Documentation
Vision & Inspection Guidance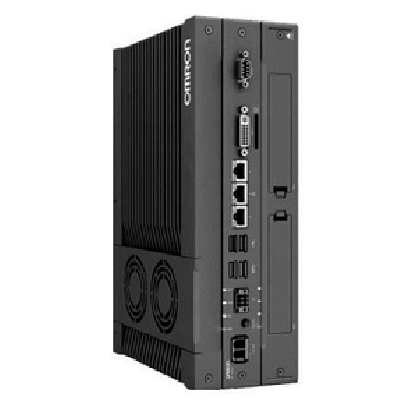 State-of-the-art industrial computer optimized for vision guided robotics applications: IPC Application Controller
Built-in vision processor with 128GB SSD, optimized to process high resolution, high frame rate images, with ACE 4.X
Unique simplified thermal design to maximize uptime
GigE PoE and USB 3.0 ports for increased connectivity and fast data transmission
Supports up to 8 cameras simultaneously
Compatible with Omron UPS S8BA Series
Compact design to minimize panel space, allowing 2 mounting orientations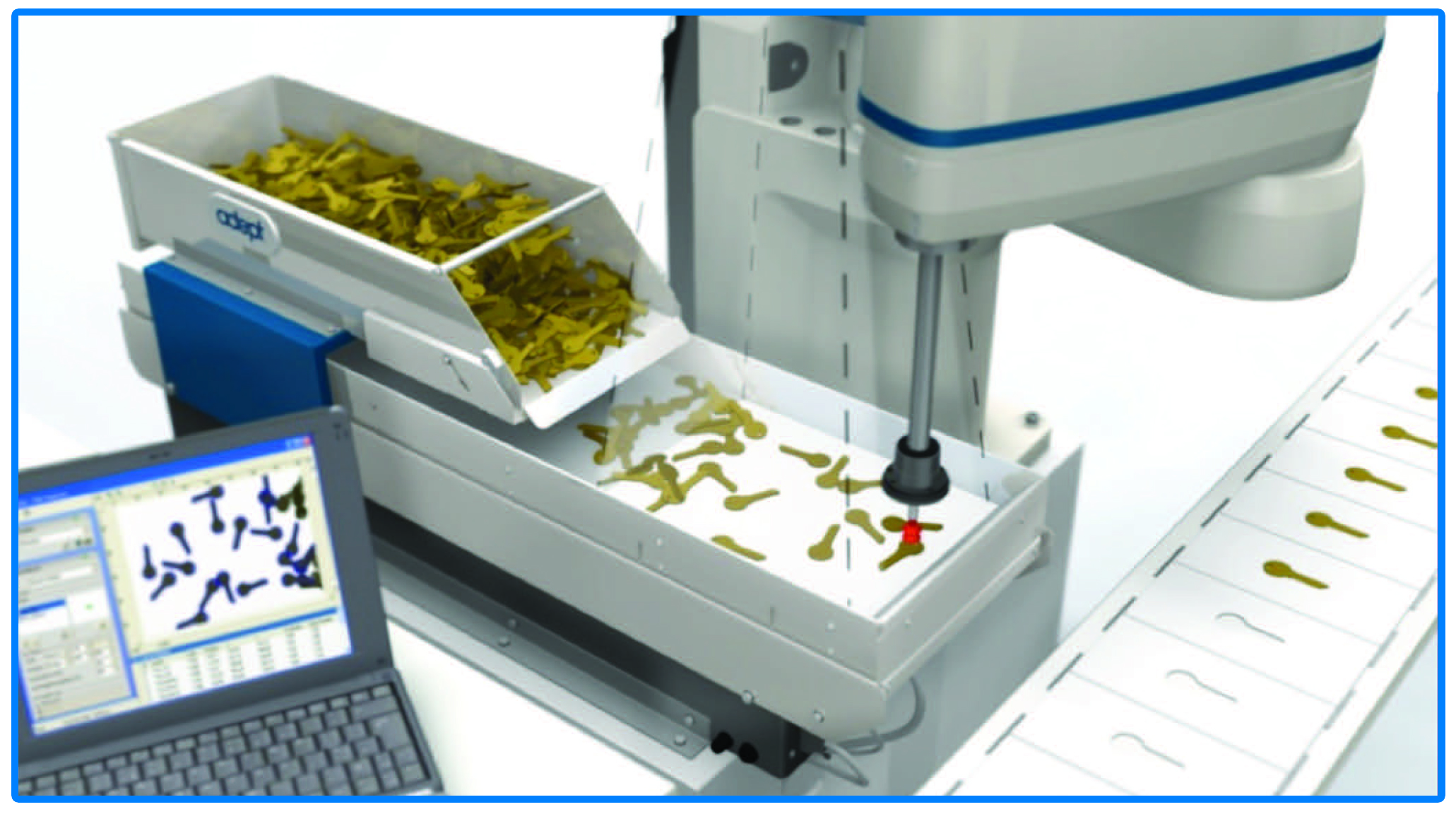 Vision Guidance: ACE Sight
An easy-to-use, standalone vision guidance and inspection package that runs on a PC, and comes complete with all the necessary hardware and accessories. This software includes a powerful framework that can be used to develop customized vision guidance and inspection applications. Its simple graphical user interface allows you to quickly develop robust and accurate vision applications. ACE Sight simplifies deployment in difficult conditions with its robust vision, algorithms are tolerant to poor lighting, noise, and occlusions."
Product Features
Fast, Accurate Parts Location
Automatic model-teaching and fully editable models
Advanced Inspection Capabilities
Results filtering tool simplifies setup of Pass-Fail inspection applications
Vision Guidance and Calibration
Application Development
Calibration
Conveyor Tracking
Complete Vision Guided Robot System
Package Includes
ACE Sight software, FireWire camera, 640 x 480 or 1392 x 1040, with 16 mm lens, Camera mounting kit, FireWire cable (10m)