Mespic's all-in-one solution...
The Italian-based Mespic specializes in the design and construction of integrated end-of-line packaging machinery. The company recently worked with Omron to develop an all-in-one secondary and final packaging solution for packs of tea.

This is a dedicated line which incorporates transport of the packs, aggregating different product types and formats, and automatically placing them in different packing cases.
The key issue is that the packs containing different tea flavours – each coming from a different line – must be accurately placed into separate cases for despatch. So when the different teas arrive at the Mespic end-of-line plant, they are first scanned by an Omron FQ vision system, which identifies the different product types.
The data is sent via an Ethernet link to the pick-and-place system, which puts the tea packs into different cases. The open cases are first marked with a Data Matrix code, and then automatically sealed:
finally, a second Omron FQ-CR vision system reads the code printed on the case, to identify the contents and ensure accurate despatch.
More Customer References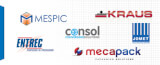 At Omron, we like to listen to our customers. We could spend all day listening to their needs  – it gives us ideas. And because we've been listening to our packaging machine customers for more than 20 years, you won't be surprised that we've had quite a lot of good ideas.

read more