Sysmac automation: simplifying the complex process of metal tube production, and reducing time to market
The production of cans for beverages, foodstuffs and other products is a complex process, in which a metal sheet is deep-drawn into a tube, painted internally and externally, printed, filled and packed.
Production lines are typically 80m in length, along which various ancillary processes must be coordinated in order to maintain high output levels. Each process must be precisely controlled to ensure that cans reach the customer with no leaks, dents, creases, or other blemishes.
German manufacturer Mall + Herlan, based in Pfinztal-Berghausen, is a specialist in the design and production of these complex tube-production lines. In developing their latest system, they relied on Omron's Sysmac automation platform to ensure complete integration of the controller, devices, networking and associated software.
Sysmac provided a fully integrated development environment in which every aspect of the new system could be configured, visualised and monitored using common parameters.
Jürgen Martin, Head of Electrical Design at Mall + Herlan, says that "experts seconded to us from Omron programmed essential modules for the system, which meant that the normal time frame for conversion to the new system controller was drastically reduced."
More Customer References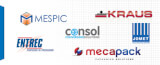 At Omron, we like to listen to our customers. We could spend all day listening to their needs  – it gives us ideas. And because we've been listening to our packaging machine customers for more than 20 years, you won't be surprised that we've had quite a lot of good ideas.

read more