Omron helps Beta-Pak build a business on quality, reliability and efficiency
Beta-Pak, Turkey's leading packaging-machine maker, exports its high-quality thermoforming machines to 35 countries across the Middle East and North Africa. The company relies on Omron for its automation equipment and systems, and is now building its business in Western Europe.
"We will listen to what customers in Europe say to us, and when we need to develop more advanced solutions, we know that we can rely on Omron to help us." Turgay Gezer, Beta-Pak general manager.
"Omron has the products and systems to help us get more from our machines"
Beta-Pak Otomatik Paketleme, based in Istanbul, Turkey, manufactures thermoforming machines to create packaging for food and beverages, and for medical and pharmaceutical products. The company has standardised on Omron products and systems for machine control and automation, and general manager Turgay Gezer says that "Using Omron equipment has helped us to develop an excellent reputation in the market for efficiency and reliability."

Beta-Pak's main markets have been in the Middle East and North Africa, but it is now expanding into Western Europe, with sales in France and Germany, as well as to Russia. Turgay Gezer explains that "as we go into more high-end markets, we are confident that Omron has the products and systems we will need to help us get more from our automation equipment."
More Customer References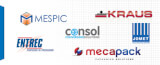 At Omron, we like to listen to our customers. We could spend all day listening to their needs  – it gives us ideas. And because we've been listening to our packaging machine customers for more than 20 years, you won't be surprised that we've had quite a lot of good ideas.

read more