Meat packaging made 400% faster
With single integrated Vision-Controller-Robot solution

When Atria PLC, an international Finnish food company, decided to increase its product packaging speed at its Malmö plant in Sweden. However space was very limited and Atria did not want to rebuild its production facilities. In addition, Atria wanted a very easy way for the machine operator to locate and remove blockages and get the machine back up and running very quickly.

Atria invited five specially selected turnkey suppliers to tender for the project. After in-depth analysis they chose the machine builder "Case-Link" who proposed 100% Omron products and services. The Case-Link/Omron combination resulted in a very compact solution since it integrated all Vision-Controller-Robot-Safety-I/O-Server activities into one network. And, since all these solutions come from the same manufacturer everything was guaranteed to work and communicate together faultlessly.

"The Case-Link/Omron solution is not only very technically advanced it is also very cost-competitive," says spokesperson for Atria. "Some of the other suppliers recommended several robots in each cell. This would have cost substantially more than the single robot cell solution from Case-Link and Omron."

More Customer References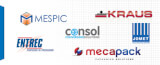 At Omron, we like to listen to our customers. We could spend all day listening to their needs  – it gives us ideas. And because we've been listening to our packaging machine customers for more than 20 years, you won't be surprised that we've had quite a lot of good ideas.

read more