Machines that deliver beyond the users' expectations
Finnish machine-maker Jomet builds a comprehensive range of packaging solutions, responding to customer demands for innovation.
Jomet's Automation manager, Juha Kiiskinen, says "We have a good relationship with our customers, and they know they can rely on us to build machines to meet their needs." He says that by working with Omron, and utilizing to the full the Sysmac automation platform, Jomet builds machines that deliver "more speed, lower costs and increased uptime."
Cutting-edge solutions in a competitive market
Finnish machine-maker Jomet works with Omron to deliver cutting-edge packaging solutions that meet – and exceed – customer demands for innovative products that are fast and reliable.
"We've found that with Omron's Sysmac automation platform programming, design, commissioning and installation are all a lot easier and faster," says Juha Kiiskinen, Automation manager. The Sysmac platform and Omron's market knowledge also helps to ensure that redevelopment and upscaling of existing machines will be much simpler.
Jomet's aim is to help their customers to develop innovative packaging. They do this by utilizing their own comprehensive experience, and backing it with Omron technology, adding value that can be extended down the supply chain to the ultimate customer.
More Customer References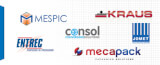 At Omron, we like to listen to our customers. We could spend all day listening to their needs  – it gives us ideas. And because we've been listening to our packaging machine customers for more than 20 years, you won't be surprised that we've had quite a lot of good ideas.

read more