Helping Line Equipment to develop more advanced machines
Watch the interview to see how, with our support, the implementation of our software and hardware solutions into their machines has enabled Line Equipment to bring more advanced products to market.
Line Equipment, established in 1989, design and manufacture Vertical Form Fill & Seal machines that are custom made to suit varied packaging requirements, be it granules, powders, liquids or solids across the food & beverage, pharmaceutical and cosmetic industries.
Not enough time to watch the full video?
Fast forward to discover more about:
01:39 - The partnership with Omron
01:57 - Implementing product into their machine
02:33 - Ongoing working relationship
03:14 - Support offered
03:38 - Overcoming challenges
04:40 - Tailored software solution
04:56 - Benefits with working with Omron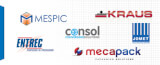 At Omron, we like to listen to our customers. We could spend all day listening to their needs  – it gives us ideas. And because we've been listening to our packaging machine customers for more than 20 years, you won't be surprised that we've had quite a lot of good ideas.

read more