From compound to tube, in any format!
Read how Omron PLCs and touchscreens are at the heart of solutions developed by Axomatic to produce and package, all types of creams, gels and emulsions.
For 30 years, Axomatic has been developing, designing and manufacturing automated machines for the pharmaceutical, cosmetic, chemical and food industries. The company has two production sites—one in Milan and one in Vicenza—and has delivered more than 1500 systems worldwide to date.
The jewels in the company's crown are its mixers and tube filling machines, which represent solutions designed to meet the highest standards of compliance, versatility and performance required by the industry. As a supplier of technology for everything relating to in-built machine intelligence, Omron is able to offer vital support.
No time to watch the whole clip?
Fast forward through the video to learn more at:
00:15 — Axomatic, thirty years of filling tubes
02:18 — Choosing Omron
02:59 — Flexibility and quick format change
04:15 — The importance of temperature control
More Customer References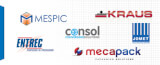 At Omron, we like to listen to our customers. We could spend all day listening to their needs  – it gives us ideas. And because we've been listening to our packaging machine customers for more than 20 years, you won't be surprised that we've had quite a lot of good ideas.

read more