Technological advances mark the difference between the present and the future
Read how Aranow Packaging Machinery is increasing production and improving the quality of its products thanks to integrated control with our Sysmac Automation Platform.
Aranow Packaging Machinery is a packaging company specialising in the design, manufacture and sale of single-dose packing and packaging lines worldwide. Constant innovation and the development of advanced automation systems mean that Aranow is now a manufacturer of multi-lane stickpack and 4-side-seal flat envelope (single-dose format in flexible film) packaging machines that are well known around the world.
Aranow also offers packaging solutions with flat envelopes, alternative packaging (shaped envelopes and the twinpack, which forms two cavities in the envelope, allowing two products to be packaged in one) as well as secondary packaging (packaging with cardboard cartons, pillow bags, stand-up pouches or flowpacks at the end of the line). All full production lines designed by the company are suitable for packaging any kind of product (liquid, granules, powder or solids).
The markets Aranow targets in the packaging sector are:
Food and beverages
Dairy products (one of the most critical markets due to the strict and exhaustive hygiene and cleanliness controls to which all dairy products are subjected)
Pharmaceuticals
Cosmetics
More Customer References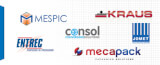 At Omron, we like to listen to our customers. We could spend all day listening to their needs  – it gives us ideas. And because we've been listening to our packaging machine customers for more than 20 years, you won't be surprised that we've had quite a lot of good ideas.

read more