E32 Longer distance
Longer distance fiber sensor heads
With built-in focal lenses the longer distance fiber heads provide enhanced operational stability in dusty environments or long distance applications
Sensing distance up to 20 m
Built-in focal lens
Sizes from dia 2mm to M14
Specifications & ordering info
| Product | Sensing method | Shape | Size | Diameter sensor | Features | Temperature range | Sensing distance | Cable length | Description |
| --- | --- | --- | --- | --- | --- | --- | --- | --- | --- |
| | Diffuse reflective | Threaded | M6 | 6 mm | | -40-70 °C | | 2 m | Photoelectric sensor optical fiber, diffuse, M6, long-distance, 2m cable (requires E3X amplifier) |
| | Diffuse reflective | Cylindrical axial | | 3 mm | | -40-70 °C | 670 mm | 2 m | Photoelectric sensor optical fibre, diffuse, 3mm dia, long-distance, 2m cable (requires E3X amplifier) |
| | Diffuse reflective | Threaded | M4 | 2.5 mm | | -40-70 °C | 390 mm | 2 m | Fiber optic sensor, diffuse, M4, long-distance, 2m cable (requires E3X amplifier) |
| | Diffuse reflective | Cylindrical axial | | 3 mm | | -40-70 °C | 390 mm | 2 m | Photoelectric sensor optical fiber, diffuse, 3 mm diameter, long-distance, 2 m cable (requires E3X amplifier) |
| | Diffuse reflective | Threaded | M6 | 1.5 mm | | -40-70 °C | 540 mm | 2 m | Fiber optic sensor, diffuse, M6 head with lens, long distance, standard R25 fiber, 2m cable |
| | Diffuse reflective | Threaded | M6 | 6 mm | 90° cable exit, Flexible fiber, Hexagonal back | -40-70 °C | 520 mm | 2 m | Fiber optic sensor, diffuse, M6 hex right-angled head, integrated lens, high-flex R2 fiber, 2m cable |
| | Diffuse reflective | Threaded | M6 | 1.5 mm | Flexible fiber | -40-70 °C | 520 mm | 2 m | Fiber optic sensor, diffuse, M6 head, long distance, high flex R1 fiber, 2 m cable |
| | Through-beam | Threaded | M4 | 4 mm | | -40-70 °C | 4000 mm | 2 m | Fiber optic sensor, through-beam, M4 head with lens, long distance, standard R25 fiber, 2m cable |
| | Through-beam | Threaded | M4 | 4 mm | 90° cable exit, Flexible fiber, Hexagonal back | -40-70 °C | 4000 mm | 2 m | Fiber optic sensor, through-beam, M4 hex right-angled head, integrated lens, high-flex R2 fiber, 2 m cable |
| | Through-beam | Threaded | M4 | 4 mm | Flexible fiber, R1 Bending radius 1 mm | -40-70 °C | 4000 mm | 2 m | Fiber optic sensor, through-beam, M4 head, long distance, high flex R1 fiber, 2m cable |
| | Through-beam | Threaded | M4 | 4 mm | | -40-70 °C | 3900 mm | 2 m | Photoelectric sensor optical fiber, through-beam, M4, long-distance, 2m cable (requires E3X amplifier) |
| | Through-beam | Cylindrical axial | | 3 mm | | -40-70 °C | 3900 mm | 2 m | Fiber optic sensor, through-beam, dia 3mm head with lens, long distance, standard R25 fiber, 2m cable |
| | Through-beam | Square | | -8888 mm | | -40-70 °C | 4000 mm | 2 m | Fiber optic sensor, through-beam, side view, 2m cable |
| | Through-beam | Threaded | M3 | 3 mm | | -40-70 °C | 1200 mm | 2 m | Fiber optic sensing head, through-beam, 2 m cable |
| | Through-beam | Threaded | M3 | 3 mm | | -40-70 °C | 2000 mm | 2 m | Fiber optic sensor, through-beam, M3, 2m cable |
Compare products
Show more products
Accessories
Accessories
 

- Extends sensing distance by more than 500%

- For M4 Through beam fibers E32-TC200, E32-ET11R, E32-T11 (fits M2.6 thread)

 

- For M4 through beam fibers E32-TC200, E32-ET11R, E32-T11,
E32-T61-S, E32-T81R-S (fits M2.6 thread)

- Temperature range -40 to 200°C

 

 

 

- For precision detection with M6 coaxial diffuse reflective fibers (e.g. E32-CC200)

 

 

- Extends sensing distance by more than 500%

- For M4 through beam fibers E32-ET51, E32-T61, E32-T61-S,
E32-T81R, E32-T81R-S (fits M4 thread)

- Temperature range -60 to 350°C

 

- Fits E32-T51V and E32-T54V (fits M2.6 thread)

 

 

- Amplifier adapter for thin fibers

 

 

- Fiber extension connector for 2.2 mm dia standard fibers

 

 

Protective spiral tube 1

- For M3 through beam type sensors

- For M4 through beam type sensors

 

Fiber on roll 2

- Standard monocore, 10 mm bending radius

- Standard monocore, 15 mm bending radius

- High flex multicore, 1 mm bending radius

- High flex multicore, 1 mm bending radius

- High temperature monocore, 20 mm bending radius
---
How can we help you?
If you have a question or would like to ask for a quote, please contact us or send a request.
Pricing
Request a quote
Thank you for requesting a quotation. We will provide you with the required information as soon as possible.
We are experiencing technical difficulties. Your form submission has not been successful. Please accept our apologies and try again later. Details: [details]
Download
Features
Enhanced sensing distance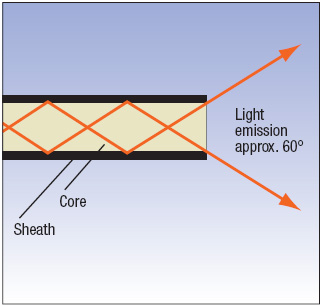 Light emission of conventional fibers.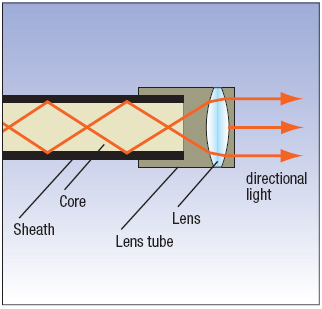 With built-in focal lenses, longer sensing distances can be achieved up to 5 times longer compared to conventional sensors.