Automatic pallet delivery vehicle manufacturer chooses CJ2 PLCs
Marketed as "adaptable to any and every plant need and to any kind of product", TecnoFerrari pallet delivery vehicles handle a variety of highly complex and demanding path definitions, speeds and accuracies. That's why the company chose CJ2 PLCs.

TecnoFerrari automatic pallet delivery vehicles are battery-powered shuttles that move automatically via a laser or magnet guided system. In addition, each system allocates its own block times to auto-recharge its batteries without operator intervention. The vehicles also have sophisticated and reliable active and passive safety systems to prevent collisions.

The automation of the pallet delivery vehicle is controlled by the powerful CPU of the Omron CJ2 PLC. High computational speed enables the system to handle the complex algorithms for path definition, as well as speed and accuracy. In addition, integrated RFID provides back-up position verification.

Ideal for all types of packaging machine automation
The CJ2M Series is ideal for all packaging machine automation needs because connectivity is assured by the built-in USB port and the choice of Ethernet and RS-232C/422/485 interfaces on the CPU.

More Customer References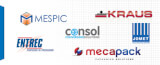 At Omron, we like to listen to our customers. We could spend all day listening to their needs  – it gives us ideas. And because we've been listening to our packaging machine customers for more than 20 years, you won't be surprised that we've had quite a lot of good ideas.

read more