Unrivalled speed, impressive reliability and superior cutting accuracy
Kraus Maschinenbau's new BS320 high-speed pouch cutter uses a rotating blade operating at more than 400 cycles per minute – twice as fast as systems using a shearing process – for cutting desiccant-filled pouches and similar products delivered from a continuous reel or web.
"Omron is our first choice for control technology and feedback control systems." Joachim Kraus, managing director, Kraus Maschinenbau
It achieves this using Omron's NJ machine controller, part of the powerful Sysmac automation platform, which integrates all devices linked over an embedded EtherCAT field bus network.
The co-ordination of all devices through the Sysmac platform ensures fast cycle times, but also enables rapid product development. With Sysmac Studio software, the entire system could be programmed and visualised in a single operation, eliminating the need for additional software interfaces.
The combination of coordinated components, an efficient field bus network and a straightforward development environment helped reduce time to market, benefiting both Kraus and the end-user. Managing director Joachim Kraus says that "Omron is our first choice for control technology and feedback control systems. We have been particularly impressed by the compact construction of the various products and the expert support we receive."
More Customer References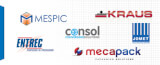 At Omron, we like to listen to our customers. We could spend all day listening to their needs  – it gives us ideas. And because we've been listening to our packaging machine customers for more than 20 years, you won't be surprised that we've had quite a lot of good ideas.

read more