Productive and cost-efficient punnet packing
Single-pick packing line cuts downtime and staffing costs
Case loading experts Brillopak are using Omron's robotics and control technology in a revolutionary single-pick punnet-packing line concept. Custom-designed for a leading UK retailer, the fully automated solution uses Omron's Quattro Delta robots, NJ production line controller and PackXpert software to load punnets individually. The line increases packing throughput and flexibility while reducing stoppages and human intervention.

The line features two Quattro Delta robots, one after the other, under the control of an Omron NJ production-line controller (PLC) and Sysmac software. Access to the control features is via the Omron HMI tailored by Brillopak to show the most common features in an intuitive manner – vital for getting the line up and running again fast. The resulting punnet packing system is fast enough to match today's production line speeds and support future upgrades to the line.

More Customer References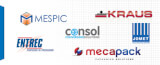 At Omron, we like to listen to our customers. We could spend all day listening to their needs  – it gives us ideas. And because we've been listening to our packaging machine customers for more than 20 years, you won't be surprised that we've had quite a lot of good ideas.

read more