Sysmac Platform enabled development of integrated dispenser applicator
Creating complex packaging in the food sector can be problematic, especially when the application requires great accuracy and performance in systems operating inside cold stores with very high temperature ranges.
By exploiting the advantages of the Sysmac platform from Omron, Betti srl – an Italian based packaging company - has developed a dispenser applicator integrated into its own line for packaging frozen flavorings in specially designed boxes. The entire process takes place in a cold store at the rate of 120 pieces per minute.
Matteo Betti, International sales manager at Betti Srl, explains: "Inserting a dispenser in a package of frozen goods represents an added value for the frozen food industry and one that enhances the product brand. This aspect makes it possible to maintain the freshness of the production, allowing the Marketing department to hit the market with a much more attractive offer".
With our Sysmac platform, Betti srl developed a dispenser applicator integrated into its line for packaging frozen flavorings.
More Customer References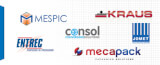 At Omron, we like to listen to our customers. We could spend all day listening to their needs  – it gives us ideas. And because we've been listening to our packaging machine customers for more than 20 years, you won't be surprised that we've had quite a lot of good ideas.

read more