A flexible and compact way to create void-fill paper
Filling the voids between a product and its container – for example a cardboard box – is an issue that confronts many product suppliers. One method that has traditionally been used is tightly folded paper, which has the advantages of being lightweight, easily available and reusable or recyclable.
Storopack is an established manufacturer of systems and solutions for creating purpose-made packaging materials. They recently introduced a new machine that processes paper from reels into folded padding, providing protection for products over a range of sizes. The machine can create void-fill paper or padding at rates of up to 50m/minute, processing both single- and double-ply paper.
The machine uses an array of compatible Omron devices including a complex array of servo drives to ensure that paper is folded effectively in different directions. Automation specialists from Omron provided help to Storopack engineers in designing the system, which uses an Omron CP1L to control the sensors and the servo drives that are fitted to the machine. A touch-screen NB-Series HMI simplifies machine configuration and enables easy input on the required parameters.
More Customer References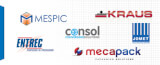 At Omron, we like to listen to our customers. We could spend all day listening to their needs  – it gives us ideas. And because we've been listening to our packaging machine customers for more than 20 years, you won't be surprised that we've had quite a lot of good ideas.

read more