New palletizer uses an Omron linear motor clutch to move horizontal axis
One of the Ristora brand's most recent packaging lines uses a palletizing system created by Italian packaging specialist Mectra. The new system uses an Omron Accurax Series linear motor – replacing the conventional belt pusher. The result? More speed, greater flexibility, higher reliability.

"Today, packaging and palletizing systems must be fast, but also very capable of easily adapting to different products and types of packaging," says Giovanni Ronconi, MD, Mectra. It was this understanding that drove Mectra to develop the new palletizer.

At the heart of the solution is a two-axes shifter that creates rows. The horizontal axis is driven by an Omron Accurax Series R88L linear motor. The decision to use a linear motor rather than a belt pusher enabled the company to experiment with new and better ways of moving products. "We wanted to create an innovative, almost prototype solution that would allow us to understand the practical benefits of using linear technology," says Ronconi.

"From the outset, we wanted a solution that had fewer components and was easy to industrialize," continues Ronconi. "As this is the first real experience with a linear motor, we didn't want any unpleasant surprises. That's why we chose Omron."

More Customer References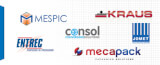 At Omron, we like to listen to our customers. We could spend all day listening to their needs  – it gives us ideas. And because we've been listening to our packaging machine customers for more than 20 years, you won't be surprised that we've had quite a lot of good ideas.

read more