Kraus code verification system meets the need for individualised packing
Kraus Machinenbau, who produce specialised equipment for printing and packaging industries, have developed the FK Codingline system, which verifies the track/trace codes that must be printed on packaging for food and pharmaceuticals, in line with increasingly stringent international regulations.
"Our customers appreciate that we listen to their needs, and we deliver results that fit their particular demands. It's what I experience and value when working with Omron." Joachim Kraus, managing director, Kraus Maschinenbau
The FK Codingline solution is used to ensure the accuracy and precision with which the codes are printed and positioned. The solution can be used on widely varying sizes and types of packaging – with no compromise on either production speed or print quality.
Joachim Kraus, managing director of Kraus Machinenbau, says "I come to Omron with a problem, and I expect a solution. The Codingline solution is simple to adjust without additional tools, easy to use, modular, scalable and that delivers reliable and repeatable results."
Codingline relies on Omron's Xpectia vision systems to provide the flexibility needed for specific applications. When matched with the intuitive Omron HMI, the Xpectia system can be easily programmed and quickly set up, saving time and maintaining production uptime. The concept has recently been adapted for use on a machine for packaging e-cigarettes, which are subject to specific pharmaceutical regulations.
More Customer References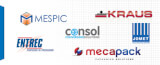 At Omron, we like to listen to our customers. We could spend all day listening to their needs  – it gives us ideas. And because we've been listening to our packaging machine customers for more than 20 years, you won't be surprised that we've had quite a lot of good ideas.

read more