New bread cutting machine reduces process time by 55%
Spanish bread-baking automation specialist, Auxpama, recently released a new automatic cutter tray, which makes the scars on the top of loaves just before baking. The machine is so advanced that it reduces the time taken for this process from 6+ minutes to just 2.45 minutes. And at the heart of it all is the Omron Sysmac unified control platform.

The fermented loaves are placed on trays and loaded into the machine. Here photoelectric cells measure the height of each loaf and send the data to the controller. This allows the cutting head, comprising an XY axis, to make the cut at exactly the correct depth.

The control architecture comprises the NJ501 controller, using its integrated EtherCAT network port to synchronize nine G5 series servo motors. The Ethernet / IP, also integrated in the controller, is reserved for connecting with the NS8 HMI, where all machine parameters can be controlled. The Ethernet port also allows the machine to communicate with the factory host systems (such as SCADA for data collection) and remote connections for remote maintenance.

Advantages include:
PLCopen programming standard
Less time required for system implementation
More powerful programming leading to new features such as Data Structures.

More Customer References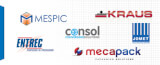 At Omron, we like to listen to our customers. We could spend all day listening to their needs  – it gives us ideas. And because we've been listening to our packaging machine customers for more than 20 years, you won't be surprised that we've had quite a lot of good ideas.

read more