OMRON provides 3D Engineering Data in CADENAS Solutions for OEM and Industrial Customers
Digital product catalog offers important metadata, such as end-of-life information, for industrial automation
We now offer our 3D engineering data as a digital product catalog for OEM and industrial customers in cooperation with CADENAS. 3D CAD models of sensors, relays, measuring and inspection devices, industrial robots, controls and panel components are available free of charge in the Strategic Parts Management PARTsolutions as well as at https://OMRON.partcommunity.com in over 150 common CAD formats.
While globalization and digital production are advancing, digital product catalogs, such as those from OMRON, support industrial companies such as WITTENSTEIN, SMS group and Procter & Gamble in manufacturing and maintenance of machines and systems. Engineers and designers require a variety of digital product data of purchased parts from a wide range of component manufacturers to plan and design their machines and systems.
Quick and easy search for purchased parts
Numerous leading industrial companies worldwide already use CADENAS Strategic Parts Management PARTsolutions to manage their own and purchased parts. As of now, OMRON purchased parts are also available within the software solution. Using numerous intelligent search methods, engineers can find OMRON's 3D CAD engineering data quickly and easily, thereby increasing the reuse of the components. Thanks to PARTsolutions, the comprehensive product data from OMRON can be easily integrated into PLM systems such as Teamcenter, PRO.FILE or SAP PLM. There is no need to create the data manually and projects are significantly accelerated.
Faster and cost-effective product design thanks to metadata
The 3D engineering data provided in the digital product catalog are verified by OMRON and meet the highest quality standards. This reduces the time-consuming and costly reconstruction by engineers to a minimum. In addition, the components also contain numerous important metadata, such as customs tariff numbers or end-of-life information. The latter ensures that discontinued OMRON components are not used in new design projects and that information about subsequent components is always available. This data is of great importance for industrial companies because it saves a lot of time and money when designing and maintaining machines and systems.
Components from digital product catalogs preferred at industrial companies
With the digital product catalog and the metadata of its components, we offer a comprehensive service and fulfills the special requirements of OEM and industrial customers worldwide, that prefer to use components from manufacturers whose engineering data are quickly and easily accessible. Manufacturers of technical components that want to integrate their products directly into their customers' planning and development processes can now seamlessly provide their product data, thanks to the digital product catalog from CADENAS. This ensures that components can automatically flow into PARTsolutions and thus into the constructions of the respective customers.
For more information on digital product catalogs, go to:
 https://www.cadenas.de/en/products/ecatalogsolutions/electronic-cad-catalog/motivation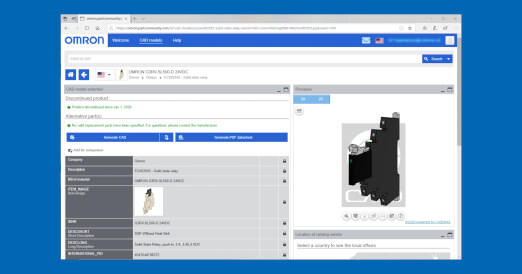 Follow OMRON Industrial Automation Europe on Linkedin