Meet OMRON's family of Autonomous Mobile Robots
Increase productivity in manufacturing and logistics operations
Fully autonomous mobile robots
Transforming manufacturing & logistics
Managing intralogistics, the movement of materials and goods within a facility can be a significant hurdle to overcome. Warehouses, distribution centers and production facilities that use manual processes often face issues with workforce scarcity, health and safety risks, and issues with traceability and quality.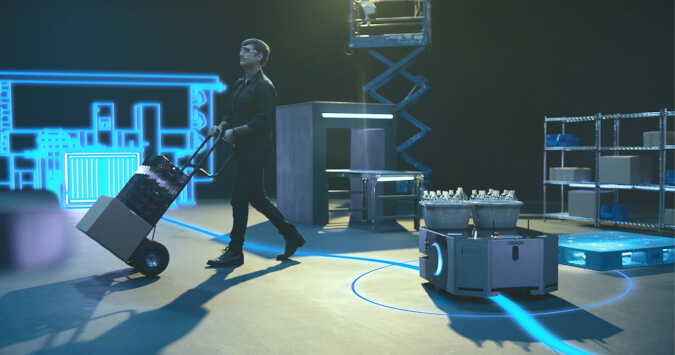 In addition, if the material flow is not optimized, this will result in process downtime. Manufacturers also need agile solutions to scale production up and down to meet changing demand. 
By investing in automated processes with autonomous mobile robots you can:
ensure that materials and goods are stored and transferred correctly, 
simplify employee tasks, 
optimize workflows, 
improve productivity and increase capacity.
Interested in hearing more about our mobile robots?
AMR vs. AGV - the difference is flexibility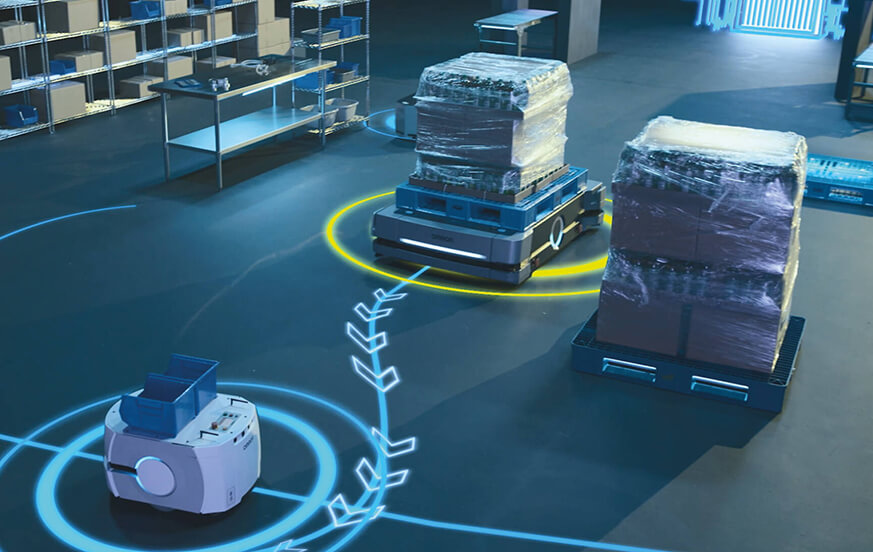 Unlike traditional autonomously guided vehicles (AGVs), our autonomous mobile robots (AMRs) navigate by the natural features of the facility and require no expensive facility modification.
AGVs require a predefined path to follow, either a network of magnetic lines on the floor or beacons on the walls. So although AGVs allow modifications to production lines, facilities will need to install new equipment every time the AGV path is changed, leading to downtime and extra costs.
Unlike AGVs, which will stop at obstacles indefinitely, AMRs avoid stationary or moving obstacles and automatically reroute themselves when necessary. AMR paths automatically change without human intervention, making operations more flexible and decreasing total cost of ownership.
Watch video
Collaborative and intuitive robot motion with "pass-behind" decision making for a better decision-making and path planning. #omronindustrialautomation #mobilerobots

00:34
Meet our mobile robots
Our family of mobile robots can safely & efficiently transport a wide range of payloads – from lightweight tasks of 60kg all the way up to 1500kg, capable to replace forklifts.
LD-60/90
Self-navigating Autonomous Mobile Robot (AMR) that works safely with people
The Omron LD-60/90 Mobile Robot designed for dynamically moving material in challenging environments that may include confined passageways as well as dynamic and peopled locations.
60 kg / 90 kg payload
1.35 m/s - 1.8 m/s
LD-250
Mid-size mobile robot with a payload capacity of 250kg
The LD-250 allows customers to load larger and heavier payloads, making fewer trips with heavier batches, ultimately increasing return on investment. With the LD-250 in your fleet, you can do more with less equipment.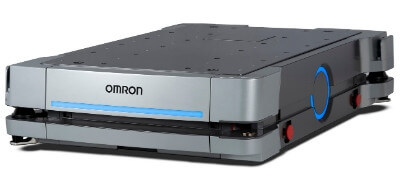 HD-1500
The strongest OMRON's mobile robot with a heavy duty payload capacity of 1500kg
The higher payload capacity allows customers to automate new tasks that are traditionally completed with forklifts such as the transport of pallet-size loads, engine blocks, and other heavy goods and equipment.
OMRON Industrial Automation Solution
You need more than a piece of advanced hardware equipment; you need an autonomous material transport system flexible enough to evolve with changing needs. The OMRON full family of automation technology fills in your entire production line.
As the leader in industrial automation, OMRON offers products that help manufacturers fulfill the needs of mass customization, and address issues related to rising labor costs and labor shortages.
Along with mobile robots, OMRON provides a variety of automation equipment and devices that range from control components and vision sensors to controllers and servomotors, as well as an array of safety devices and fixed robots.