Novel automation system doubles output capacity
The challenge was to reduce food-product (fresh vegetables: broccoli/cauliflower) packaging and minimize packaging-related throughput losses, while increasing output.
Bruising of the product and overshoot of the packaged product weight were common problems associated with the previous manual system.
The solution was an automated system incorporating an existing multi-head weigher combined with a conveyor and bagging machine. An Omron PLC selects the optimum combination of produce from 15 possible weighing-pans to pack the contents as close as possible to the target weight.
The system not only enables fast checking of all important parameters, including pack weight, but has also increased the operating speed, which was previously limited by the weighing system. Moreover, the Omron PLC and HMI enable powerful diagnostics that minimize downtime in the event of a machine failure.
Precise pack weight
Product bruising eliminated
Quick check of parameters
Instant switching between single/mixed products
Powerful diagnostics
More Customer References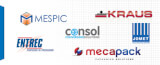 At Omron, we like to listen to our customers. We could spend all day listening to their needs  – it gives us ideas. And because we've been listening to our packaging machine customers for more than 20 years, you won't be surprised that we've had quite a lot of good ideas.

read more