30% more productivity and fewer failures
Parallel robots and vision system speed bell pepper packaging line

Combilo, a leading fruit and vegetables wholesaler in the Netherlands, recently installed a new robot assisted packaging line that increased productivity by 30%. The new packaging line, built by systems integrator EasyPack Technologies, includes parallel robots and a vision system from Omron.

Combilo specializes in the import, export, packing, storage, shipment, and distribution of fresh fruit and vegetables to retailers. One of the products it packages is the bell pepper "traffic light" containing one red, one yellow and one green pepper. Not surprisingly, this was a slow and labor-intensive process, but with the new robot-assisted packaging line Combilo can now perform the traffic light packaging much more efficiently and with significantly fewer failures.

The full range of benefits includes:
30% more productivity
Cost savings in manpower
Fewer failures caused by non-spec package weight
Better quality thanks to less product handling
More Customer References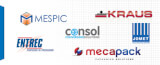 At Omron, we like to listen to our customers. We could spend all day listening to their needs  – it gives us ideas. And because we've been listening to our packaging machine customers for more than 20 years, you won't be surprised that we've had quite a lot of good ideas.

read more