Building a global customer base by doing more, faster
The Converging Solutions Pack Stacker is widely used in the UK food industry for automatic stacking of pre-formed packs. When the company wanted to compete in non-food markets and other countries, they needed to make the machine do more, and do it faster.

Working with Omron, they made the stacker more compact, faster to set-up, more versatile and more competitively priced. James Cruikshank, a member of the ConSol management team, and Scott Stanley, Technical Manager, explain this success story.

Meeting the needs of increasingly demanding customers
As James Cruikshank explains, customers are now more demanding, which means that machines must be faster, and technically more advanced. Converging Solutions chose to work with Omron because of the feature-rich range of products and excellent support, including free software training.

The partnership with Omron has enabled ConSol to develop their latest stacker with increased functionality, faster set-up, greater flexibility, and improved diagnostics – at a competitive price. Modular construction, allied to Omron's "plug-and-play" technology, reduces build time and optimises reliability to maintain machine uptime.

More Customer References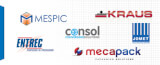 At Omron, we like to listen to our customers. We could spend all day listening to their needs  – it gives us ideas. And because we've been listening to our packaging machine customers for more than 20 years, you won't be surprised that we've had quite a lot of good ideas.

read more