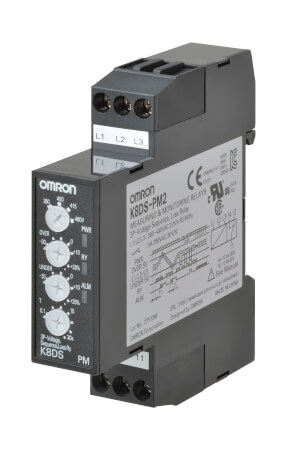 K8DS-PM
3-phase voltage, phase sequence, phase loss
K8DS-PM monitors overvoltages, undervoltages, phase sequence and phase loss for 3-phase, in one unit.
Worldwide power specifications supported by one unit
Phase sequence, phase loss: Operation reaction time 0.1s maximum
Overvoltage or undervoltage: Operation time setting from 0.1 to 30s
Relay warning status can easily be monitored using the LED indicator
Robust operating temperature: -20 to 60 ⁰C
Specifications & ordering info
| Product | Functions | Installation type | Terminal | Size | Connection method | Supply voltage AC | Output type | Contact description | Body color | Description |
| --- | --- | --- | --- | --- | --- | --- | --- | --- | --- | --- |
| | Over/under voltage, Phase loss, Phase sequence | DIN Rail | Screw | 17.5 mm | 3-wire | 380-480 V | Relay | SPDT | Black | Monitoring relay 17.5mm wide, over/under voltage, phase sequence and loss, 3-phase 3-wire, 380 to 400 VAC, one SPDT |
Compare products
Show more products
How can we help you?
If you have a question or would like to ask for a quote, please contact us or send a request.
Request
Contact us
Contact me K8DS-PM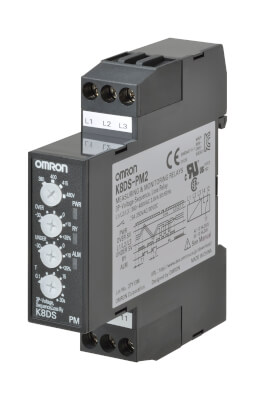 Thank you for submitting your request. We will come back to you as soon as possible.
We are experiencing technical difficulties. Your form submission has not been successful. Please accept our apologies and try again later. Details: [details]
Download
Request quotation
Request quotation
Quotation for K8DS-PM
By completing this form you can request a quotation. Your personal details will be handled confidentially.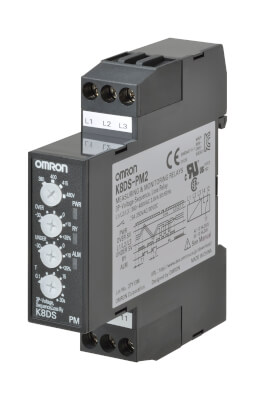 Thank you for requesting a quotation. We will provide you with the required information as soon as possible.
We are experiencing technical difficulties. Your form submission has not been successful. Please accept our apologies and try again later. Details: [details]
Download
Features
17.5 mm (w) body
Greater resistance to inverter noise
World-wide power specifications supported by one unit