G9SP-N_
The standalone safety controller
The G9SP safety controller provides all local safety in- and outputs and controls the safety application. Standard in- and outputs can be directly connected and diagnosis information is provided via Serial or Ethernet interface.
Three CPU-types to suit different applications
Clear diagnosis and monitoring via Ethernet or Serial connection
Memory cassette for easy duplication of configuration
Unique programming software to support easy design, verification, standardization and reusage of the program
Certified according to PLe (EN ISO 13849-1) and SIL 3 (IEC 61508)
Specifications & ordering info
Ordering information
10 PNP safety inputs
4 PNP safety outputs
4 test outputs
4 PNP standard outputs
Software
Expansion units (standard I/O)
G9SP configuration
Option units
| | |
| --- | --- |
| | |
| | |
| | |
| | |
| G9SP-N10S Display Kit (G9SP, Touchscreen, cable, CP1W-CIF01) | |
| G9SP-N10D Display Kit (G9SP, Touchscreen, cable, CP1W-CIF01) | |
| G9SP-N20S Display Kit (G9SP, Touchscreen, cable, CP1W-CIF01) | |
| | |
| | |
| | |
Specifications
General specifications
Safety input specifications
Safety output specifications
Test output specifications
Standard output specifications (G9SP-N10S)
*For details on the rated output current, please refer to the user manual of G9SP.
G9SP configuration tool
How can we help you?
If you have a question or would like to ask for a quote, please contact us or send a request.
Pricing
Request a quote
Thank you for requesting a quotation. We will provide you with the required information as soon as possible.
We are experiencing technical difficulties. Your form submission has not been successful. Please accept our apologies and try again later. Details: [details]
Download
Software Registration Downloads
Software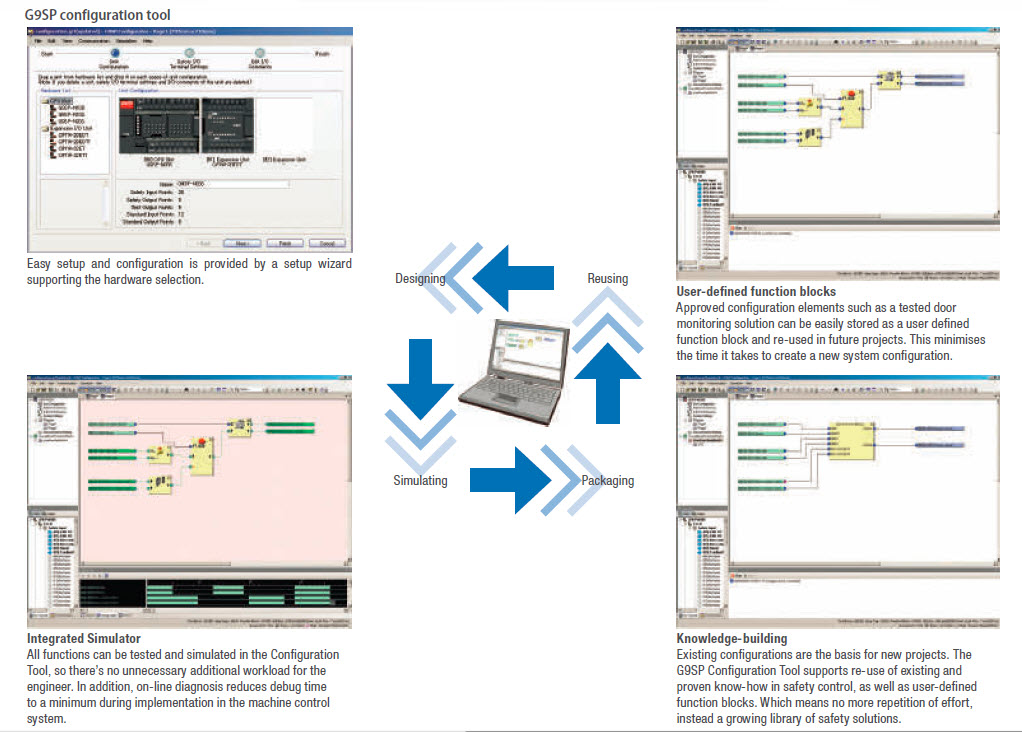 G9SP configuration tool
Easy configuration: All safety functions are ready to use in the G9SP. Certified function blocks can be easily selected in the graphical user interface and customised to fit your application. 
Simulation: All functions can be tested and simulated in the Configuration Tool, so there's no unnecessary additional workload for the engineer. In addition, on-line diagnosis reduces debug time to a minimum during implementation in the machine control system.  
Knowledge-building: Existing configurations are the basis for new projects. The G9SP Configuration Tool supports re-use of existing and proven know-how in safety control, as well as user-defined function blocks. Which means no more repetition of effort, instead a growing library of safety solutions.
User-defined function blocks: Approved configuration elements such as a tested door monitoring solution can be easily stored as a user defined function block and re-used in future projects. This minimises the time it takes to create a new system configuration.