A practical demonstration of the future of manufacturing
Visitors to our stand in Hall 9, booth C30-D30 will be able to experience Omron technology supporting flexible robotic cells, data acquisition, data intelligence and AI realizing agile mass customization cells that shifts manufacturing from 'build to sell' to 'made for me'.
Omron will show how robots and machines can interact seamlessly to allow production runs to be easily and quickly altered to allow for fluctuating lot sizes. This enables production lines to be quickly adapted to changes in demand or to run specific designs with the highest efficiency.
The demonstration will feature Omron's mobile robots and fixed robots interacting flexibly to fulfil orders based on instructions entered through the local HMI or from a tablet using secure OPC UA communications. This smart, integrated solution emphasizes how machine intelligence, from individual processing stage to complete system level, enables flexible and reconfigurable manufacturing for optimized manufacturing that meets increasingly diversified consumer requirements.
Date(s): May 22 - 24, 2018
Location: Parma, Italy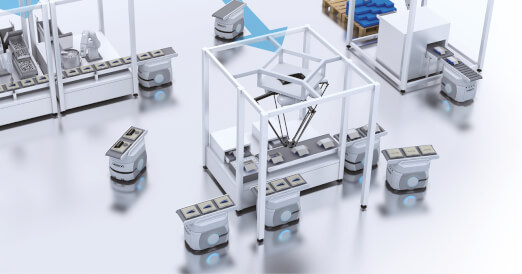 Follow OMRON Industrial Automation Europe on Linkedin