Performance plus flexibility wins global supplier award
After evaluating and ranking more than 260 suppliers, the precision dispensing equipment manufacturer Nordson recently awarded Omron its best "global Supplier" award at its group headquarters in Luneburg, Germany.

The Nordson group is a leader for applying industrial liquid and powder coatings, adhesives, and sealants to numerous consumer and industrial products during manufacturing.

"The supplier's delivery performance (quality, accuracy, etc.) is very important - but not everything", commented Tim Gutmann, Purchasing Manager at Nordson, "Flexibility is also essential. Fortunately, Omron always reacted quickly and flexibly whenever we approached them with additional requests.  Together we were able to significantly increase our efficiency."

Over a 12-month period, Nordson measured a 99.5 percent supply accuracy and no quality claims whatsoever. According to Lucian Dold, of Omron Sensing, Safety and Component Division.
"Things will get even better. We will continue to be the partner who is ready to tackle the future challenges together with our customers. The award from Nordson helps fuel our determination to reach the next level."
How a true customer-centric approach makes our proposition to you complete
Omron is often seen as a supplier of great products, but there is a lot more to us than meets the eye. On our Youtube channel you can find a playlist of short videos in which some of Omron's key persons explain how our customer-centric approach - besides our product portfolio - makes our proposition to you complete.

View our Youtube channel
More Customer References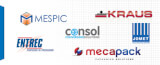 At Omron, we like to listen to our customers. We could spend all day listening to their needs  – it gives us ideas. And because we've been listening to our packaging machine customers for more than 20 years, you won't be surprised that we've had quite a lot of good ideas.

read more