Optical inspection for Quality Assurance in Pharma, Cosmetics and Food industries
Today producers need to fulfill extensive quality assurance requirements for their manufactured parts.
The inspection and documentation demands in the pharmaceutical, cosmetic and food industry may often be the most severe. A common requirement are reliable and flexible non-contact optical inspections that can easily be adapted to different products.
Vision specialists, ETW Wollmershauser GmbH, based in Germany, offer a camera inspection system designed to the meet the highest requirements of the pharmaceutical industry and co-operated with Omron experts, whose extensive image data processing portfolio enables the inspection system to be precisely tailored to customer requirements
More Customer References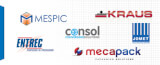 At Omron, we like to listen to our customers. We could spend all day listening to their needs  – it gives us ideas. And because we've been listening to our packaging machine customers for more than 20 years, you won't be surprised that we've had quite a lot of good ideas.

read more