At the heart of Food & Beverage automation
Food & drink manufacturing is a core strategic focus here at Omron. We have a dedicated team of professionals working collaboratively with customers to improve competiveness, globalisation, product diversification, supply-chain traceability and needs-orientated production.

Continuously improving your business
In response to current challenges in the food & drink sector Omron's products and services increase factory safety, improve product quality, protect brand reputation and assist producers to introduce more sustainable business practices. Our automation solutions result in better operating margins and faster response times to market changes.
Inspection solutions and integrated robotics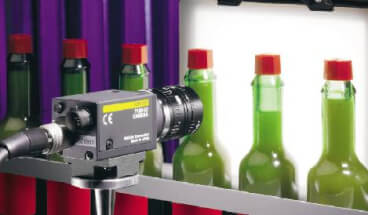 Your brand reputation as a manufacturer is key, but can be negatively affected in many ways.
read more
Industrial robots provide a safe, flexible and hygienic solution for an extensive range of handling projects.

read more
Automation solutions for the Food and Beverage industry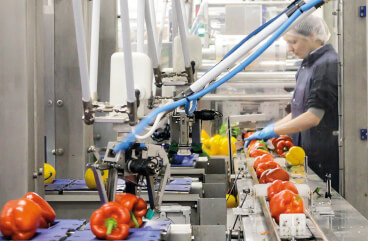 In our online panel discussion from Tuesday 19 May, our industry experts discussed the topic "New Normal of Factory Automation in Food Manufacturing", based on four market drivers: workforce, quality, flexibility and sustainability.
Held on May 19, 2020
ON DEMAND WEBINAR
READ MORE
Why Omron?
Smart factories with efficient and fully connected supply chains are critical to manufacturing innovation, opening up new market possibilities and enabling you to be more responsive to customer driven trends. Our complete portfolio is built and can be adapted to your evolving manufacturing landscape.
Integrated, Intelligent and interactive
Our solutions are developed under the umbrella of Omron's unified concept - the Three 'i's of Automation -integrated, intelligent and interactive.
The Connected factory - seamlessly integrating machine automation and corporate IT to generate, collect and exchange relevant data 
The Smart factory – enabling intelligent data analysis and evaluation capabilities to realise predictive maintenance, process improvements and a reduction in resources, energy and waste
The Collaborative factory - further enhancing the interaction between humans and machines, combining the intuitive, flexible, knowledgeable and adaptive capabilities of humans with the repeatability, accuracy, strength, speed, autonomy and connectivity capabilities of machines


Contact me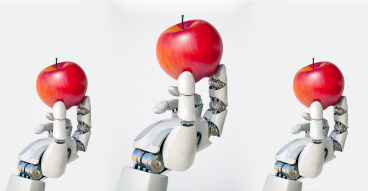 July 16, 2020 The coronavirus pandemic has posed major challenges to organisations of all types and sizes. In the food and commodity industry, companies have faced significantly reduced consumption and disrupted supply chains, while at-home consumption increased, and out-of-home consumption came near to a standstill. But how can manufacturers adapt their business strategies and production processes both now and in the longer term? The pandemic may provide an opportunity for rethinking outdated processes and procedures and enhancing them with concepts such as innovative robotics, sensor technology and holistic automation strategies.
read more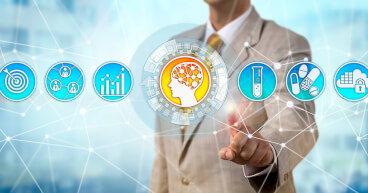 October 16, 2019 Implementation of Artificial Intelligence (AI) in food manufacturing is picking up speed.
read more