Events
Flexible Manufacturing Roadshow eMobility Industry
No available dates. It's not possible to register anymore.
Powered by 90 years of innovation, OMRON's Flexible Manufacturing Roadshow continues it journey across Europe, bringing you the opportunity to experience innovative solutions that redefine flexible, efficient, and sustainable production for the factory of the future.
The roadshow features unique large scale real demonstrations that are usually not accessible outside of a factory setting due to their size and scale. Solutions like our Mobile Manipulator (MoMa) that combines a fully autonomous mobile robot with a cobot arm, our strongest HD-1500 mobile robot for heavy loads of up to 1,500 kg, and a collaborative palletizing cell are part of the show. In addition, you can discover how private 5G networks can facilitate flexible manufacturing.
See and experience complete solutions to solve the current issues and pains of manufacturers demonstrating:
Flexible palletizing and autonomous material transportation
Complete material handling process from conveyors to pallets
Mobile Manipulator (MoMa) combining flexibility and mobility
Latest mixed fleet management and mobile robot navigation features
IoT dashboard
Built-in serialization & traceability
Private and secure 5G network facilitating high-speed and robust communication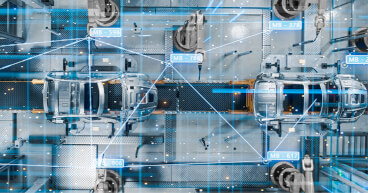 Agenda
09:30
Event registration & coffee
10:00
Welcome & Introduction to OMRON
10:15
Re-Think Manufacturing
A journey towards truly agile production
10:45
Flexible manufacturing: Solutions from the eMobility Industry
11:15
Flexible Manufacturing: Live demonstration
Due to the limited availability of seats, the event is by invitation only. Secure your admission and register by filling in the form.
We look forward to welcoming you at the OMRON Flexible Manufacturing Roadshow. Prepare to be inspired!