Meet our collaborative robots
Boost the productivity and quality of production lines
OMRON TM cobots are geared toward manufacturers that seek to embrace automation and boost production. Cobots are ideal colleagues, automating repetitive tasks such as machine tending, loading and unloading or assembly tasks.
Cobots are easy to set up and offer a quick and cost-effective solution. 
They can increase the flexibility, quality and speed of production. 
And enable your company to respond rapidly to changing market conditions.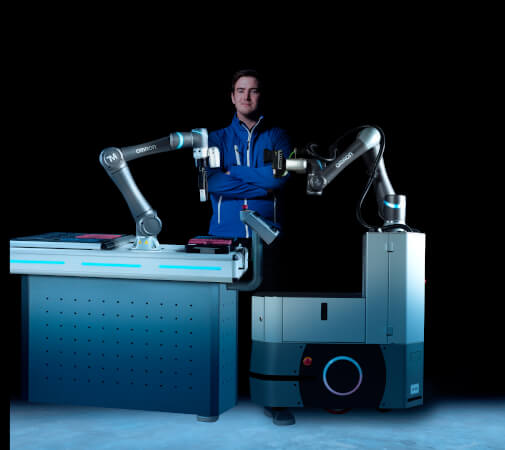 Easy to start
To reduce the downtime to automate with robots you need a robot that can start fast and stay running. Our cobots are delivered with everything you need to get started, right out the box.
Low cost of ownership
OMRON cobots provide the highest returns on investment. They can flexibly adapt to new production processes and layouts within a few minutes.
Flexibility
Our collaborative robots are designed to be easily deployed to different tasks and applications, making production as flexible as needed.
Designed for flexible manufacturing
We have designed our collaborative robots to be easily deployed to different tasks and applications. Making production as flexible as needed and empowering your people to do what they do best.
Product life cycles are getting shorter. Production and automation solutions can support your needs to adapt production processes quickly. 
Cobots can help to future-proof SMEs where needed, from simple pick-and-place applications for parts handling, sorting and palletizing, through to machine assembly. 
Your employees will also experience significant benefits since they are relieved from monotonous and physically demanding or even dangerous work. Our cobots will support them in heavy lifting and precision work, so they can concentrate on their core abilities.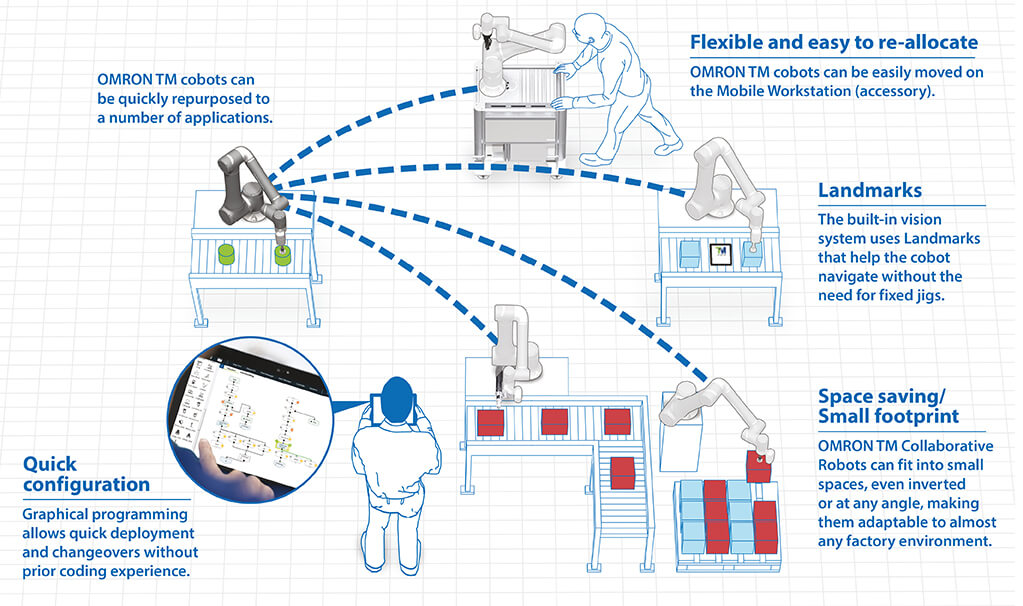 People and machines work together in harmony
Our cobots learn fast and can make your production more efficient. In just a few minutes, you can teach them how they can share tasks with humans and flexibly adapt to new requirements. Reap the benefits of integrated safety features that allow them to work with or close to humans and boost productivity for a wide variety of repetitive tasks.
Watch video
Omron's factory in Shanghai is creating an environment where people and robots work together, to meet challenges in manufacturing today, such as shortage in manpower and overall equipment effectiveness (OEE). In this video, you can see how Omron TM collaborative robots work safely side-by-side with people.

04:46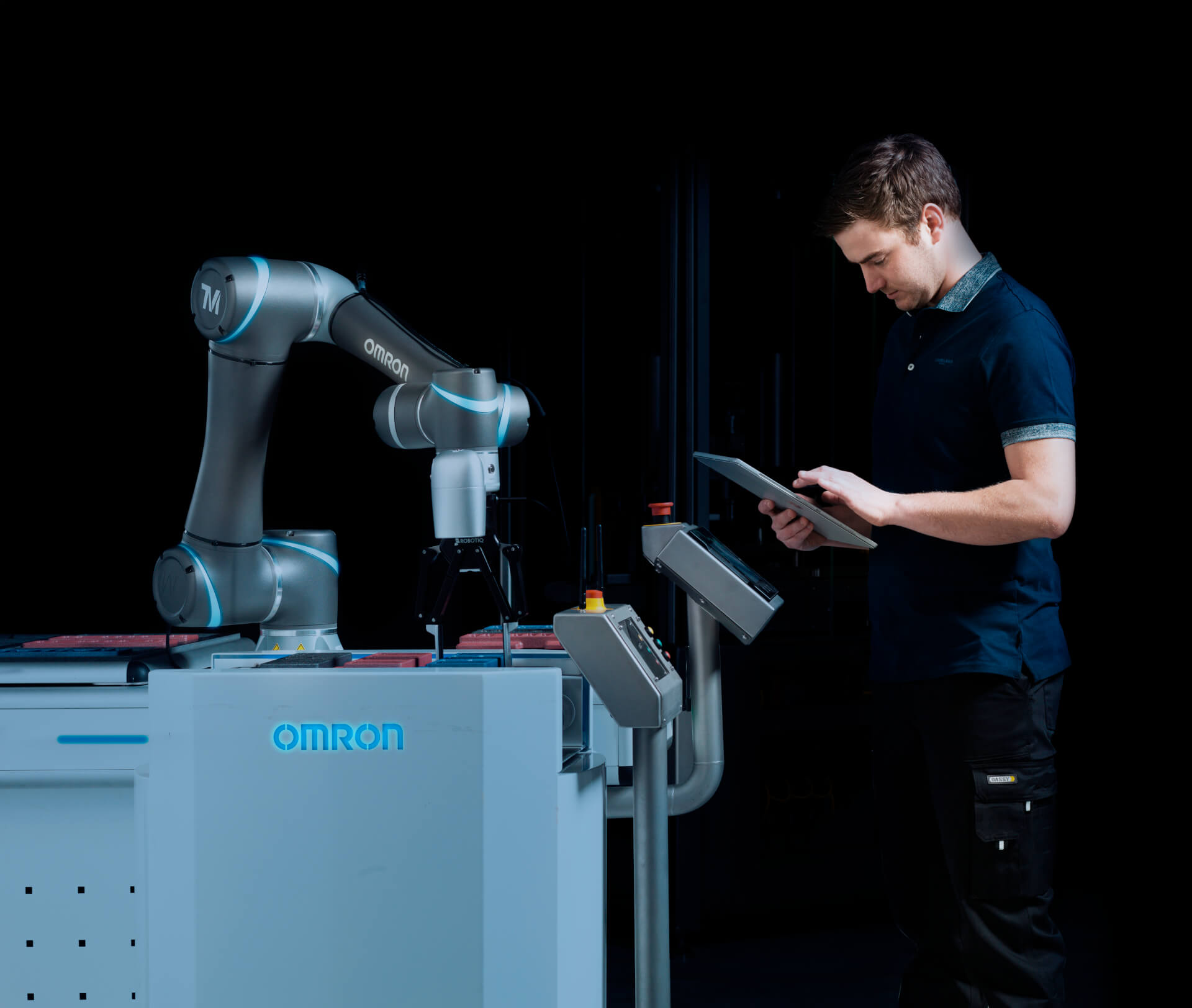 Choosing Cobot vs. Industrial Robot
OMRON TM Collaborative Robots change the way the traditional factory used to work. No physical cages are needed anymore. Designed for high-mix, low-volume production at a speed comparable to human workers, OMRON TM cobots can work with humans in harmony.
Traditional industrial robot
Traditional industrial robots must be separated from human activity by a safety fence or cage, and must be fixed to one place as they are normally used for one specific task.
Complex configuration
Robotic experts are required
Rigid solutions
Large footprint
Protection fences are required
High additional cost associated
Collaborative robot
Cobots were created to work safely and in harmony with people. They can be moved from one location to another to work on different tasks.
Quick configuration
No experts are required
Flexible and easy to re-allocate
Space saving / Small footprint
Human-machine collaboration
Short ROI
Meet our cobots
OMRON's line-up of collaborative robots include a variety of models to guarantee the right reach and payload for different applications.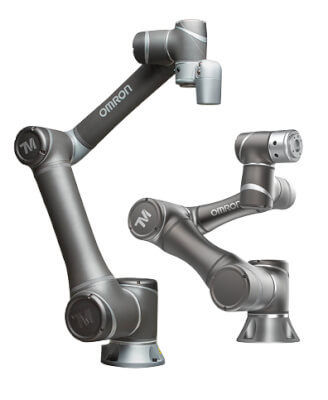 TM 5 - 700
Reach

700 mm

Payload

6 kg

Max speed

1.1 m/s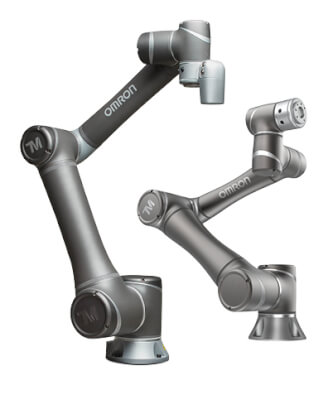 TM 5 - 900
Reach

900 mm

Payload

4 kg

Max speed

1.4 m/s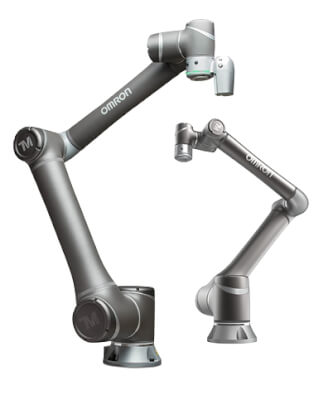 TM 12
Reach

1300 mm

Payload

12 kg

Max speed

1.3 m/s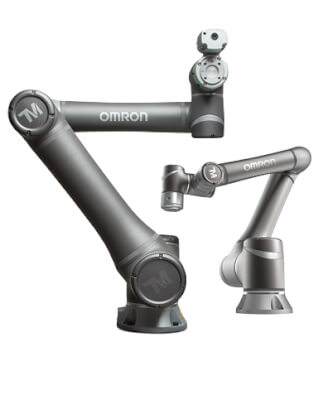 TM 14
Reach

1100 mm

Payload

14 kg

Max speed

1.1 m/s
Interested in hearing more about our collaborative robots?
Applications
Whether you're working in automotive, food and beverage industry, packaging, plastics, machine tools or pharmaceutical manufacturing, the OMRON TM Collaborative Robot is designed to adapt to almost any industry.