Simple motion control implementation
Good programming practices and well organized software implementations with Omron PLC.
Getting the most out of the automation system is more important than ever. The requirements of users from packaging machines are diverse, and complexity of the machines differ greatly. Introducing new machine functionality often requires a more capable automation system and this may results with a higher cost. While this is a must in some cases, good programming practices and well organized software implementations are helpful to cope with this challenge, to keep the manufacturing cost at a minimum with no compromise from market trends.
Mechanisms like high speed rotary knife or flying shear needs to be controlled with advanced controllers and digital real time networks to achieve sub-micron precision. But servo motors used for slower or non-continuous processes (e.g. automated product changeover mechanism, intermittent transparent film wrapper unit) can be controlled with a simpler hardware and software architecture.

This white paper explains in detail one of the examples with all the resources which you can quickly develop and implement in your machine.

Download our Simple motion control implementation white paper
More White Papers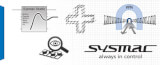 In-depth packaging know-how: and it's all yours. Over the past 20 years, we have built up an extensive body of knowledge about many topics that relate to packaging, from advanced robotics to safety, and from temperature control to in-line quality assurance.

read more