Gantry robot palletisers are linear, cartesian (XYZ) coordinated robots for pick and place applications. The axes slide linearly in relation to each other, rather than rotate as with a robotic arm.
Machine main function groups
Large work spaces can be covered with high positioning accuracy. The portal construction ensures rigidity while using less floor space than a robotic arm. Replaceable grippers make this type of robot capable of handling loads of many different types.
Product in-feed: Stackable object like carton box.
X-Y movement system: Transports the object to the pallet position.
Z movement system: Moves the object up and down.
Rotation pick-up: Grabs and rotates the object.
Pallet out-feed: Full stacked pallet exit.
Your automation requirement - our complete solution
We automate machines! We supply all the automation products for palletisers, including the logic and motion or hybrid controller.
In addition we provide all motors, drives, position sensors, safety devices and other panel components.
Graphical wizard based operator interface
Flexible, rotating operator teams lead to machine training investments. A graphical wizard and instruction video makes the need for training virtually obsolete while giving greater flexibility in layer stacking patterns. Made possible due to the power of Omron's NA HMI.
Open parameter servo drive
Servo drive and motor are sold as a matching set. Omron's G5-LM servo drive has an open parameter structure to drive any servo motor. Not only linear, but also dedicated application motors, such as direct-drive servos.
Motion function blocks
XYZ robots are available in a variety of mechanical configurations. H-bot gantry robots have the XY motors fixed on the static frame, making the moving arm lighter. Omron saves you engineering time as the H-bot motion function has already been programmed.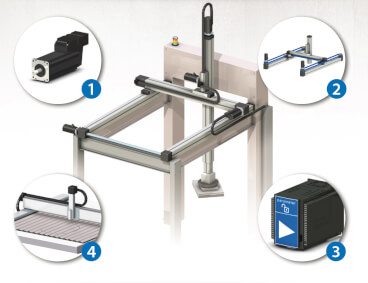 With more & more consumer goods being produce; deployment of a XYZ-R Cartesian robot can help your business to cope with this increased demand.
read more
Providing advice and technical support, Omron helped facilitate the development and build of the new palletiser. It has defined a number of new target-markets for the new type of PLC, food and beverages being one of them.

read more