NYP
Industrial Panel PC
Based on Intel® Atom® to Intel® Xeon® processors
Windows 10 IoT Enterprise, Windows Embedded Standard 7 or without operating system
Open operating system enables use of own software 
Ethernet port for access to your IT systems
Optimised form factor: 3, 2 or 1 layer options
Based on Intel® Atom® to Intel® Xeon® processors
Windows 10 IoT Enterprise, Windows Embedded Standard 7 or without operating system
Open operating system allows running customised software and hardware
Ethernet port for access to your IT systems
18.5, 15.4 and 12.1 inches Industrial monitor
Industrial Box PC and Industrial Panel PC (Industrial Box PC + Monitor integrated) types
Models available with NY Monitor Link interface for connectivity up to 100 m between IPC and Monitor
Specifications & ordering info
| Product | Screen diagonal | Processor family | Processor specification | Cooling method | Memory | Storage | Operating system | Expansion slot | Modular port | Video output | Display ratio | Material housing | Number of pixels, horizontal | Number of pixels, vertical | Description |
| --- | --- | --- | --- | --- | --- | --- | --- | --- | --- | --- | --- | --- | --- | --- | --- |
| | 12.1 inch | Intel® Core™ i7 | 4700EQ (2.4 GHz) | Active cooling (fan) | 4 GB RAM (non ECC) | No Storage | No OS | 1 x PCIe slot (X4 lanes) | RS-232 | DVI-I | 16:10 | Aluminium, black | 1280 | 800 | Industrial Panel PC with Intel® Core™ i7-4700EQ, 4 GB DRAM (non-ECC), No storage, No OS, PCIe slot, RS-232, 12.1" display with capacitive touchscreen |
| | 15.4 inch | Intel® Core™ i7 | 4700EQ (2.4 GHz) | Active cooling (fan) | 4 GB RAM (non ECC) | No Storage | No OS | 1 x PCIe slot (X4 lanes) | RS-232 | DVI-I | 16:10 | Aluminium, black | 1280 | 800 | Industrial Panel PC with Intel® Core™ i7-4700EQ, 4 GB DRAM (non-ECC), No storage, No OS, PCIe slot, RS-232, 15.4" display with capacitive touchscreen |
| | 12.1 inch | Intel® Core™ i7 | 4700EQ (2.4 GHz) | Active cooling (fan) | 4 GB RAM (non ECC) | No Storage | No OS | 1 x PCIe slot (X4 lanes) | DVI-D | DVI-I | 16:10 | Aluminium, black | 1280 | 800 | Industrial Panel PC with Intel® Core™ i7-4700EQ, 4 GB DRAM (non-ECC), No storage, No OS, PCIe slot, extra DVI-D, 12.1" display with capacitive touchscreen |
| | 15.4 inch | Intel® Core™ i7 | 4700EQ (2.4 GHz) | Active cooling (fan) | 4 GB RAM (non ECC) | No Storage | No OS | 1 x PCIe slot (X4 lanes) | DVI-D | DVI-I | 16:10 | Aluminium, black | 1280 | 800 | Industrial Panel PC with Intel® Core™ i7-4700EQ, 4 GB DRAM (non-ECC), No storage, No OS, PCIe slot, extra DVI-D, 15.4" display with capacitive touchscreen |
| | 12.1 inch | Intel® Core™ i7 | 4700EQ (2.4 GHz) | Active cooling (fan) | 4 GB RAM (non ECC) | No Storage | No OS | 1 x PCIe slot (X4 lanes) | NYML | DVI-I | 16:10 | Aluminium, black | 1280 | 800 | Industrial Panel PC with Intel® Core™ i7-4700EQ, 4 GB DRAM (non-ECC), No storage, No OS, PCIe slot, NYML port, 12.1" display with capacitive touchscreen |
| | 15.4 inch | Intel® Core™ i7 | 4700EQ (2.4 GHz) | Active cooling (fan) | 4 GB RAM (non ECC) | No Storage | No OS | 1 x PCIe slot (X4 lanes) | NYML | DVI-I | 16:10 | Aluminium, black | 1280 | 800 | Industrial Panel PC with Intel® Core™ i7-4700EQ, 4 GB DRAM (non-ECC), No storage, No OS, PCIe slot, NYML port, 15.4" display with capacitive touchscreen |
| | 12.1 inch | Intel® Core™ i7 | 4700EQ (2.4 GHz) | Active cooling (fan) | 4 GB RAM (non ECC) | 32 GB SSD | WES 7 (32 bits) | 1 x PCIe slot (X4 lanes) | RS-232 | DVI-I | 16:10 | Aluminium, black | 1280 | 800 | Industrial Panel PC with Intel® Core™ i7-4700EQ, 4 GB DRAM (non-ECC), 32 GB SSD-SLC, WES 7 (32-bit), PCIe slot, RS-232, 12.1" display with capacitive touchscreen |
| | 15.4 inch | Intel® Core™ i7 | 4700EQ (2.4 GHz) | Active cooling (fan) | 4 GB RAM (non ECC) | 32 GB SSD | WES 7 (32 bits) | 1 x PCIe slot (X4 lanes) | RS-232 | DVI-I | 16:10 | Aluminium, black | 1280 | 800 | Industrial Panel PC with Intel® Core™ i7-4700EQ, 4 GB DRAM (non-ECC), 32 GB SSD-SLC, WES 7 (32-bit), PCIe slot, RS-232, 15.4" display with capacitive touchscreen |
| | 12.1 inch | Intel® Core™ i7 | 4700EQ (2.4 GHz) | Active cooling (fan) | 4 GB RAM (non ECC) | 32 GB SSD | WES 7 (32 bits) | 1 x PCIe slot (X4 lanes) | DVI-D | DVI-I | 16:10 | Aluminium, black | 1280 | 800 | Industrial Panel PC with Intel® Core™ i7-4700EQ, 4 GB DRAM (non-ECC), 32 GB SSD-SLC, WES 7 (32-bit), PCIe slot, extra DVI-D, 12.1" display with capacitive touchscreen |
| | 15.4 inch | Intel® Core™ i7 | 4700EQ (2.4 GHz) | Active cooling (fan) | 4 GB RAM (non ECC) | 32 GB SSD | WES 7 (32 bits) | 1 x PCIe slot (X4 lanes) | DVI-D | DVI-I | 16:10 | Aluminium, black | 1280 | 800 | Industrial Panel PC with Intel® Core™ i7-4700EQ, 4 GB DRAM (non-ECC), 32 GB SSD-SLC, WES 7 (32-bit), PCIe slot, extra DVI-D, 15.4" display with capacitive touchscreen |
| | 12.1 inch | Intel® Core™ i7 | 4700EQ (2.4 GHz) | Active cooling (fan) | 4 GB RAM (non ECC) | 64 GB SSD | WES 7 (32 bits) | 1 x PCIe slot (X4 lanes) | RS-232 | DVI-I | 16:10 | Aluminium, black | 1280 | 800 | Industrial Panel PC with Intel® Core™ i7-4700EQ, 4 GB DRAM (non-ECC), 64 GB SSD-SLC, WES 7 (32-bit), PCIe slot, RS-232, 12.1" display with capacitive touchscreen |
| | 15.4 inch | Intel® Core™ i7 | 4700EQ (2.4 GHz) | Active cooling (fan) | 4 GB RAM (non ECC) | 64 GB SSD | WES 7 (32 bits) | 1 x PCIe slot (X4 lanes) | RS-232 | DVI-I | 16:10 | Aluminium, black | 1280 | 800 | Industrial Panel PC with Intel® Core™ i7-4700EQ, 4 GB DRAM (non-ECC), 64 GB SSD-SLC, WES 7 (32-bit), PCIe slot, RS-232, 15.4" display with capacitive touchscreen |
| | 12.1 inch | Intel® Core™ i7 | 4700EQ (2.4 GHz) | Active cooling (fan) | 4 GB RAM (non ECC) | 64 GB SSD | WES 7 (32 bits) | 1 x PCIe slot (X4 lanes) | DVI-D | DVI-I | 16:10 | Aluminium, black | 1280 | 800 | Industrial Panel PC with Intel® Core™ i7-4700EQ, 4 GB DRAM (non-ECC), 64 GB SSD-SLC, WES 7 (32-bit), PCIe slot, extra DVI-D, 12.1" display with capacitive touchscreen |
| | 15.4 inch | Intel® Core™ i7 | 4700EQ (2.4 GHz) | Active cooling (fan) | 4 GB RAM (non ECC) | 64 GB SSD | WES 7 (32 bits) | 1 x PCIe slot (X4 lanes) | DVI-D | DVI-I | 16:10 | Aluminium, black | 1280 | 800 | Industrial Panel PC with Intel® Core™ i7-4700EQ, 4 GB DRAM (non-ECC), 64 GB SSD-SLC, WES 7 (32-bit), PCIe slot, extra DVI-D, 15.4" display with capacitive touchscreen |
| | 12.1 inch | Intel® Core™ i7 | 4700EQ (2.4 GHz) | Active cooling (fan) | 4 GB RAM (non ECC) | 320 GB HDD | WES 7 (32 bits) | 1 x PCIe slot (X4 lanes) | RS-232 | DVI-I | 16:10 | Aluminium, black | 1280 | 800 | Industrial Panel PC with Intel® Core™ i7-4700EQ, 4 GB DRAM (non-ECC), 320 GB HDD, WES 7 (32-bit), PCIe slot, RS-232, 12.1" display with capacitive touchscreen |
| | 15.4 inch | Intel® Core™ i7 | 4700EQ (2.4 GHz) | Active cooling (fan) | 4 GB RAM (non ECC) | 320 GB HDD | WES 7 (32 bits) | 1 x PCIe slot (X4 lanes) | RS-232 | DVI-I | 16:10 | Aluminium, black | 1280 | 800 | Industrial Panel PC with Intel® Core™ i7-4700EQ, 4 GB DRAM (non-ECC), 320 GB HDD, WES 7 (32-bit), PCIe slot, RS-232, 15.4" display with capacitive touchscreen |
| | 12.1 inch | Intel® Core™ i7 | 4700EQ (2.4 GHz) | Active cooling (fan) | 4 GB RAM (non ECC) | 320 GB HDD | WES 7 (32 bits) | 1 x PCIe slot (X4 lanes) | DVI-D | DVI-I | 16:10 | Aluminium, black | 1280 | 800 | Industrial Panel PC with Intel® Core™ i7-4700EQ, 4 GB DRAM (non-ECC), 320 GB HDD, WES 7 (32-bit), PCIe slot, extra DVI-D, 12.1" display with capacitive touchscreen |
| | 15.4 inch | Intel® Core™ i7 | 4700EQ (2.4 GHz) | Active cooling (fan) | 4 GB RAM (non ECC) | 320 GB HDD | WES 7 (32 bits) | 1 x PCIe slot (X4 lanes) | DVI-D | DVI-I | 16:10 | Aluminium, black | 1280 | 800 | Industrial Panel PC with Intel® Core™ i7-4700EQ, 4 GB DRAM (non-ECC), 320 GB HDD, WES 7 (32-bit), PCIe slot, extra DVI-D, 15.4" display with capacitive touchscreen |
| | 12.1 inch | Intel® Core™ i7 | 4700EQ (2.4 GHz) | Active cooling (fan) | 4 GB RAM (non ECC) | 128 GB SSD | WES 7 (32 bits) | 1 x PCIe slot (X4 lanes) | RS-232 | DVI-I | 16:10 | Aluminium, black | 1280 | 800 | Industrial Panel PC with Intel® Core™ i7-4700EQ, 4 GB DRAM (non-ECC), 128 GB SSD-iMLC, WES 7 (32-bit), PCIe slot, RS-232, 12.1" display with capacitive touchscreen |
| | 15.4 inch | Intel® Core™ i7 | 4700EQ (2.4 GHz) | Active cooling (fan) | 4 GB RAM (non ECC) | 128 GB SSD | WES 7 (32 bits) | 1 x PCIe slot (X4 lanes) | RS-232 | DVI-I | 16:10 | Aluminium, black | 1280 | 800 | Industrial Panel PC with Intel® Core™ i7-4700EQ, 4 GB DRAM (non-ECC), 128 GB SSD-iMLC, WES 7 (32-bit), PCIe slot, RS-232, 15.4" display with capacitive touchscreen |
| | 12.1 inch | Intel® Core™ i7 | 4700EQ (2.4 GHz) | Active cooling (fan) | 4 GB RAM (non ECC) | 128 GB SSD | WES 7 (32 bits) | 1 x PCIe slot (X4 lanes) | DVI-D | DVI-I | 16:10 | Aluminium, black | 1280 | 800 | Industrial Panel PC with Intel® Core™ i7-4700EQ, 4 GB DRAM (non-ECC), 128 GB SSD-iMLC, WES 7 (32-bit), PCIe slot, extra DVI-D, 12.1" display with capacitive touchscreen |
| | 15.4 inch | Intel® Core™ i7 | 4700EQ (2.4 GHz) | Active cooling (fan) | 4 GB RAM (non ECC) | 128 GB SSD | WES 7 (32 bits) | 1 x PCIe slot (X4 lanes) | DVI-D | DVI-I | 16:10 | Aluminium, black | 1280 | 800 | Industrial Panel PC with Intel® Core™ i7-4700EQ, 4 GB DRAM (non-ECC), 128 GB SSD-iMLC, WES 7 (32-bit), PCIe slot, extra DVI-D, 15.4" display with capacitive touchscreen |
| | 12.1 inch | Intel® Core™ i7 | 4700EQ (2.4 GHz) | Active cooling (fan) | 4 GB RAM (non ECC) | 32 GB SSD | WES 7 (64 bits) | 1 x PCIe slot (X4 lanes) | RS-232 | DVI-I | 16:10 | Aluminium, black | 1280 | 800 | Industrial Panel PC with Intel® Core™ i7-4700EQ, 4 GB DRAM (non-ECC), 32 GB SSD-SLC, WES 7 (64-bit), PCIe slot, RS-232, 12.1" display with capacitive touchscreen |
| | 15.4 inch | Intel® Core™ i7 | 4700EQ (2.4 GHz) | Active cooling (fan) | 4 GB RAM (non ECC) | 32 GB SSD | WES 7 (64 bits) | 1 x PCIe slot (X4 lanes) | RS-232 | DVI-I | 16:10 | Aluminium, black | 1280 | 800 | Industrial Panel PC with Intel® Core™ i7-4700EQ, 4 GB DRAM (non-ECC), 32 GB SSD-SLC, WES 7 (64-bit), PCIe slot, RS-232, 15.4" display with capacitive touchscreen |
| | 12.1 inch | Intel® Core™ i7 | 4700EQ (2.4 GHz) | Active cooling (fan) | 4 GB RAM (non ECC) | 32 GB SSD | WES 7 (64 bits) | 1 x PCIe slot (X4 lanes) | DVI-D | DVI-I | 16:10 | Aluminium, black | 1280 | 800 | Industrial Panel PC with Intel® Core™ i7-4700EQ, 4 GB DRAM (non-ECC), 32 GB SSD-SLC, WES 7 (64-bit), PCIe slot, extra DVI-D, 12.1" display with capacitive touchscreen |
| | 15.4 inch | Intel® Core™ i7 | 4700EQ (2.4 GHz) | Active cooling (fan) | 4 GB RAM (non ECC) | 32 GB SSD | WES 7 (64 bits) | 1 x PCIe slot (X4 lanes) | DVI-D | DVI-I | 16:10 | Aluminium, black | 1280 | 800 | Industrial Panel PC with Intel® Core™ i7-4700EQ, 4 GB DRAM (non-ECC), 32 GB SSD-SLC, WES 7 (64-bit), PCIe slot, extra DVI-D, 15.4" display with capacitive touchscreen |
| | 12.1 inch | Intel® Core™ i7 | 4700EQ (2.4 GHz) | Active cooling (fan) | 4 GB RAM (non ECC) | 64 GB SSD | WES 7 (64 bits) | 1 x PCIe slot (X4 lanes) | RS-232 | DVI-I | 16:10 | Aluminium, black | 1280 | 800 | Industrial Panel PC with Intel® Core™ i7-4700EQ, 4 GB DRAM (non-ECC), 64 GB SSD-SLC, WES 7 (64-bit), PCIe slot, RS-232, 12.1" display with capacitive touchscreen |
| | 15.4 inch | Intel® Core™ i7 | 4700EQ (2.4 GHz) | Active cooling (fan) | 4 GB RAM (non ECC) | 64 GB SSD | WES 7 (64 bits) | 1 x PCIe slot (X4 lanes) | RS-232 | DVI-I | 16:10 | Aluminium, black | 1280 | 800 | Industrial Panel PC with Intel® Core™ i7-4700EQ, 4 GB DRAM (non-ECC), 64 GB SSD-SLC, WES 7 (64-bit), PCIe slot, RS-232, 15.4" display with capacitive touchscreen |
| | 12.1 inch | Intel® Core™ i7 | 4700EQ (2.4 GHz) | Active cooling (fan) | 4 GB RAM (non ECC) | 64 GB SSD | WES 7 (64 bits) | 1 x PCIe slot (X4 lanes) | DVI-D | DVI-I | 16:10 | Aluminium, black | 1280 | 800 | Industrial Panel PC with Intel® Core™ i7-4700EQ, 4 GB DRAM (non-ECC), 64 GB SSD-SLC, WES 7 (64-bit), PCIe slot, extra DVI-D, 12.1" display with capacitive touchscreen |
| | 15.4 inch | Intel® Core™ i7 | 4700EQ (2.4 GHz) | Active cooling (fan) | 4 GB RAM (non ECC) | 64 GB SSD | WES 7 (64 bits) | 1 x PCIe slot (X4 lanes) | DVI-D | DVI-I | 16:10 | Aluminium, black | 1280 | 800 | Industrial Panel PC with Intel® Core™ i7-4700EQ, 4 GB DRAM (non-ECC), 64 GB SSD-SLC, WES 7 (64-bit), PCIe slot, extra DVI-D, 15.4" display with capacitive touchscreen |
| | 12.1 inch | Intel® Core™ i7 | 4700EQ (2.4 GHz) | Active cooling (fan) | 4 GB RAM (non ECC) | 320 GB HDD | WES 7 (64 bits) | 1 x PCIe slot (X4 lanes) | RS-232 | DVI-I | 16:10 | Aluminium, black | 1280 | 800 | Industrial Panel PC with Intel® Core™ i7-4700EQ, 4 GB DRAM (non-ECC), 320 GB HDD, WES 7 (64-bit), PCIe slot, RS-232, 12.1" display with capacitive touchscreen |
| | 15.4 inch | Intel® Core™ i7 | 4700EQ (2.4 GHz) | Active cooling (fan) | 4 GB RAM (non ECC) | 320 GB HDD | WES 7 (64 bits) | 1 x PCIe slot (X4 lanes) | RS-232 | DVI-I | 16:10 | Aluminium, black | 1280 | 800 | Industrial Panel PC with Intel® Core™ i7-4700EQ, 4 GB DRAM (non-ECC), 320 GB HDD, WES 7 (64-bit), PCIe slot, RS-232, 15.4" display with capacitive touchscreen |
| | 12.1 inch | Intel® Core™ i7 | 4700EQ (2.4 GHz) | Active cooling (fan) | 4 GB RAM (non ECC) | 320 GB HDD | WES 7 (64 bits) | 1 x PCIe slot (X4 lanes) | DVI-D | DVI-I | 16:10 | Aluminium, black | 1280 | 800 | Industrial Panel PC with Intel® Core™ i7-4700EQ, 4 GB DRAM (non-ECC), 320 GB HDD, WES 7 (64-bit), PCIe slot, extra DVI-D, 12.1" display with capacitive touchscreen |
| | 15.4 inch | Intel® Core™ i7 | 4700EQ (2.4 GHz) | Active cooling (fan) | 4 GB RAM (non ECC) | 320 GB HDD | WES 7 (64 bits) | 1 x PCIe slot (X4 lanes) | DVI-D | DVI-I | 16:10 | Aluminium, black | 1280 | 800 | Industrial Panel PC with Intel® Core™ i7-4700EQ, 4 GB DRAM (non-ECC), 320 GB HDD, WES 7 (64-bit), PCIe slot, extra DVI-D, 15.4" display with capacitive touchscreen |
| | 12.1 inch | Intel® Core™ i7 | 4700EQ (2.4 GHz) | Active cooling (fan) | 4 GB RAM (non ECC) | 128 GB SSD | WES 7 (64 bits) | 1 x PCIe slot (X4 lanes) | RS-232 | DVI-I | 16:10 | Aluminium, black | 1280 | 800 | Industrial Panel PC with Intel® Core™ i7-4700EQ, 4 GB DRAM (non-ECC), 128 GB SSD-iMLC, WES 7 (64-bit), PCIe slot, RS-232, 12.1" display with capacitive touchscreen |
| | 15.4 inch | Intel® Core™ i7 | 4700EQ (2.4 GHz) | Active cooling (fan) | 4 GB RAM (non ECC) | 128 GB SSD | WES 7 (64 bits) | 1 x PCIe slot (X4 lanes) | RS-232 | DVI-I | 16:10 | Aluminium, black | 1280 | 800 | Industrial Panel PC with Intel® Core™ i7-4700EQ, 4 GB DRAM (non-ECC), 128 GB SSD-iMLC, WES 7 (64-bit), PCIe slot, RS-232, 15.4" display with capacitive touchscreen |
| | 12.1 inch | Intel® Core™ i7 | 4700EQ (2.4 GHz) | Active cooling (fan) | 4 GB RAM (non ECC) | 128 GB SSD | WES 7 (64 bits) | 1 x PCIe slot (X4 lanes) | DVI-D | DVI-I | 16:10 | Aluminium, black | 1280 | 800 | Industrial Panel PC with Intel® Core™ i7-4700EQ, 4 GB DRAM (non-ECC), 128 GB SSD-iMLC, WES 7 (64-bit), PCIe slot, extra DVI-D, 12.1" display with capacitive touchscreen |
| | 15.4 inch | Intel® Core™ i7 | 4700EQ (2.4 GHz) | Active cooling (fan) | 4 GB RAM (non ECC) | 128 GB SSD | WES 7 (64 bits) | 1 x PCIe slot (X4 lanes) | DVI-D | DVI-I | 16:10 | Aluminium, black | 1280 | 800 | Industrial Panel PC with Intel® Core™ i7-4700EQ, 4 GB DRAM (non-ECC), 128 GB SSD-iMLC, WES 7 (64-bit), PCIe slot, extra DVI-D, 15.4" display with capacitive touchscreen |
| | 12.1 inch | Intel® Core™ i7 | 4700EQ (2.4 GHz) | Active cooling (fan) | 4 GB RAM (non ECC) | 64 GB SSD | Windows 10 (64 bits) | 1 x PCIe slot (X4 lanes) | RS-232 | DVI-I | 16:10 | Aluminium, black | 1280 | 800 | Industrial Panel PC with Intel® Core™ i7-4700EQ, 4 GB DRAM (non-ECC), 64 GB SSD-SLC, WIN 10 IoT Ent. (64-bit), PCIe slot, RS-232, 12.1" display with capacitive touchscreen |
| | 15.4 inch | Intel® Core™ i7 | 4700EQ (2.4 GHz) | Active cooling (fan) | 4 GB RAM (non ECC) | 64 GB SSD | Windows 10 (64 bits) | 1 x PCIe slot (X4 lanes) | RS-232 | DVI-I | 16:10 | Aluminium, black | 1280 | 800 | Industrial Panel PC with Intel® Core™ i7-4700EQ, 4 GB DRAM (non-ECC), 64 GB SSD-SLC, WIN 10 IoT Ent. (64-bit), PCIe slot, RS-232, 15.4" display with capacitive touchscreen |
| | 12.1 inch | Intel® Core™ i7 | 4700EQ (2.4 GHz) | Active cooling (fan) | 4 GB RAM (non ECC) | 64 GB SSD | Windows 10 (64 bits) | 1 x PCIe slot (X4 lanes) | DVI-D | DVI-I | 16:10 | Aluminium, black | 1280 | 800 | Industrial Panel PC with Intel® Core™ i7-4700EQ, 4 GB DRAM (non-ECC), 64 GB SSD-SLC, WIN 10 IoT Ent. (64-bit), PCIe slot, extra DVI-D, 12.1" display with capacitive touchscreen |
| | 15.4 inch | Intel® Core™ i7 | 4700EQ (2.4 GHz) | Active cooling (fan) | 4 GB RAM (non ECC) | 64 GB SSD | Windows 10 (64 bits) | 1 x PCIe slot (X4 lanes) | DVI-D | DVI-I | 16:10 | Aluminium, black | 1280 | 800 | Industrial Panel PC with Intel® Core™ i7-4700EQ, 4 GB DRAM (non-ECC), 64 GB SSD-SLC, WIN 10 IoT Ent. (64-bit), PCIe slot, extra DVI-D, 15.4" display with capacitive touchscreen |
| | 12.1 inch | Intel® Core™ i7 | 4700EQ (2.4 GHz) | Active cooling (fan) | 4 GB RAM (non ECC) | 64 GB SSD | Windows 10 (64 bits) | 1 x PCIe slot (X4 lanes) | NYML | DVI-I | 16:10 | Aluminium, black | 1280 | 800 | Industrial Panel PC with Intel® Core™ i7-4700EQ, 4 GB DRAM (non-ECC), 64 GB SSD-SLC, WIN 10 IoT Ent. (64-bit), PCIe slot, NYML port, 12.1" display with capacitive touchscreen |
| | 15.4 inch | Intel® Core™ i7 | 4700EQ (2.4 GHz) | Active cooling (fan) | 4 GB RAM (non ECC) | 64 GB SSD | Windows 10 (64 bits) | 1 x PCIe slot (X4 lanes) | NYML | DVI-I | 16:10 | Aluminium, black | 1280 | 800 | Industrial Panel PC with Intel® Core™ i7-4700EQ, 4 GB DRAM (non-ECC), 64 GB SSD-SLC, WIN 10 IoT Ent. (64-bit), PCIe slot, NYML port, 15.4" display with capacitive touchscreen |
| | 12.1 inch | Intel® Core™ i7 | 4700EQ (2.4 GHz) | Active cooling (fan) | 4 GB RAM (non ECC) | 320 GB HDD | Windows 10 (64 bits) | 1 x PCIe slot (X4 lanes) | RS-232 | DVI-I | 16:10 | Aluminium, black | 1280 | 800 | Industrial Panel PC with Intel® Core™ i7-4700EQ, 4 GB DRAM (non-ECC), 320 GB HDD, WIN 10 IoT Ent. (64-bit), PCIe slot, RS-232, 12.1" display with capacitive touchscreen |
| | 15.4 inch | Intel® Core™ i7 | 4700EQ (2.4 GHz) | Active cooling (fan) | 4 GB RAM (non ECC) | 320 GB HDD | Windows 10 (64 bits) | 1 x PCIe slot (X4 lanes) | RS-232 | DVI-I | 16:10 | Aluminium, black | 1280 | 800 | Industrial Panel PC with Intel® Core™ i7-4700EQ, 4 GB DRAM (non-ECC), 320 GB HDD, WIN 10 IoT Ent. (64-bit), PCIe slot, RS-232, 15.4" display with capacitive touchscreen |
| | 12.1 inch | Intel® Core™ i7 | 4700EQ (2.4 GHz) | Active cooling (fan) | 4 GB RAM (non ECC) | 320 GB HDD | Windows 10 (64 bits) | 1 x PCIe slot (X4 lanes) | DVI-D | DVI-I | 16:10 | Aluminium, black | 1280 | 800 | Industrial Panel PC with Intel® Core™ i7-4700EQ, 4 GB DRAM (non-ECC), 320 GB HDD, WIN 10 IoT Ent. (64-bit), PCIe slot, extra DVI-D, 12.1" display with capacitive touchscreen |
| | 15.4 inch | Intel® Core™ i7 | 4700EQ (2.4 GHz) | Active cooling (fan) | 4 GB RAM (non ECC) | 320 GB HDD | Windows 10 (64 bits) | 1 x PCIe slot (X4 lanes) | DVI-D | DVI-I | 16:10 | Aluminium, black | 1280 | 800 | Industrial Panel PC with Intel® Core™ i7-4700EQ, 4 GB DRAM (non-ECC), 320 GB HDD, WIN 10 IoT Ent. (64-bit), PCIe slot, extra DVI-D, 15.4" display with capacitive touchscreen |
| | 12.1 inch | Intel® Core™ i7 | 4700EQ (2.4 GHz) | Active cooling (fan) | 4 GB RAM (non ECC) | 320 GB HDD | Windows 10 (64 bits) | 1 x PCIe slot (X4 lanes) | NYML | DVI-I | 16:10 | Aluminium, black | 1280 | 800 | Industrial Panel PC with Intel® Core™ i7-4700EQ, 4 GB DRAM (non-ECC), 320 GB HDD, WIN 10 IoT Ent. (64-bit), PCIe slot, NYML port, 12.1" display with capacitive touchscreen |
| | 15.4 inch | Intel® Core™ i7 | 4700EQ (2.4 GHz) | Active cooling (fan) | 4 GB RAM (non ECC) | 320 GB HDD | Windows 10 (64 bits) | 1 x PCIe slot (X4 lanes) | NYML | DVI-I | 16:10 | Aluminium, black | 1280 | 800 | Industrial Panel PC with Intel® Core™ i7-4700EQ, 4 GB DRAM (non-ECC), 320 GB HDD, WIN 10 IoT Ent. (64-bit), PCIe slot, NYML port, 15.4" display with capacitive touchscreen |
| | 12.1 inch | Intel® Core™ i7 | 4700EQ (2.4 GHz) | Active cooling (fan) | 4 GB RAM (non ECC) | 128 GB SSD | Windows 10 (64 bits) | 1 x PCIe slot (X4 lanes) | RS-232 | DVI-I | 16:10 | Aluminium, black | 1280 | 800 | Industrial Panel PC with Intel® Core™ i7-4700EQ, 4 GB DRAM (non-ECC), 128 GB SSD-iMLC, WIN 10 IoT Ent. (64-bit), PCIe slot, RS-232, 12.1" display with capacitive touchscreen |
| | 15.4 inch | Intel® Core™ i7 | 4700EQ (2.4 GHz) | Active cooling (fan) | 4 GB RAM (non ECC) | 128 GB SSD | Windows 10 (64 bits) | 1 x PCIe slot (X4 lanes) | RS-232 | DVI-I | 16:10 | Aluminium, black | 1280 | 800 | Industrial Panel PC with Intel® Core™ i7-4700EQ, 4 GB DRAM (non-ECC), 128 GB SSD-iMLC, WIN 10 IoT Ent. (64-bit), PCIe slot, RS-232, 15.4" display with capacitive touchscreen |
| | 12.1 inch | Intel® Core™ i7 | 4700EQ (2.4 GHz) | Active cooling (fan) | 4 GB RAM (non ECC) | 128 GB SSD | Windows 10 (64 bits) | 1 x PCIe slot (X4 lanes) | DVI-D | DVI-I | 16:10 | Aluminium, black | 1280 | 800 | Industrial Panel PC with Intel® Core™ i7-4700EQ, 4 GB DRAM (non-ECC), 128 GB SSD-iMLC, WIN 10 IoT Ent. (64-bit), PCIe slot, extra DVI-D, 12.1" display with capacitive touchscreen |
| | 15.4 inch | Intel® Core™ i7 | 4700EQ (2.4 GHz) | Active cooling (fan) | 4 GB RAM (non ECC) | 128 GB SSD | Windows 10 (64 bits) | 1 x PCIe slot (X4 lanes) | DVI-D | DVI-I | 16:10 | Aluminium, black | 1280 | 800 | Industrial Panel PC with Intel® Core™ i7-4700EQ, 4 GB DRAM (non-ECC), 128 GB SSD-iMLC, WIN 10 IoT Ent. (64-bit), PCIe slot, extra DVI-D, 15.4" display with capacitive touchscreen |
| | 12.1 inch | Intel® Core™ i7 | 4700EQ (2.4 GHz) | Active cooling (fan) | 4 GB RAM (non ECC) | 128 GB SSD | Windows 10 (64 bits) | 1 x PCIe slot (X4 lanes) | NYML | DVI-I | 16:10 | Aluminium, black | 1280 | 800 | Industrial Panel PC with Intel® Core™ i7-4700EQ, 4 GB DRAM (non-ECC), 128 GB SSD-iMLC, WIN 10 IoT Ent. (64-bit), PCIe slot, NYML port, 12.1" display with capacitive touchscreen |
| | 15.4 inch | Intel® Core™ i7 | 4700EQ (2.4 GHz) | Active cooling (fan) | 4 GB RAM (non ECC) | 128 GB SSD | Windows 10 (64 bits) | 1 x PCIe slot (X4 lanes) | NYML | DVI-I | 16:10 | Aluminium, black | 1280 | 800 | Industrial Panel PC with Intel® Core™ i7-4700EQ, 4 GB DRAM (non-ECC), 128 GB SSD-iMLC, WIN 10 IoT Ent. (64-bit), PCIe slot, NYML port, 15.4" display with capacitive touchscreen |
| | 12.1 inch | Intel® Core™ i7 | 4700EQ (2.4 GHz) | Active cooling (fan) | 8 GB RAM (non ECC) | No Storage | No OS | 1 x PCIe slot (X4 lanes) | RS-232 | DVI-I | 16:10 | Aluminium, black | 1280 | 800 | Industrial Panel PC with Intel® Core™ i7-4700EQ, 8 GB DRAM (non-ECC), No storage, No OS, PCIe slot, RS-232, 12.1" display with capacitive touchscreen |
| | 15.4 inch | Intel® Core™ i7 | 4700EQ (2.4 GHz) | Active cooling (fan) | 8 GB RAM (non ECC) | No Storage | No OS | 1 x PCIe slot (X4 lanes) | RS-232 | DVI-I | 16:10 | Aluminium, black | 1280 | 800 | Industrial Panel PC with Intel® Core™ i7-4700EQ, 8 GB DRAM (non-ECC), No storage, No OS, PCIe slot, RS-232, 15.4" display with capacitive touchscreen |
| | 12.1 inch | Intel® Core™ i7 | 4700EQ (2.4 GHz) | Active cooling (fan) | 8 GB RAM (non ECC) | No Storage | No OS | 1 x PCIe slot (X4 lanes) | DVI-D | DVI-I | 16:10 | Aluminium, black | 1280 | 800 | Industrial Panel PC with Intel® Core™ i7-4700EQ, 8 GB DRAM (non-ECC), No storage, No OS, PCIe slot, extra DVI-D, 12.1" display with capacitive touchscreen |
| | 15.4 inch | Intel® Core™ i7 | 4700EQ (2.4 GHz) | Active cooling (fan) | 8 GB RAM (non ECC) | No Storage | No OS | 1 x PCIe slot (X4 lanes) | DVI-D | DVI-I | 16:10 | Aluminium, black | 1280 | 800 | Industrial Panel PC with Intel® Core™ i7-4700EQ, 8 GB DRAM (non-ECC), No storage, No OS, PCIe slot, extra DVI-D, 15.4" display with capacitive touchscreen |
| | 12.1 inch | Intel® Core™ i7 | 4700EQ (2.4 GHz) | Active cooling (fan) | 8 GB RAM (non ECC) | No Storage | No OS | 1 x PCIe slot (X4 lanes) | NYML | DVI-I | 16:10 | Aluminium, black | 1280 | 800 | Industrial Panel PC with Intel® Core™ i7-4700EQ, 8 GB DRAM (non-ECC), No storage, No OS, PCIe slot, NYML port, 12.1" display with capacitive touchscreen |
| | 15.4 inch | Intel® Core™ i7 | 4700EQ (2.4 GHz) | Active cooling (fan) | 8 GB RAM (non ECC) | No Storage | No OS | 1 x PCIe slot (X4 lanes) | NYML | DVI-I | 16:10 | Aluminium, black | 1280 | 800 | Industrial Panel PC with Intel® Core™ i7-4700EQ, 8 GB DRAM (non-ECC), No storage, No OS, PCIe slot, NYML port, 15.4" display with capacitive touchscreen |
| | 12.1 inch | Intel® Core™ i7 | 4700EQ (2.4 GHz) | Active cooling (fan) | 8 GB RAM (non ECC) | 32 GB SSD | WES 7 (64 bits) | 1 x PCIe slot (X4 lanes) | RS-232 | DVI-I | 16:10 | Aluminium, black | 1280 | 800 | Industrial Panel PC with Intel® Core™ i7-4700EQ, 8 GB DRAM (non-ECC), 32 GB SSD-SLC, WES 7 (64-bit), PCIe slot, RS-232, 12.1" display with capacitive touchscreen |
| | 15.4 inch | Intel® Core™ i7 | 4700EQ (2.4 GHz) | Active cooling (fan) | 8 GB RAM (non ECC) | 32 GB SSD | WES 7 (64 bits) | 1 x PCIe slot (X4 lanes) | RS-232 | DVI-I | 16:10 | Aluminium, black | 1280 | 800 | Industrial Panel PC with Intel® Core™ i7-4700EQ, 8 GB DRAM (non-ECC), 32 GB SSD-SLC, WES 7 (64-bit), PCIe slot, RS-232, 15.4" display with capacitive touchscreen |
| | 12.1 inch | Intel® Core™ i7 | 4700EQ (2.4 GHz) | Active cooling (fan) | 8 GB RAM (non ECC) | 32 GB SSD | WES 7 (64 bits) | 1 x PCIe slot (X4 lanes) | DVI-D | DVI-I | 16:10 | Aluminium, black | 1280 | 800 | Industrial Panel PC with Intel® Core™ i7-4700EQ, 8 GB DRAM (non-ECC), 32 GB SSD-SLC, WES 7 (64-bit), PCIe slot, extra DVI-D, 12.1" display with capacitive touchscreen |
| | 15.4 inch | Intel® Core™ i7 | 4700EQ (2.4 GHz) | Active cooling (fan) | 8 GB RAM (non ECC) | 32 GB SSD | WES 7 (64 bits) | 1 x PCIe slot (X4 lanes) | DVI-D | DVI-I | 16:10 | Aluminium, black | 1280 | 800 | Industrial Panel PC with Intel® Core™ i7-4700EQ, 8 GB DRAM (non-ECC), 32 GB SSD-SLC, WES 7 (64-bit), PCIe slot, extra DVI-D, 15.4" display with capacitive touchscreen |
| | 12.1 inch | Intel® Core™ i7 | 4700EQ (2.4 GHz) | Active cooling (fan) | 8 GB RAM (non ECC) | 64 GB SSD | WES 7 (64 bits) | 1 x PCIe slot (X4 lanes) | RS-232 | DVI-I | 16:10 | Aluminium, black | 1280 | 800 | Industrial Panel PC with Intel® Core™ i7-4700EQ, 8 GB DRAM (non-ECC), 64 GB SSD-SLC, WES 7 (64-bit), PCIe slot, RS-232, 12.1" display with capacitive touchscreen |
| | 15.4 inch | Intel® Core™ i7 | 4700EQ (2.4 GHz) | Active cooling (fan) | 8 GB RAM (non ECC) | 64 GB SSD | WES 7 (64 bits) | 1 x PCIe slot (X4 lanes) | RS-232 | DVI-I | 16:10 | Aluminium, black | 1280 | 800 | Industrial Panel PC with Intel® Core™ i7-4700EQ, 8 GB DRAM (non-ECC), 64 GB SSD-SLC, WES 7 (64-bit), PCIe slot, RS-232, 15.4" display with capacitive touchscreen |
| | 12.1 inch | Intel® Core™ i7 | 4700EQ (2.4 GHz) | Active cooling (fan) | 8 GB RAM (non ECC) | 64 GB SSD | WES 7 (64 bits) | 1 x PCIe slot (X4 lanes) | DVI-D | DVI-I | 16:10 | Aluminium, black | 1280 | 800 | Industrial Panel PC with Intel® Core™ i7-4700EQ, 8 GB DRAM (non-ECC), 64 GB SSD-SLC, WES 7 (64-bit), PCIe slot, extra DVI-D, 12.1" display with capacitive touchscreen |
| | 15.4 inch | Intel® Core™ i7 | 4700EQ (2.4 GHz) | Active cooling (fan) | 8 GB RAM (non ECC) | 64 GB SSD | WES 7 (64 bits) | 1 x PCIe slot (X4 lanes) | DVI-D | DVI-I | 16:10 | Aluminium, black | 1280 | 800 | Industrial Panel PC with Intel® Core™ i7-4700EQ, 8 GB DRAM (non-ECC), 64 GB SSD-SLC, WES 7 (64-bit), PCIe slot, extra DVI-D, 15.4" display with capacitive touchscreen |
| | 12.1 inch | Intel® Core™ i7 | 4700EQ (2.4 GHz) | Active cooling (fan) | 8 GB RAM (non ECC) | 320 GB HDD | WES 7 (64 bits) | 1 x PCIe slot (X4 lanes) | RS-232 | DVI-I | 16:10 | Aluminium, black | 1280 | 800 | Industrial Panel PC with Intel® Core™ i7-4700EQ, 8 GB DRAM (non-ECC), 320 GB HDD, WES 7 (64-bit), PCIe slot, RS-232, 12.1" display with capacitive touchscreen |
| | 15.4 inch | Intel® Core™ i7 | 4700EQ (2.4 GHz) | Active cooling (fan) | 8 GB RAM (non ECC) | 320 GB HDD | WES 7 (64 bits) | 1 x PCIe slot (X4 lanes) | RS-232 | DVI-I | 16:10 | Aluminium, black | 1280 | 800 | Industrial Panel PC with Intel® Core™ i7-4700EQ, 8 GB DRAM (non-ECC), 320 GB HDD, WES 7 (64-bit), PCIe slot, RS-232, 15.4" display with capacitive touchscreen |
| | 12.1 inch | Intel® Core™ i7 | 4700EQ (2.4 GHz) | Active cooling (fan) | 8 GB RAM (non ECC) | 320 GB HDD | WES 7 (64 bits) | 1 x PCIe slot (X4 lanes) | DVI-D | DVI-I | 16:10 | Aluminium, black | 1280 | 800 | Industrial Panel PC with Intel® Core™ i7-4700EQ, 8 GB DRAM (non-ECC), 320 GB HDD, WES 7 (64-bit), PCIe slot, extra DVI-D, 12.1" display with capacitive touchscreen |
| | 15.4 inch | Intel® Core™ i7 | 4700EQ (2.4 GHz) | Active cooling (fan) | 8 GB RAM (non ECC) | 320 GB HDD | WES 7 (64 bits) | 1 x PCIe slot (X4 lanes) | DVI-D | DVI-I | 16:10 | Aluminium, black | 1280 | 800 | Industrial Panel PC with Intel® Core™ i7-4700EQ, 8 GB DRAM (non-ECC), 320 GB HDD, WES 7 (64-bit), PCIe slot, extra DVI-D, 15.4" display with capacitive touchscreen |
| | 12.1 inch | Intel® Core™ i7 | 4700EQ (2.4 GHz) | Active cooling (fan) | 8 GB RAM (non ECC) | 128 GB SSD | WES 7 (64 bits) | 1 x PCIe slot (X4 lanes) | RS-232 | DVI-I | 16:10 | Aluminium, black | 1280 | 800 | Industrial Panel PC with Intel® Core™ i7-4700EQ, 8 GB DRAM (non-ECC), 128 GB SSD-iMLC, WES 7 (64-bit), PCIe slot, RS-232, 12.1" display with capacitive touchscreen |
| | 15.4 inch | Intel® Core™ i7 | 4700EQ (2.4 GHz) | Active cooling (fan) | 8 GB RAM (non ECC) | 128 GB SSD | WES 7 (64 bits) | 1 x PCIe slot (X4 lanes) | RS-232 | DVI-I | 16:10 | Aluminium, black | 1280 | 800 | Industrial Panel PC with Intel® Core™ i7-4700EQ, 8 GB DRAM (non-ECC), 128 GB SSD-iMLC, WES 7 (64-bit), PCIe slot, RS-232, 15.4" display with capacitive touchscreen |
| | 12.1 inch | Intel® Core™ i7 | 4700EQ (2.4 GHz) | Active cooling (fan) | 8 GB RAM (non ECC) | 128 GB SSD | WES 7 (64 bits) | 1 x PCIe slot (X4 lanes) | DVI-D | DVI-I | 16:10 | Aluminium, black | 1280 | 800 | Industrial Panel PC with Intel® Core™ i7-4700EQ, 8 GB DRAM (non-ECC), 128 GB SSD-iMLC, WES 7 (64-bit), PCIe slot, extra DVI-D, 12.1" display with capacitive touchscreen |
| | 15.4 inch | Intel® Core™ i7 | 4700EQ (2.4 GHz) | Active cooling (fan) | 8 GB RAM (non ECC) | 128 GB SSD | WES 7 (64 bits) | 1 x PCIe slot (X4 lanes) | DVI-D | DVI-I | 16:10 | Aluminium, black | 1280 | 800 | Industrial Panel PC with Intel® Core™ i7-4700EQ, 8 GB DRAM (non-ECC), 128 GB SSD-iMLC, WES 7 (64-bit), PCIe slot, extra DVI-D, 15.4" display with capacitive touchscreen |
| | 12.1 inch | Intel® Core™ i7 | 4700EQ (2.4 GHz) | Active cooling (fan) | 8 GB RAM (non ECC) | 64 GB SSD | Windows 10 (64 bits) | 1 x PCIe slot (X4 lanes) | RS-232 | DVI-I | 16:10 | Aluminium, black | 1280 | 800 | Industrial Panel PC with Intel® Core™ i7-4700EQ, 8 GB DRAM (non-ECC), 64 GB SSD-SLC, WIN 10 IoT Ent. (64-bit), PCIe slot, RS-232, 12.1" display with capacitive touchscreen |
| | 15.4 inch | Intel® Core™ i7 | 4700EQ (2.4 GHz) | Active cooling (fan) | 8 GB RAM (non ECC) | 64 GB SSD | Windows 10 (64 bits) | 1 x PCIe slot (X4 lanes) | RS-232 | DVI-I | 16:10 | Aluminium, black | 1280 | 800 | Industrial Panel PC with Intel® Core™ i7-4700EQ, 8 GB DRAM (non-ECC), 64 GB SSD-SLC, WIN 10 IoT Ent. (64-bit), PCIe slot, RS-232, 15.4" display with capacitive touchscreen |
| | 12.1 inch | Intel® Core™ i7 | 4700EQ (2.4 GHz) | Active cooling (fan) | 8 GB RAM (non ECC) | 64 GB SSD | Windows 10 (64 bits) | 1 x PCIe slot (X4 lanes) | DVI-D | DVI-I | 16:10 | Aluminium, black | 1280 | 800 | Industrial Panel PC with Intel® Core™ i7-4700EQ, 8 GB DRAM (non-ECC), 64 GB SSD-SLC, WIN 10 IoT Ent. (64-bit), PCIe slot, extra DVI-D, 12.1" display with capacitive touchscreen |
| | 15.4 inch | Intel® Core™ i7 | 4700EQ (2.4 GHz) | Active cooling (fan) | 8 GB RAM (non ECC) | 64 GB SSD | Windows 10 (64 bits) | 1 x PCIe slot (X4 lanes) | DVI-D | DVI-I | 16:10 | Aluminium, black | 1280 | 800 | Industrial Panel PC with Intel® Core™ i7-4700EQ, 8 GB DRAM (non-ECC), 64 GB SSD-SLC, WIN 10 IoT Ent. (64-bit), PCIe slot, extra DVI-D, 15.4" display with capacitive touchscreen |
| | 12.1 inch | Intel® Core™ i7 | 4700EQ (2.4 GHz) | Active cooling (fan) | 8 GB RAM (non ECC) | 64 GB SSD | Windows 10 (64 bits) | 1 x PCIe slot (X4 lanes) | NYML | DVI-I | 16:10 | Aluminium, black | 1280 | 800 | Industrial Panel PC with Intel® Core™ i7-4700EQ, 8 GB DRAM (non-ECC), 64 GB SSD-SLC, WIN 10 IoT Ent. (64-bit), PCIe slot, NYML port, 12.1" display with capacitive touchscreen |
| | 15.4 inch | Intel® Core™ i7 | 4700EQ (2.4 GHz) | Active cooling (fan) | 8 GB RAM (non ECC) | 64 GB SSD | Windows 10 (64 bits) | 1 x PCIe slot (X4 lanes) | NYML | DVI-I | 16:10 | Aluminium, black | 1280 | 800 | Industrial Panel PC with Intel® Core™ i7-4700EQ, 8 GB DRAM (non-ECC), 64 GB SSD-SLC, WIN 10 IoT Ent. (64-bit), PCIe slot, NYML port, 15.4" display with capacitive touchscreen |
| | 12.1 inch | Intel® Core™ i7 | 4700EQ (2.4 GHz) | Active cooling (fan) | 8 GB RAM (non ECC) | 320 GB HDD | Windows 10 (64 bits) | 1 x PCIe slot (X4 lanes) | RS-232 | DVI-I | 16:10 | Aluminium, black | 1280 | 800 | Industrial Panel PC with Intel® Core™ i7-4700EQ, 8 GB DRAM (non-ECC), 320 GB HDD, WIN 10 IoT Ent. (64-bit), PCIe slot, RS-232, 12.1" display with capacitive touchscreen |
| | 15.4 inch | Intel® Core™ i7 | 4700EQ (2.4 GHz) | Active cooling (fan) | 8 GB RAM (non ECC) | 320 GB HDD | Windows 10 (64 bits) | 1 x PCIe slot (X4 lanes) | RS-232 | DVI-I | 16:10 | Aluminium, black | 1280 | 800 | Industrial Panel PC with Intel® Core™ i7-4700EQ, 8 GB DRAM (non-ECC), 320 GB HDD, WIN 10 IoT Ent. (64-bit), PCIe slot, RS-232, 15.4" display with capacitive touchscreen |
| | 12.1 inch | Intel® Core™ i7 | 4700EQ (2.4 GHz) | Active cooling (fan) | 8 GB RAM (non ECC) | 320 GB HDD | Windows 10 (64 bits) | 1 x PCIe slot (X4 lanes) | DVI-D | DVI-I | 16:10 | Aluminium, black | 1280 | 800 | Industrial Panel PC with Intel® Core™ i7-4700EQ, 8 GB DRAM (non-ECC), 320 GB HDD, WIN 10 IoT Ent. (64-bit), PCIe slot, extra DVI-D, 12.1" display with capacitive touchscreen |
| | 15.4 inch | Intel® Core™ i7 | 4700EQ (2.4 GHz) | Active cooling (fan) | 8 GB RAM (non ECC) | 320 GB HDD | Windows 10 (64 bits) | 1 x PCIe slot (X4 lanes) | DVI-D | DVI-I | 16:10 | Aluminium, black | 1280 | 800 | Industrial Panel PC with Intel® Core™ i7-4700EQ, 8 GB DRAM (non-ECC), 320 GB HDD, WIN 10 IoT Ent. (64-bit), PCIe slot, extra DVI-D, 15.4" display with capacitive touchscreen |
| | 12.1 inch | Intel® Core™ i7 | 4700EQ (2.4 GHz) | Active cooling (fan) | 8 GB RAM (non ECC) | 320 GB HDD | Windows 10 (64 bits) | 1 x PCIe slot (X4 lanes) | NYML | DVI-I | 16:10 | Aluminium, black | 1280 | 800 | Industrial Panel PC with Intel® Core™ i7-4700EQ, 8 GB DRAM (non-ECC), 320 GB HDD, WIN 10 IoT Ent. (64-bit), PCIe slot, NYML port, 12.1" display with capacitive touchscreen |
| | 15.4 inch | Intel® Core™ i7 | 4700EQ (2.4 GHz) | Active cooling (fan) | 8 GB RAM (non ECC) | 320 GB HDD | Windows 10 (64 bits) | 1 x PCIe slot (X4 lanes) | NYML | DVI-I | 16:10 | Aluminium, black | 1280 | 800 | Industrial Panel PC with Intel® Core™ i7-4700EQ, 8 GB DRAM (non-ECC), 320 GB HDD, WIN 10 IoT Ent. (64-bit), PCIe slot, NYML port, 15.4" display with capacitive touchscreen |
| | 12.1 inch | Intel® Core™ i7 | 4700EQ (2.4 GHz) | Active cooling (fan) | 8 GB RAM (non ECC) | 128 GB SSD | Windows 10 (64 bits) | 1 x PCIe slot (X4 lanes) | RS-232 | DVI-I | 16:10 | Aluminium, black | 1280 | 800 | Industrial Panel PC with Intel® Core™ i7-4700EQ, 8 GB DRAM (non-ECC), 128 GB SSD-iMLC, WIN 10 IoT Ent. (64-bit), PCIe slot, RS-232, 12.1" display with capacitive touchscreen |
| | 15.4 inch | Intel® Core™ i7 | 4700EQ (2.4 GHz) | Active cooling (fan) | 8 GB RAM (non ECC) | 128 GB SSD | Windows 10 (64 bits) | 1 x PCIe slot (X4 lanes) | RS-232 | DVI-I | 16:10 | Aluminium, black | 1280 | 800 | Industrial Panel PC with Intel® Core™ i7-4700EQ, 8 GB DRAM (non-ECC), 128 GB SSD-iMLC, WIN 10 IoT Ent. (64-bit), PCIe slot, RS-232, 15.4" display with capacitive touchscreen |
| | 12.1 inch | Intel® Core™ i7 | 4700EQ (2.4 GHz) | Active cooling (fan) | 8 GB RAM (non ECC) | 128 GB SSD | Windows 10 (64 bits) | 1 x PCIe slot (X4 lanes) | DVI-D | DVI-I | 16:10 | Aluminium, black | 1280 | 800 | Industrial Panel PC with Intel® Core™ i7-4700EQ, 8 GB DRAM (non-ECC), 128 GB SSD-iMLC, WIN 10 IoT Ent. (64-bit), PCIe slot, extra DVI-D, 12.1" display with capacitive touchscreen |
| | 15.4 inch | Intel® Core™ i7 | 4700EQ (2.4 GHz) | Active cooling (fan) | 8 GB RAM (non ECC) | 128 GB SSD | Windows 10 (64 bits) | 1 x PCIe slot (X4 lanes) | DVI-D | DVI-I | 16:10 | Aluminium, black | 1280 | 800 | Industrial Panel PC with Intel® Core™ i7-4700EQ, 8 GB DRAM (non-ECC), 128 GB SSD-iMLC, WIN 10 IoT Ent. (64-bit), PCIe slot, extra DVI-D, 15.4" display with capacitive touchscreen |
| | 12.1 inch | Intel® Core™ i7 | 4700EQ (2.4 GHz) | Active cooling (fan) | 8 GB RAM (non ECC) | 128 GB SSD | Windows 10 (64 bits) | 1 x PCIe slot (X4 lanes) | NYML | DVI-I | 16:10 | Aluminium, black | 1280 | 800 | Industrial Panel PC with Intel® Core™ i7-4700EQ, 8 GB DRAM (non-ECC), 128 GB SSD-iMLC, WIN 10 IoT Ent. (64-bit), PCIe slot, NYML port, 12.1" display with capacitive touchscreen |
| | 15.4 inch | Intel® Core™ i7 | 4700EQ (2.4 GHz) | Active cooling (fan) | 8 GB RAM (non ECC) | 128 GB SSD | Windows 10 (64 bits) | 1 x PCIe slot (X4 lanes) | NYML | DVI-I | 16:10 | Aluminium, black | 1280 | 800 | Industrial Panel PC with Intel® Core™ i7-4700EQ, 8 GB DRAM (non-ECC), 128 GB SSD-iMLC, WIN 10 IoT Ent. (64-bit), PCIe slot, NYML port, 15.4" display with capacitive touchscreen |
| | 12.1 inch | Intel® Core™ i7 | 4700EQ (2.4 GHz) | Active cooling (fan) | 16 GB RAM (non ECC) | 128 GB SSD | Windows 10 (64 bits) | 1 x PCIe slot (X4 lanes) | RS-232 | DVI-I | 16:10 | Aluminium, black | 1280 | 800 | Industrial Panel PC with Intel® Core™ i7-4700EQ, 16 GB DRAM (non-ECC), 128 GB SSD-iMLC, WIN 10 IoT Ent. (64-bit), PCIe slot, RS-232, 12.1" display with capacitive touchscreen |
| | 15.4 inch | Intel® Core™ i7 | 4700EQ (2.4 GHz) | Active cooling (fan) | 16 GB RAM (non ECC) | 128 GB SSD | Windows 10 (64 bits) | 1 x PCIe slot (X4 lanes) | RS-232 | DVI-I | 16:10 | Aluminium, black | 1280 | 800 | Industrial Panel PC with Intel® Core™ i7-4700EQ, 16 GB DRAM (non-ECC), 128 GB SSD-iMLC, WIN 10 IoT Ent. (64-bit), PCIe slot, RS-232, 15.4" display with capacitive touchscreen |
| | 12.1 inch | Intel® Atom™ | E3940 (1.6 GHz) | Passive cooling (fanless) | 2 GB RAM (non ECC) | No Storage | No OS | No Expansion | No Port | DVI-D | 16:10 | Aluminium, black | 1280 | 800 | Industrial Panel PC with Intel® Atom™ E3940, 2 GB DRAM (non-ECC), No Storage, No OS, No exp. slots, No I/F option, 12.1" (1280x800) display with capacitive touchscreen, build-in type |
| | 15.4 inch | Intel® Atom™ | E3940 (1.6 GHz) | Passive cooling (fanless) | 2 GB RAM (non ECC) | No Storage | No OS | No Expansion | No Port | DVI-D | 16:10 | Aluminium, black | 1280 | 800 | Industrial Panel PC with Intel® Atom™ E3940, 2 GB DRAM (non-ECC), No Storage, No OS, No exp. slots, No I/F option, 15.4" (1280x800) display with capacitive touchscreen, build-in type |
| | 18.5 inch | Intel® Atom™ | E3940 (1.6 GHz) | Passive cooling (fanless) | 2 GB RAM (non ECC) | No Storage | No OS | No Expansion | No Port | DVI-D | 16:9 | Aluminium, black | 1920 | 1080 | Industrial Panel PC with Intel® Atom™ E3940, 2 GB DRAM (non-ECC), No Storage, No OS, No exp. slots, No I/F option, 18.5" (1920x1080) display with capacitive touchscreen, build-in type |
| | 12.1 inch | Intel® Atom™ | E3940 (1.6 GHz) | Passive cooling (fanless) | 4 GB RAM (non ECC) | No Storage | No OS | No Expansion | No Port | DVI-D | 16:10 | Aluminium, black | 1280 | 800 | Industrial Panel PC with Intel® Atom™ E3940, 4 GB DRAM (non-ECC), No Storage, No OS, No exp. slots, No I/F option, 12.1" (1280x800) display with capacitive touchscreen, build-in type |
| | 15.4 inch | Intel® Atom™ | E3940 (1.6 GHz) | Passive cooling (fanless) | 4 GB RAM (non ECC) | No Storage | No OS | No Expansion | No Port | DVI-D | 16:10 | Aluminium, black | 1280 | 800 | Industrial Panel PC with Intel® Atom™ E3940, 4 GB DRAM (non-ECC), No Storage, No OS, No exp. slots, No I/F option, 15.4" (1280x800) display with capacitive touchscreen, build-in type |
| | 18.5 inch | Intel® Atom™ | E3940 (1.6 GHz) | Passive cooling (fanless) | 4 GB RAM (non ECC) | No Storage | No OS | No Expansion | No Port | DVI-D | 16:9 | Aluminium, black | 1920 | 1080 | Industrial Panel PC with Intel® Atom™ E3940, 4 GB DRAM (non-ECC), No Storage, No OS, No exp. slots, No I/F option, 18.5" (1920x1080) display with capacitive touchscreen, build-in type |
| | 12.1 inch | Intel® Atom™ | E3940 (1.6 GHz) | Passive cooling (fanless) | 4 GB RAM (non ECC) | 64 GB CFast | Windows 10 (64 bits) | No Expansion | No Port | DVI-D | 16:10 | Aluminium, black | 1280 | 800 | Industrial Panel PC with Intel® Atom™ E3940, 4 GB DRAM (non-ECC), 64 GB CFast iMLC, WIN 10 IoT 2019 (64-bit), No exp. slots, No I/F option, 12.1" (1280x800) display with capacitive touchscreen, build-in type |
| | 15.4 inch | Intel® Atom™ | E3940 (1.6 GHz) | Passive cooling (fanless) | 4 GB RAM (non ECC) | 64 GB CFast | Windows 10 (64 bits) | No Expansion | No Port | DVI-D | 16:10 | Aluminium, black | 1280 | 800 | Industrial Panel PC with Intel® Atom™ E3940, 4 GB DRAM (non-ECC), 64 GB CFast iMLC, WIN 10 IoT 2019 (64-bit), No exp. slots, No I/F option, 15.4" (1280x800) display with capacitive touchscreen, build-in type |
| | 18.5 inch | Intel® Atom™ | E3940 (1.6 GHz) | Passive cooling (fanless) | 4 GB RAM (non ECC) | 64 GB CFast | Windows 10 (64 bits) | No Expansion | No Port | DVI-D | 16:9 | Aluminium, black | 1920 | 1080 | Industrial Panel PC with Intel® Atom™ E3940, 4 GB DRAM (non-ECC), 64 GB CFast iMLC, WIN 10 IoT 2019 (64-bit), No exp. slots, No I/F option, 18.5" (1920x1080) display with capacitive touchscreen, build-in type |
| | 12.1 inch | Intel® Atom™ | E3940 (1.6 GHz) | Passive cooling (fanless) | 4 GB RAM (non ECC) | 128 GB CFast | Windows 10 (64 bits) | No Expansion | No Port | DVI-D | 16:10 | Aluminium, black | 1280 | 800 | Industrial Panel PC with Intel® Atom™ E3940, 4 GB DRAM (non-ECC), 128 GB CFast iMLC, WIN 10 IoT 2019 (64-bit), No exp. slots, No I/F option, 12.1" (1280x800) display with capacitive touchscreen, build-in type |
| | 15.4 inch | Intel® Atom™ | E3940 (1.6 GHz) | Passive cooling (fanless) | 4 GB RAM (non ECC) | 128 GB CFast | Windows 10 (64 bits) | No Expansion | No Port | DVI-D | 16:10 | Aluminium, black | 1280 | 800 | Industrial Panel PC with Intel® Atom™ E3940, 4 GB DRAM (non-ECC), 128 GB CFast iMLC, WIN 10 IoT 2019 (64-bit), No exp. slots, No I/F option, 15.4" (1280x800) display with capacitive touchscreen, build-in type |
| | 18.5 inch | Intel® Atom™ | E3940 (1.6 GHz) | Passive cooling (fanless) | 4 GB RAM (non ECC) | 128 GB CFast | Windows 10 (64 bits) | No Expansion | No Port | DVI-D | 16:9 | Aluminium, black | 1920 | 1080 | Industrial Panel PC with Intel® Atom™ E3940, 4 GB DRAM (non-ECC), 128 GB CFast iMLC, WIN 10 IoT 2019 (64-bit), No exp. slots, No I/F option, 18.5" (1920x1080) display with capacitive touchscreen, build-in type |
| | 12.1 inch | Intel® Atom™ | E3940 (1.6 GHz) | Passive cooling (fanless) | 4 GB RAM (non ECC) | 256 GB CFast | Windows 10 (64 bits) | No Expansion | No Port | DVI-D | 16:10 | Aluminium, black | 1280 | 800 | Industrial Panel PC with Intel® Atom™ E3940, 4 GB DRAM (non-ECC), 256 GB CFast iMLC, WIN 10 IoT 2019 (64-bit), No exp. slots, No I/F option, 12.1" (1280x800) display with capacitive touchscreen, build-in type |
| | 15.4 inch | Intel® Atom™ | E3940 (1.6 GHz) | Passive cooling (fanless) | 4 GB RAM (non ECC) | 256 GB CFast | Windows 10 (64 bits) | No Expansion | No Port | DVI-D | 16:10 | Aluminium, black | 1280 | 800 | Industrial Panel PC with Intel® Atom™ E3940, 4 GB DRAM (non-ECC), 256 GB CFast iMLC, WIN 10 IoT 2019 (64-bit), No exp. slots, No I/F option, 15.4" (1280x800) display with capacitive touchscreen, build-in type |
| | 18.5 inch | Intel® Atom™ | E3940 (1.6 GHz) | Passive cooling (fanless) | 4 GB RAM (non ECC) | 256 GB CFast | Windows 10 (64 bits) | No Expansion | No Port | DVI-D | 16:9 | Aluminium, black | 1920 | 1080 | Industrial Panel PC with Intel® Atom™ E3940, 4 GB DRAM (non-ECC), 256 GB CFast iMLC, WIN 10 IoT 2019 (64-bit), No exp. slots, No I/F option, 18.5" (1920x1080) display with capacitive touchscreen, build-in type |
| | 12.1 inch | Intel® Atom™ | E3940 (1.6 GHz) | Passive cooling (fanless) | 8 GB RAM (non ECC) | No Storage | No OS | No Expansion | No Port | DVI-D | 16:10 | Aluminium, black | 1280 | 800 | Industrial Panel PC with Intel® Atom™ E3940, 8 GB DRAM (non-ECC), No Storage, No OS, No exp. slots, No I/F option, 12.1" (1280x800) display with capacitive touchscreen, build-in type |
| | 15.4 inch | Intel® Atom™ | E3940 (1.6 GHz) | Passive cooling (fanless) | 8 GB RAM (non ECC) | No Storage | No OS | No Expansion | No Port | DVI-D | 16:10 | Aluminium, black | 1280 | 800 | Industrial Panel PC with Intel® Atom™ E3940, 8 GB DRAM (non-ECC), No Storage, No OS, No exp. slots, No I/F option, 15.4" (1280x800) display with capacitive touchscreen, build-in type |
| | 18.5 inch | Intel® Atom™ | E3940 (1.6 GHz) | Passive cooling (fanless) | 8 GB RAM (non ECC) | No Storage | No OS | No Expansion | No Port | DVI-D | 16:9 | Aluminium, black | 1920 | 1080 | Industrial Panel PC with Intel® Atom™ E3940, 8 GB DRAM (non-ECC), No Storage, No OS, No exp. slots, No I/F option, 18.5" (1920x1080) display with capacitive touchscreen, build-in type |
| | 12.1 inch | Intel® Atom™ | E3940 (1.6 GHz) | Passive cooling (fanless) | 8 GB RAM (non ECC) | 64 GB CFast | Windows 10 (64 bits) | No Expansion | No Port | DVI-D | 16:10 | Aluminium, black | 1280 | 800 | Industrial Panel PC with Intel® Atom™ E3940, 8 GB DRAM (non-ECC), 64 GB CFast iMLC, WIN 10 IoT 2019 (64-bit), No exp. slots, No I/F option, 12.1" (1280x800) display with capacitive touchscreen, build-in type |
| | 15.4 inch | Intel® Atom™ | E3940 (1.6 GHz) | Passive cooling (fanless) | 8 GB RAM (non ECC) | 64 GB CFast | Windows 10 (64 bits) | No Expansion | No Port | DVI-D | 16:10 | Aluminium, black | 1280 | 800 | Industrial Panel PC with Intel® Atom™ E3940, 8 GB DRAM (non-ECC), 64 GB CFast iMLC, WIN 10 IoT 2019 (64-bit), No exp. slots, No I/F option, 15.4" (1280x800) display with capacitive touchscreen, build-in type |
| | 18.5 inch | Intel® Atom™ | E3940 (1.6 GHz) | Passive cooling (fanless) | 8 GB RAM (non ECC) | 64 GB CFast | Windows 10 (64 bits) | No Expansion | No Port | DVI-D | 16:9 | Aluminium, black | 1920 | 1080 | Industrial Panel PC with Intel® Atom™ E3940, 8 GB DRAM (non-ECC), 64 GB CFast iMLC, WIN 10 IoT 2019 (64-bit), No exp. slots, No I/F option, 18.5" (1920x1080) display with capacitive touchscreen, build-in type |
| | 12.1 inch | Intel® Atom™ | E3940 (1.6 GHz) | Passive cooling (fanless) | 8 GB RAM (non ECC) | 128 GB CFast | Windows 10 (64 bits) | No Expansion | No Port | DVI-D | 16:10 | Aluminium, black | 1280 | 800 | Industrial Panel PC with Intel® Atom™ E3940, 8 GB DRAM (non-ECC), 128 GB CFast iMLC, WIN 10 IoT 2019 (64-bit), No exp. slots, No I/F option, 12.1" (1280x800) display with capacitive touchscreen, build-in type |
| | 15.4 inch | Intel® Atom™ | E3940 (1.6 GHz) | Passive cooling (fanless) | 8 GB RAM (non ECC) | 128 GB CFast | Windows 10 (64 bits) | No Expansion | No Port | DVI-D | 16:10 | Aluminium, black | 1280 | 800 | Industrial Panel PC with Intel® Atom™ E3940, 8 GB DRAM (non-ECC), 128 GB CFast iMLC, WIN 10 IoT 2019 (64-bit), No exp. slots, No I/F option, 15.4" (1280x800) display with capacitive touchscreen, build-in type |
| | 18.5 inch | Intel® Atom™ | E3940 (1.6 GHz) | Passive cooling (fanless) | 8 GB RAM (non ECC) | 128 GB CFast | Windows 10 (64 bits) | No Expansion | No Port | DVI-D | 16:9 | Aluminium, black | 1920 | 1080 | Industrial Panel PC with Intel® Atom™ E3940, 8 GB DRAM (non-ECC), 128 GB CFast iMLC, WIN 10 IoT 2019 (64-bit), No exp. slots, No I/F option, 18.5" (1920x1080) display with capacitive touchscreen, build-in type |
| | 12.1 inch | Intel® Atom™ | E3940 (1.6 GHz) | Passive cooling (fanless) | 8 GB RAM (non ECC) | 256 GB CFast | Windows 10 (64 bits) | No Expansion | No Port | DVI-D | 16:10 | Aluminium, black | 1280 | 800 | Industrial Panel PC with Intel® Atom™ E3940, 8 GB DRAM (non-ECC), 256 GB CFast iMLC, WIN 10 IoT 2019 (64-bit), No exp. slots, No I/F option, 12.1" (1280x800) display with capacitive touchscreen, build-in type |
| | 15.4 inch | Intel® Atom™ | E3940 (1.6 GHz) | Passive cooling (fanless) | 8 GB RAM (non ECC) | 256 GB CFast | Windows 10 (64 bits) | No Expansion | No Port | DVI-D | 16:10 | Aluminium, black | 1280 | 800 | Industrial Panel PC with Intel® Atom™ E3940, 8 GB DRAM (non-ECC), 256 GB CFast iMLC, WIN 10 IoT 2019 (64-bit), No exp. slots, No I/F option, 15.4" (1280x800) display with capacitive touchscreen, build-in type |
| | 18.5 inch | Intel® Atom™ | E3940 (1.6 GHz) | Passive cooling (fanless) | 8 GB RAM (non ECC) | 256 GB CFast | Windows 10 (64 bits) | No Expansion | No Port | DVI-D | 16:9 | Aluminium, black | 1920 | 1080 | Industrial Panel PC with Intel® Atom™ E3940, 8 GB DRAM (non-ECC), 256 GB CFast iMLC, WIN 10 IoT 2019 (64-bit), No exp. slots, No I/F option, 18.5" (1920x1080) display with capacitive touchscreen, build-in type |
| | 12.1 inch | Intel® Celeron® | 3965U (2.2 GHz) | Passive cooling (fanless) | 4 GB RAM (non ECC) | No Storage | No OS | No Expansion | No Port | DVI-D | 16:10 | Aluminium, black | 1280 | 800 | Industrial Panel PC with Intel® Celeron® 3965U, 4 GB DDR4 RAM (non-ECC), No storage, No OS, no PCIe slot, no option port, 12.1" display with capacitive touchscreen |
| | 15.4 inch | Intel® Celeron® | 3965U (2.2 GHz) | Passive cooling (fanless) | 4 GB RAM (non ECC) | No Storage | No OS | No Expansion | No Port | DVI-D | 16:10 | Aluminium, black | 1280 | 800 | Industrial Panel PC with Intel® Celeron® 3965U, 4 GB DDR4 RAM (non-ECC), No storage, No OS, no PCIe slot, no option port, 15.4" display with capacitive touchscreen |
| | 18.5 inch | Intel® Celeron® | 3965U (2.2 GHz) | Passive cooling (fanless) | 4 GB RAM (non ECC) | No Storage | No OS | No Expansion | No Port | DVI-D | 16:9 | Aluminium, black | 1920 | 1080 | Industrial Panel PC with Intel® Celeron® 3965U, 4 GB DRAM (non-ECC), No Storage, No OS, No exp. slots, No I/F option, 18.5" (1920x1080) display with capacitive touchscreen, build-in type |
| | 12.1 inch | Intel® Celeron® | 3965U (2.2 GHz) | Passive cooling (fanless) | 4 GB RAM (non ECC) | 64 GB CFast | Windows 10 (64 bits) | No Expansion | No Port | DVI-D | 16:10 | Aluminium, black | 1280 | 800 | Industrial Panel PC with Intel® Celeron® 3965U, 4 GB DDR4 RAM (non-ECC), 64 GB CFast iMLC, WIN 10 IoT Ent. (64-bit), no PCIe slot, no option port, 12.1" display with capacitive touchscreen |
| | 15.4 inch | Intel® Celeron® | 3965U (2.2 GHz) | Passive cooling (fanless) | 4 GB RAM (non ECC) | 64 GB CFast | Windows 10 (64 bits) | No Expansion | No Port | DVI-D | 16:10 | Aluminium, black | 1280 | 800 | Industrial Panel PC with Intel® Celeron® 3965U, 4 GB DDR4 RAM (non-ECC), 64 GB CFast iMLC, WIN 10 IoT Ent. (64-bit), no PCIe slot, no option port, 15.4" display with capacitive touchscreen |
| | 18.5 inch | Intel® Celeron® | 3965U (2.2 GHz) | Passive cooling (fanless) | 4 GB RAM (non ECC) | 64 GB CFast | Windows 10 (64 bits) | No Expansion | No Port | DVI-D | 16:9 | Aluminium, black | 1920 | 1080 | Industrial Panel PC with Intel® Celeron® 3965U, 4 GB DRAM (non-ECC), 64 GB CFast iMLC, WIN 10 IoT Ent. (64-bit), No exp. slots, No I/F option, 18.5" (1920x1080) display with capacitive touchscreen, build-in type |
| | 12.1 inch | Intel® Celeron® | 3965U (2.2 GHz) | Passive cooling (fanless) | 4 GB RAM (non ECC) | 64 GB CFast | Windows 10 (64 bits) | No Expansion | NYML | DVI-D | 16:10 | Aluminium, black | 1280 | 800 | Industrial Panel PC with Intel® Celeron® 3965U, 4 GB DRAM (non-ECC), 64 GB CFast iMLC, WIN 10 IoT Ent. (64-bit), No expansion slots, NY Monitor Link, 12.1" (1280x800) display with capacitive touchscreen, build-in type |
| | 12.1 inch | Intel® Celeron® | 3965U (2.2 GHz) | Passive cooling (fanless) | 4 GB RAM (non ECC) | 128 GB CFast | Windows 10 (64 bits) | No Expansion | No Port | DVI-D | 16:10 | Aluminium, black | 1280 | 800 | Industrial Panel PC with Intel® Celeron® 3965U, 4 GB DDR4 RAM (non-ECC), 128 GB CFast iMLC, WIN 10 IoT Ent. (64-bit), no PCIe slot, no option port, 12.1" display with capacitive touchscreen |
| | 15.4 inch | Intel® Celeron® | 3965U (2.2 GHz) | Passive cooling (fanless) | 4 GB RAM (non ECC) | 128 GB CFast | Windows 10 (64 bits) | No Expansion | No Port | DVI-D | 16:10 | Aluminium, black | 1280 | 800 | Industrial Panel PC with Intel® Celeron® 3965U, 4 GB DDR4 RAM (non-ECC), 128 GB CFast iMLC, WIN 10 IoT Ent. (64-bit), no PCIe slot, no option port, 15.4" display with capacitive touchscreen |
| | 18.5 inch | Intel® Celeron® | 3965U (2.2 GHz) | Passive cooling (fanless) | 4 GB RAM (non ECC) | 128 GB CFast | Windows 10 (64 bits) | No Expansion | No Port | DVI-D | 16:9 | Aluminium, black | 1920 | 1080 | Industrial Panel PC with Intel® Celeron® 3965U, 4 GB DRAM (non-ECC), 128 GB CFast iMLC, WIN 10 IoT Ent. (64-bit), No exp. slots, No I/F option, 18.5" (1920x1080) display with capacitive touchscreen, build-in type |
| | 12.1 inch | Intel® Celeron® | 3965U (2.2 GHz) | Passive cooling (fanless) | 4 GB RAM (non ECC) | 256 GB CFast | Windows 10 (64 bits) | No Expansion | No Port | DVI-D | 16:10 | Aluminium, black | 1280 | 800 | Industrial Panel PC with Intel® Celeron® 3965U, 4 GB DDR4 RAM (non-ECC), 256 GB CFast iMLC, WIN 10 IoT Ent. (64-bit), no PCIe slot, no option port, 12.1" display with capacitive touchscreen |
| | 15.4 inch | Intel® Celeron® | 3965U (2.2 GHz) | Passive cooling (fanless) | 4 GB RAM (non ECC) | 256 GB CFast | Windows 10 (64 bits) | No Expansion | No Port | DVI-D | 16:10 | Aluminium, black | 1280 | 800 | Industrial Panel PC with Intel® Celeron® 3965U, 4 GB DDR4 RAM (non-ECC), 256 GB CFast iMLC, WIN 10 IoT Ent. (64-bit), no PCIe slot, no option port, 15.4" display with capacitive touchscreen |
| | 18.5 inch | Intel® Celeron® | 3965U (2.2 GHz) | Passive cooling (fanless) | 4 GB RAM (non ECC) | 256 GB CFast | Windows 10 (64 bits) | No Expansion | No Port | DVI-D | 16:9 | Aluminium, black | 1920 | 1080 | Industrial Panel PC with Intel® Celeron® 3965U, 4 GB DRAM (non-ECC), 256 GB CFast iMLC, WIN 10 IoT Ent. (64-bit), No exp. slots, No I/F option, 18.5" (1920x1080) display with capacitive touchscreen, build-in type |
| | 12.1 inch | Intel® Celeron® | 3965U (2.2 GHz) | Passive cooling (fanless) | 4 GB RAM (non ECC) | No Storage | No OS | 1 x PCIe slot (X2 lanes) | RS-232 | DVI-D | 16:10 | Aluminium, black | 1280 | 800 | Industrial Panel PC with Intel® Celeron® 3965U, 4 GB DDR4 RAM (non-ECC), No storage, No OS, PCIe slot, RS-232, 12.1" display with capacitive touchscreen |
| | 15.4 inch | Intel® Celeron® | 3965U (2.2 GHz) | Passive cooling (fanless) | 4 GB RAM (non ECC) | No Storage | No OS | 1 x PCIe slot (X2 lanes) | RS-232 | DVI-D | 16:10 | Aluminium, black | 1280 | 800 | Industrial Panel PC with Intel® Celeron® 3965U, 4 GB DDR4 RAM (non-ECC), No storage, No OS, PCIe slot, RS-232, 15.4" display with capacitive touchscreen |
| | 12.1 inch | Intel® Celeron® | 3965U (2.2 GHz) | Passive cooling (fanless) | 4 GB RAM (non ECC) | No Storage | No OS | 1 x PCIe slot (X2 lanes) | DVI-D | DVI-D | 16:10 | Aluminium, black | 1280 | 800 | Industrial Panel PC with Intel® Celeron® 3965U, 4 GB DDR4 RAM (non-ECC), No storage, No OS, PCIe slot, extra DVI-D, 12.1" display with capacitive touchscreen |
| | 15.4 inch | Intel® Celeron® | 3965U (2.2 GHz) | Passive cooling (fanless) | 4 GB RAM (non ECC) | No Storage | No OS | 1 x PCIe slot (X2 lanes) | DVI-D | DVI-D | 16:10 | Aluminium, black | 1280 | 800 | Industrial Panel PC with Intel® Celeron® 3965U, 4 GB DDR4 RAM (non-ECC), No storage, No OS, PCIe slot, extra DVI-D, 15.4" display with capacitive touchscreen |
| | 12.1 inch | Intel® Celeron® | 3965U (2.2 GHz) | Passive cooling (fanless) | 4 GB RAM (non ECC) | No Storage | No OS | 1 x PCIe slot (X2 lanes) | NYML | DVI-D | 16:10 | Aluminium, black | 1280 | 800 | Industrial Panel PC with Intel® Celeron® 3965U, 4 GB DDR4 RAM (non-ECC), No storage, No OS, PCIe slot, NYML port, 12.1" display with capacitive touchscreen |
| | 15.4 inch | Intel® Celeron® | 3965U (2.2 GHz) | Passive cooling (fanless) | 4 GB RAM (non ECC) | No Storage | No OS | 1 x PCIe slot (X2 lanes) | NYML | DVI-D | 16:10 | Aluminium, black | 1280 | 800 | Industrial Panel PC with Intel® Celeron® 3965U, 4 GB DDR4 RAM (non-ECC), No storage, No OS, PCIe slot, NYML port, 15.4" display with capacitive touchscreen |
| | 12.1 inch | Intel® Celeron® | 3965U (2.2 GHz) | Passive cooling (fanless) | 4 GB RAM (non ECC) | 64 GB SSD | Windows 10 (64 bits) | 1 x PCIe slot (X2 lanes) | RS-232 | DVI-D | 16:10 | Aluminium, black | 1280 | 800 | Industrial Panel PC with Intel® Celeron® 3965U, 4 GB DDR4 RAM (non-ECC), 64 GB SSD-SLC, WIN 10 IoT Ent. (64-bit), PCIe slot, RS-232, 12.1" display with capacitive touchscreen |
| | 15.4 inch | Intel® Celeron® | 3965U (2.2 GHz) | Passive cooling (fanless) | 4 GB RAM (non ECC) | 64 GB SSD | Windows 10 (64 bits) | 1 x PCIe slot (X2 lanes) | RS-232 | DVI-D | 16:10 | Aluminium, black | 1280 | 800 | Industrial Panel PC with Intel® Celeron® 3965U, 4 GB DDR4 RAM (non-ECC), 64 GB SSD-SLC, WIN 10 IoT Ent. (64-bit), PCIe slot, RS-232, 15.4" display with capacitive touchscreen |
| | 12.1 inch | Intel® Celeron® | 3965U (2.2 GHz) | Passive cooling (fanless) | 4 GB RAM (non ECC) | 64 GB SSD | Windows 10 (64 bits) | 1 x PCIe slot (X2 lanes) | DVI-D | DVI-D | 16:10 | Aluminium, black | 1280 | 800 | Industrial Panel PC with Intel® Celeron® 3965U, 4 GB DDR4 RAM (non-ECC), 64 GB SSD-SLC, WIN 10 IoT Ent. (64-bit), PCIe slot, extra DVI-D, 12.1" display with capacitive touchscreen |
| | 15.4 inch | Intel® Celeron® | 3965U (2.2 GHz) | Passive cooling (fanless) | 4 GB RAM (non ECC) | 64 GB SSD | Windows 10 (64 bits) | 1 x PCIe slot (X2 lanes) | DVI-D | DVI-D | 16:10 | Aluminium, black | 1280 | 800 | Industrial Panel PC with Intel® Celeron® 3965U, 4 GB DDR4 RAM (non-ECC), 64 GB SSD-SLC, WIN 10 IoT Ent. (64-bit), PCIe slot, extra DVI-D, 15.4" display with capacitive touchscreen |
| | 12.1 inch | Intel® Celeron® | 3965U (2.2 GHz) | Passive cooling (fanless) | 4 GB RAM (non ECC) | 64 GB SSD | Windows 10 (64 bits) | 1 x PCIe slot (X2 lanes) | NYML | DVI-D | 16:10 | Aluminium, black | 1280 | 800 | Industrial Panel PC with Intel® Celeron® 3965U, 4 GB DDR4 RAM (non-ECC), 64 GB SSD-SLC, WIN 10 IoT Ent. (64-bit), PCIe slot, NYML port, 12.1" display with capacitive touchscreen |
| | 15.4 inch | Intel® Celeron® | 3965U (2.2 GHz) | Passive cooling (fanless) | 4 GB RAM (non ECC) | 64 GB SSD | Windows 10 (64 bits) | 1 x PCIe slot (X2 lanes) | NYML | DVI-D | 16:10 | Aluminium, black | 1280 | 800 | Industrial Panel PC with Intel® Celeron® 3965U, 4 GB DDR4 RAM (non-ECC), 64 GB SSD-SLC, WIN 10 IoT Ent. (64-bit), PCIe slot, NYML port, 15.4" display with capacitive touchscreen |
| | 12.1 inch | Intel® Celeron® | 3965U (2.2 GHz) | Passive cooling (fanless) | 4 GB RAM (non ECC) | 320 GB HDD | Windows 10 (64 bits) | 1 x PCIe slot (X2 lanes) | RS-232 | DVI-D | 16:10 | Aluminium, black | 1280 | 800 | Industrial Panel PC with Intel® Celeron® 3965U, 4 GB DDR4 RAM (non-ECC), 320 GB HDD, WIN 10 IoT Ent. (64-bit), PCIe slot, RS-232, 12.1" display with capacitive touchscreen |
| | 15.4 inch | Intel® Celeron® | 3965U (2.2 GHz) | Passive cooling (fanless) | 4 GB RAM (non ECC) | 320 GB HDD | Windows 10 (64 bits) | 1 x PCIe slot (X2 lanes) | RS-232 | DVI-D | 16:10 | Aluminium, black | 1280 | 800 | Industrial Panel PC with Intel® Celeron® 3965U, 4 GB DDR4 RAM (non-ECC), 320 GB HDD, WIN 10 IoT Ent. (64-bit), PCIe slot, RS-232, 15.4" display with capacitive touchscreen |
| | 12.1 inch | Intel® Celeron® | 3965U (2.2 GHz) | Passive cooling (fanless) | 4 GB RAM (non ECC) | 320 GB HDD | Windows 10 (64 bits) | 1 x PCIe slot (X2 lanes) | DVI-D | DVI-D | 16:10 | Aluminium, black | 1280 | 800 | Industrial Panel PC with Intel® Celeron® 3965U, 4 GB DDR4 RAM (non-ECC), 320 GB HDD, WIN 10 IoT Ent. (64-bit), PCIe slot, extra DVI-D, 12.1" display with capacitive touchscreen |
| | 15.4 inch | Intel® Celeron® | 3965U (2.2 GHz) | Passive cooling (fanless) | 4 GB RAM (non ECC) | 320 GB HDD | Windows 10 (64 bits) | 1 x PCIe slot (X2 lanes) | DVI-D | DVI-D | 16:10 | Aluminium, black | 1280 | 800 | Industrial Panel PC with Intel® Celeron® 3965U, 4 GB DDR4 RAM (non-ECC), 320 GB HDD, WIN 10 IoT Ent. (64-bit), PCIe slot, extra DVI-D, 15.4" display with capacitive touchscreen |
| | 12.1 inch | Intel® Celeron® | 3965U (2.2 GHz) | Passive cooling (fanless) | 4 GB RAM (non ECC) | 320 GB HDD | Windows 10 (64 bits) | 1 x PCIe slot (X2 lanes) | NYML | DVI-D | 16:10 | Aluminium, black | 1280 | 800 | Industrial Panel PC with Intel® Celeron® 3965U, 4 GB DDR4 RAM (non-ECC), 320 GB HDD, WIN 10 IoT Ent. (64-bit), PCIe slot, NYML port, 12.1" display with capacitive touchscreen |
| | 15.4 inch | Intel® Celeron® | 3965U (2.2 GHz) | Passive cooling (fanless) | 4 GB RAM (non ECC) | 320 GB HDD | Windows 10 (64 bits) | 1 x PCIe slot (X2 lanes) | NYML | DVI-D | 16:10 | Aluminium, black | 1280 | 800 | Industrial Panel PC with Intel® Celeron® 3965U, 4 GB DDR4 RAM (non-ECC), 320 GB HDD, WIN 10 IoT Ent. (64-bit), PCIe slot, NYML port, 15.4" display with capacitive touchscreen |
| | 12.1 inch | Intel® Celeron® | 3965U (2.2 GHz) | Passive cooling (fanless) | 4 GB RAM (non ECC) | 128 GB SSD | Windows 10 (64 bits) | 1 x PCIe slot (X2 lanes) | RS-232 | DVI-D | 16:10 | Aluminium, black | 1280 | 800 | Industrial Panel PC with Intel® Celeron® 3965U, 4 GB DDR4 RAM (non-ECC), 128 GB SSD-iMLC, WIN 10 IoT Ent. (64-bit), PCIe slot, RS-232, 12.1" display with capacitive touchscreen |
| | 15.4 inch | Intel® Celeron® | 3965U (2.2 GHz) | Passive cooling (fanless) | 4 GB RAM (non ECC) | 128 GB SSD | Windows 10 (64 bits) | 1 x PCIe slot (X2 lanes) | RS-232 | DVI-D | 16:10 | Aluminium, black | 1280 | 800 | Industrial Panel PC with Intel® Celeron® 3965U, 4 GB DDR4 RAM (non-ECC), 128 GB SSD-iMLC, WIN 10 IoT Ent. (64-bit), PCIe slot, RS-232, 15.4" display with capacitive touchscreen |
| | 12.1 inch | Intel® Celeron® | 3965U (2.2 GHz) | Passive cooling (fanless) | 4 GB RAM (non ECC) | 128 GB SSD | Windows 10 (64 bits) | 1 x PCIe slot (X2 lanes) | DVI-D | DVI-D | 16:10 | Aluminium, black | 1280 | 800 | Industrial Panel PC with Intel® Celeron® 3965U, 4 GB DDR4 RAM (non-ECC), 128 GB SSD-iMLC, WIN 10 IoT Ent. (64-bit), PCIe slot, extra DVI-D, 12.1" display with capacitive touchscreen |
| | 15.4 inch | Intel® Celeron® | 3965U (2.2 GHz) | Passive cooling (fanless) | 4 GB RAM (non ECC) | 128 GB SSD | Windows 10 (64 bits) | 1 x PCIe slot (X2 lanes) | DVI-D | DVI-D | 16:10 | Aluminium, black | 1280 | 800 | Industrial Panel PC with Intel® Celeron® 3965U, 4 GB DDR4 RAM (non-ECC), 128 GB SSD-iMLC, WIN 10 IoT Ent. (64-bit), PCIe slot, extra DVI-D, 15.4" display with capacitive touchscreen |
| | 12.1 inch | Intel® Celeron® | 3965U (2.2 GHz) | Passive cooling (fanless) | 4 GB RAM (non ECC) | 128 GB SSD | Windows 10 (64 bits) | 1 x PCIe slot (X2 lanes) | NYML | DVI-D | 16:10 | Aluminium, black | 1280 | 800 | Industrial Panel PC with Intel® Celeron® 3965U, 4 GB DDR4 RAM (non-ECC), 128 GB SSD-iMLC, WIN 10 IoT Ent. (64-bit), PCIe slot, NYML port, 12.1" display with capacitive touchscreen |
| | 15.4 inch | Intel® Celeron® | 3965U (2.2 GHz) | Passive cooling (fanless) | 4 GB RAM (non ECC) | 128 GB SSD | Windows 10 (64 bits) | 1 x PCIe slot (X2 lanes) | NYML | DVI-D | 16:10 | Aluminium, black | 1280 | 800 | Industrial Panel PC with Intel® Celeron® 3965U, 4 GB DDR4 RAM (non-ECC), 128 GB SSD-iMLC, WIN 10 IoT Ent. (64-bit), PCIe slot, NYML port, 15.4" display with capacitive touchscreen |
| | 12.1 inch | Intel® Celeron® | 3965U (2.2 GHz) | Passive cooling (fanless) | 8 GB RAM (non ECC) | No Storage | No OS | No Expansion | No Port | DVI-D | 16:10 | Aluminium, black | 1280 | 800 | Industrial Panel PC with Intel® Celeron® 3965U, 8 GB DDR4 RAM (non-ECC), No storage, No OS, no PCIe slot, no option port, 12.1" display with capacitive touchscreen |
| | 15.4 inch | Intel® Celeron® | 3965U (2.2 GHz) | Passive cooling (fanless) | 8 GB RAM (non ECC) | No Storage | No OS | No Expansion | No Port | DVI-D | 16:10 | Aluminium, black | 1280 | 800 | Industrial Panel PC with Intel® Celeron® 3965U, 8 GB DDR4 RAM (non-ECC), No storage, No OS, no PCIe slot, no option port, 15.4" display with capacitive touchscreen |
| | 18.5 inch | Intel® Celeron® | 3965U (2.2 GHz) | Passive cooling (fanless) | 8 GB RAM (non ECC) | No Storage | No OS | No Expansion | No Port | DVI-D | 16:9 | Aluminium, black | 1920 | 1080 | Industrial Panel PC with Intel® Celeron® 3965U, 8 GB DRAM (non-ECC), No Storage, No OS, No exp. slots, No I/F option, 18.5" (1920x1080) display with capacitive touchscreen, build-in type |
| | 12.1 inch | Intel® Celeron® | 3965U (2.2 GHz) | Passive cooling (fanless) | 8 GB RAM (non ECC) | 128 GB CFast | No OS | No Expansion | No Port | DVI-D | 16:10 | Aluminium, black | 1280 | 800 | Industrial Panel PC with Intel® Celeron® 3965U, 8 GB DRAM (non-ECC), 128 GB CFast iMLC, No OS, No expansion slots, No I/F option, 12.1" (1280x800) display with capacitive touchscreen, build-in type |
| | 12.1 inch | Intel® Celeron® | 3965U (2.2 GHz) | Passive cooling (fanless) | 8 GB RAM (non ECC) | 64 GB CFast | Windows 10 (64 bits) | No Expansion | No Port | DVI-D | 16:10 | Aluminium, black | 1280 | 800 | Industrial Panel PC with Intel® Celeron® 3965U, 8 GB DDR4 RAM (non-ECC), 64 GB CFast iMLC, WIN 10 IoT Ent. (64-bit), no PCIe slot, no option port, 12.1" display with capacitive touchscreen |
| | 15.4 inch | Intel® Celeron® | 3965U (2.2 GHz) | Passive cooling (fanless) | 8 GB RAM (non ECC) | 64 GB CFast | Windows 10 (64 bits) | No Expansion | No Port | DVI-D | 16:10 | Aluminium, black | 1280 | 800 | Industrial Panel PC with Intel® Celeron® 3965U, 8 GB DDR4 RAM (non-ECC), 64 GB CFast iMLC, WIN 10 IoT Ent. (64-bit), no PCIe slot, no option port, 15.4" display with capacitive touchscreen |
| | 18.5 inch | Intel® Celeron® | 3965U (2.2 GHz) | Passive cooling (fanless) | 8 GB RAM (non ECC) | 64 GB CFast | Windows 10 (64 bits) | No Expansion | No Port | DVI-D | 16:9 | Aluminium, black | 1920 | 1080 | Industrial Panel PC with Intel® Celeron® 3965U, 8 GB DRAM (non-ECC), 64 GB CFast iMLC, WIN 10 IoT Ent. (64-bit), No exp. slots, No I/F option, 18.5" (1920x1080) display with capacitive touchscreen, build-in type |
| | 12.1 inch | Intel® Celeron® | 3965U (2.2 GHz) | Passive cooling (fanless) | 8 GB RAM (non ECC) | 128 GB CFast | Windows 10 (64 bits) | No Expansion | No Port | DVI-D | 16:10 | Aluminium, black | 1280 | 800 | Industrial Panel PC with Intel® Celeron® 3965U, 8 GB DDR4 RAM (non-ECC), 128 GB CFast iMLC, WIN 10 IoT Ent. (64-bit), no PCIe slot, no option port, 12.1" display with capacitive touchscreen |
| | 15.4 inch | Intel® Celeron® | 3965U (2.2 GHz) | Passive cooling (fanless) | 8 GB RAM (non ECC) | 128 GB CFast | Windows 10 (64 bits) | No Expansion | No Port | DVI-D | 16:10 | Aluminium, black | 1280 | 800 | Industrial Panel PC with Intel® Celeron® 3965U, 8 GB DDR4 RAM (non-ECC), 128 GB CFast iMLC, WIN 10 IoT Ent. (64-bit), no PCIe slot, no option port, 15.4" display with capacitive touchscreen |
| | 18.5 inch | Intel® Celeron® | 3965U (2.2 GHz) | Passive cooling (fanless) | 8 GB RAM (non ECC) | 128 GB CFast | Windows 10 (64 bits) | No Expansion | No Port | DVI-D | 16:9 | Aluminium, black | 1920 | 1080 | Industrial Panel PC with Intel® Celeron® 3965U, 8 GB DRAM (non-ECC), 128 GB CFast iMLC, WIN 10 IoT Ent. (64-bit), No exp. slots, No I/F option, 18.5" (1920x1080) display with capacitive touchscreen, build-in type |
| | 12.1 inch | Intel® Celeron® | 3965U (2.2 GHz) | Passive cooling (fanless) | 8 GB RAM (non ECC) | 256 GB CFast | Windows 10 (64 bits) | No Expansion | No Port | DVI-D | 16:10 | Aluminium, black | 1280 | 800 | Industrial Panel PC with Intel® Celeron® 3965U, 8 GB DDR4 RAM (non-ECC), 256 GB CFast iMLC, WIN 10 IoT Ent. (64-bit), no PCIe slot, no option port, 12.1" display with capacitive touchscreen |
| | 15.4 inch | Intel® Celeron® | 3965U (2.2 GHz) | Passive cooling (fanless) | 8 GB RAM (non ECC) | 256 GB CFast | Windows 10 (64 bits) | No Expansion | No Port | DVI-D | 16:10 | Aluminium, black | 1280 | 800 | Industrial Panel PC with Intel® Celeron® 3965U, 8 GB DDR4 RAM (non-ECC), 256 GB CFast iMLC, WIN 10 IoT Ent. (64-bit), no PCIe slot, no option port, 15.4" display with capacitive touchscreen |
| | 18.5 inch | Intel® Celeron® | 3965U (2.2 GHz) | Passive cooling (fanless) | 8 GB RAM (non ECC) | 256 GB CFast | Windows 10 (64 bits) | No Expansion | No Port | DVI-D | 16:9 | Aluminium, black | 1920 | 1080 | Industrial Panel PC with Intel® Celeron® 3965U, 8 GB DRAM (non-ECC), 256 GB CFast iMLC, WIN 10 IoT Ent. (64-bit), No exp. slots, No I/F option, 18.5" (1920x1080) display with capacitive touchscreen, build-in type |
| | 12.1 inch | Intel® Celeron® | 3965U (2.2 GHz) | Passive cooling (fanless) | 8 GB RAM (non ECC) | No Storage | No OS | 1 x PCIe slot (X2 lanes) | RS-232 | DVI-D | 16:10 | Aluminium, black | 1280 | 800 | Industrial Panel PC with Intel® Celeron® 3965U, 8 GB DDR4 RAM (non-ECC), No storage, No OS, PCIe slot, RS-232, 12.1" display with capacitive touchscreen |
| | 15.4 inch | Intel® Celeron® | 3965U (2.2 GHz) | Passive cooling (fanless) | 8 GB RAM (non ECC) | No Storage | No OS | 1 x PCIe slot (X2 lanes) | RS-232 | DVI-D | 16:10 | Aluminium, black | 1280 | 800 | Industrial Panel PC with Intel® Celeron® 3965U, 8 GB DDR4 RAM (non-ECC), No storage, No OS, PCIe slot, RS-232, 15.4" display with capacitive touchscreen |
| | 12.1 inch | Intel® Celeron® | 3965U (2.2 GHz) | Passive cooling (fanless) | 8 GB RAM (non ECC) | No Storage | No OS | 1 x PCIe slot (X2 lanes) | DVI-D | DVI-D | 16:10 | Aluminium, black | 1280 | 800 | Industrial Panel PC with Intel® Celeron® 3965U, 8 GB DDR4 RAM (non-ECC), No storage, No OS, PCIe slot, extra DVI-D, 12.1" display with capacitive touchscreen |
| | 15.4 inch | Intel® Celeron® | 3965U (2.2 GHz) | Passive cooling (fanless) | 8 GB RAM (non ECC) | No Storage | No OS | 1 x PCIe slot (X2 lanes) | DVI-D | DVI-D | 16:10 | Aluminium, black | 1280 | 800 | Industrial Panel PC with Intel® Celeron® 3965U, 8 GB DDR4 RAM (non-ECC), No storage, No OS, PCIe slot, extra DVI-D, 15.4" display with capacitive touchscreen |
| | 12.1 inch | Intel® Celeron® | 3965U (2.2 GHz) | Passive cooling (fanless) | 8 GB RAM (non ECC) | No Storage | No OS | 1 x PCIe slot (X2 lanes) | NYML | DVI-D | 16:10 | Aluminium, black | 1280 | 800 | Industrial Panel PC with Intel® Celeron® 3965U, 8 GB DDR4 RAM (non-ECC), No storage, No OS, PCIe slot, NYML port, 12.1" display with capacitive touchscreen |
| | 15.4 inch | Intel® Celeron® | 3965U (2.2 GHz) | Passive cooling (fanless) | 8 GB RAM (non ECC) | No Storage | No OS | 1 x PCIe slot (X2 lanes) | NYML | DVI-D | 16:10 | Aluminium, black | 1280 | 800 | Industrial Panel PC with Intel® Celeron® 3965U, 8 GB DDR4 RAM (non-ECC), No storage, No OS, PCIe slot, NYML port, 15.4" display with capacitive touchscreen |
| | 12.1 inch | Intel® Celeron® | 3965U (2.2 GHz) | Passive cooling (fanless) | 8 GB RAM (non ECC) | 64 GB SSD | Windows 10 (64 bits) | 1 x PCIe slot (X2 lanes) | RS-232 | DVI-D | 16:10 | Aluminium, black | 1280 | 800 | Industrial Panel PC with Intel® Celeron® 3965U, 8 GB DDR4 RAM (non-ECC), 64 GB SSD-SLC, WIN 10 IoT Ent. (64-bit), PCIe slot, RS-232, 12.1" display with capacitive touchscreen |
| | 15.4 inch | Intel® Celeron® | 3965U (2.2 GHz) | Passive cooling (fanless) | 8 GB RAM (non ECC) | 64 GB SSD | Windows 10 (64 bits) | 1 x PCIe slot (X2 lanes) | RS-232 | DVI-D | 16:10 | Aluminium, black | 1280 | 800 | Industrial Panel PC with Intel® Celeron® 3965U, 8 GB DDR4 RAM (non-ECC), 64 GB SSD-SLC, WIN 10 IoT Ent. (64-bit), PCIe slot, RS-232, 15.4" display with capacitive touchscreen |
| | 12.1 inch | Intel® Celeron® | 3965U (2.2 GHz) | Passive cooling (fanless) | 8 GB RAM (non ECC) | 64 GB SSD | Windows 10 (64 bits) | 1 x PCIe slot (X2 lanes) | DVI-D | DVI-D | 16:10 | Aluminium, black | 1280 | 800 | Industrial Panel PC with Intel® Celeron® 3965U, 8 GB DDR4 RAM (non-ECC), 64 GB SSD-SLC, WIN 10 IoT Ent. (64-bit), PCIe slot, extra DVI-D, 12.1" display with capacitive touchscreen |
| | 15.4 inch | Intel® Celeron® | 3965U (2.2 GHz) | Passive cooling (fanless) | 8 GB RAM (non ECC) | 64 GB SSD | Windows 10 (64 bits) | 1 x PCIe slot (X2 lanes) | DVI-D | DVI-D | 16:10 | Aluminium, black | 1280 | 800 | Industrial Panel PC with Intel® Celeron® 3965U, 8 GB DDR4 RAM (non-ECC), 64 GB SSD-SLC, WIN 10 IoT Ent. (64-bit), PCIe slot, extra DVI-D, 15.4" display with capacitive touchscreen |
| | 12.1 inch | Intel® Celeron® | 3965U (2.2 GHz) | Passive cooling (fanless) | 8 GB RAM (non ECC) | 64 GB SSD | Windows 10 (64 bits) | 1 x PCIe slot (X2 lanes) | NYML | DVI-D | 16:10 | Aluminium, black | 1280 | 800 | Industrial Panel PC with Intel® Celeron® 3965U, 8 GB DDR4 RAM (non-ECC), 64 GB SSD-SLC, WIN 10 IoT Ent. (64-bit), PCIe slot, NYML port, 12.1" display with capacitive touchscreen |
| | 15.4 inch | Intel® Celeron® | 3965U (2.2 GHz) | Passive cooling (fanless) | 8 GB RAM (non ECC) | 64 GB SSD | Windows 10 (64 bits) | 1 x PCIe slot (X2 lanes) | NYML | DVI-D | 16:10 | Aluminium, black | 1280 | 800 | Industrial Panel PC with Intel® Celeron® 3965U, 8 GB DDR4 RAM (non-ECC), 64 GB SSD-SLC, WIN 10 IoT Ent. (64-bit), PCIe slot, NYML port, 15.4" display with capacitive touchscreen |
| | 12.1 inch | Intel® Celeron® | 3965U (2.2 GHz) | Passive cooling (fanless) | 8 GB RAM (non ECC) | 320 GB HDD | Windows 10 (64 bits) | 1 x PCIe slot (X2 lanes) | RS-232 | DVI-D | 16:10 | Aluminium, black | 1280 | 800 | Industrial Panel PC with Intel® Celeron® 3965U, 8 GB DDR4 RAM (non-ECC), 320 GB HDD, WIN 10 IoT Ent. (64-bit), PCIe slot, RS-232, 12.1" display with capacitive touchscreen |
| | 15.4 inch | Intel® Celeron® | 3965U (2.2 GHz) | Passive cooling (fanless) | 8 GB RAM (non ECC) | 320 GB HDD | Windows 10 (64 bits) | 1 x PCIe slot (X2 lanes) | RS-232 | DVI-D | 16:10 | Aluminium, black | 1280 | 800 | Industrial Panel PC with Intel® Celeron® 3965U, 8 GB DDR4 RAM (non-ECC), 320 GB HDD, WIN 10 IoT Ent. (64-bit), PCIe slot, RS-232, 15.4" display with capacitive touchscreen |
| | 12.1 inch | Intel® Celeron® | 3965U (2.2 GHz) | Passive cooling (fanless) | 8 GB RAM (non ECC) | 320 GB HDD | Windows 10 (64 bits) | 1 x PCIe slot (X2 lanes) | DVI-D | DVI-D | 16:10 | Aluminium, black | 1280 | 800 | Industrial Panel PC with Intel® Celeron® 3965U, 8 GB DDR4 RAM (non-ECC), 320 GB HDD, WIN 10 IoT Ent. (64-bit), PCIe slot, extra DVI-D, 12.1" display with capacitive touchscreen |
| | 15.4 inch | Intel® Celeron® | 3965U (2.2 GHz) | Passive cooling (fanless) | 8 GB RAM (non ECC) | 320 GB HDD | Windows 10 (64 bits) | 1 x PCIe slot (X2 lanes) | DVI-D | DVI-D | 16:10 | Aluminium, black | 1280 | 800 | Industrial Panel PC with Intel® Celeron® 3965U, 8 GB DDR4 RAM (non-ECC), 320 GB HDD, WIN 10 IoT Ent. (64-bit), PCIe slot, extra DVI-D, 15.4" display with capacitive touchscreen |
| | 12.1 inch | Intel® Celeron® | 3965U (2.2 GHz) | Passive cooling (fanless) | 8 GB RAM (non ECC) | 320 GB HDD | Windows 10 (64 bits) | 1 x PCIe slot (X2 lanes) | NYML | DVI-D | 16:10 | Aluminium, black | 1280 | 800 | Industrial Panel PC with Intel® Celeron® 3965U, 8 GB DDR4 RAM (non-ECC), 320 GB HDD, WIN 10 IoT Ent. (64-bit), PCIe slot, NYML port, 12.1" display with capacitive touchscreen |
| | 15.4 inch | Intel® Celeron® | 3965U (2.2 GHz) | Passive cooling (fanless) | 8 GB RAM (non ECC) | 320 GB HDD | Windows 10 (64 bits) | 1 x PCIe slot (X2 lanes) | NYML | DVI-D | 16:10 | Aluminium, black | 1280 | 800 | Industrial Panel PC with Intel® Celeron® 3965U, 8 GB DDR4 RAM (non-ECC), 320 GB HDD, WIN 10 IoT Ent. (64-bit), PCIe slot, NYML port, 15.4" display with capacitive touchscreen |
| | 12.1 inch | Intel® Celeron® | 3965U (2.2 GHz) | Passive cooling (fanless) | 8 GB RAM (non ECC) | 128 GB SSD | Windows 10 (64 bits) | 1 x PCIe slot (X2 lanes) | RS-232 | DVI-D | 16:10 | Aluminium, black | 1280 | 800 | Industrial Panel PC with Intel® Celeron® 3965U, 8 GB DDR4 RAM (non-ECC), 128 GB SSD-iMLC, WIN 10 IoT Ent. (64-bit), PCIe slot, RS-232, 12.1" display with capacitive touchscreen |
| | 15.4 inch | Intel® Celeron® | 3965U (2.2 GHz) | Passive cooling (fanless) | 8 GB RAM (non ECC) | 128 GB SSD | Windows 10 (64 bits) | 1 x PCIe slot (X2 lanes) | RS-232 | DVI-D | 16:10 | Aluminium, black | 1280 | 800 | Industrial Panel PC with Intel® Celeron® 3965U, 8 GB DDR4 RAM (non-ECC), 128 GB SSD-iMLC, WIN 10 IoT Ent. (64-bit), PCIe slot, RS-232, 15.4" display with capacitive touchscreen |
| | 12.1 inch | Intel® Celeron® | 3965U (2.2 GHz) | Passive cooling (fanless) | 8 GB RAM (non ECC) | 128 GB SSD | Windows 10 (64 bits) | 1 x PCIe slot (X2 lanes) | DVI-D | DVI-D | 16:10 | Aluminium, black | 1280 | 800 | Industrial Panel PC with Intel® Celeron® 3965U, 8 GB DDR4 RAM (non-ECC), 128 GB SSD-iMLC, WIN 10 IoT Ent. (64-bit), PCIe slot, extra DVI-D, 12.1" display with capacitive touchscreen |
| | 15.4 inch | Intel® Celeron® | 3965U (2.2 GHz) | Passive cooling (fanless) | 8 GB RAM (non ECC) | 128 GB SSD | Windows 10 (64 bits) | 1 x PCIe slot (X2 lanes) | DVI-D | DVI-D | 16:10 | Aluminium, black | 1280 | 800 | Industrial Panel PC with Intel® Celeron® 3965U, 8 GB DDR4 RAM (non-ECC), 128 GB SSD-iMLC, WIN 10 IoT Ent. (64-bit), PCIe slot, extra DVI-D, 15.4" display with capacitive touchscreen |
| | 12.1 inch | Intel® Celeron® | 3965U (2.2 GHz) | Passive cooling (fanless) | 8 GB RAM (non ECC) | 128 GB SSD | Windows 10 (64 bits) | 1 x PCIe slot (X2 lanes) | NYML | DVI-D | 16:10 | Aluminium, black | 1280 | 800 | Industrial Panel PC with Intel® Celeron® 3965U, 8 GB DDR4 RAM (non-ECC), 128 GB SSD-iMLC, WIN 10 IoT Ent. (64-bit), PCIe slot, NYML port, 12.1" display with capacitive touchscreen |
| | 15.4 inch | Intel® Celeron® | 3965U (2.2 GHz) | Passive cooling (fanless) | 8 GB RAM (non ECC) | 128 GB SSD | Windows 10 (64 bits) | 1 x PCIe slot (X2 lanes) | NYML | DVI-D | 16:10 | Aluminium, black | 1280 | 800 | Industrial Panel PC with Intel® Celeron® 3965U, 8 GB DDR4 RAM (non-ECC), 128 GB SSD-iMLC, WIN 10 IoT Ent. (64-bit), PCIe slot, NYML port, 15.4" display with capacitive touchscreen |
| | 12.1 inch | Intel® Core™ i5 | 7300U (2.6 GHz) | Passive cooling (fanless) | 4 GB RAM (non ECC) | No Storage | No OS | 1 x PCIe slot (X2 lanes) | RS-232 | DVI-D | 16:10 | Aluminium, black | 1280 | 800 | Industrial Panel PC with Intel® Core™ i5-7300U, 4 GB DDR4 RAM (non-ECC), No storage, No OS, PCIe slot, RS-232, 12.1" display with capacitive touchscreen |
| | 15.4 inch | Intel® Core™ i5 | 7300U (2.6 GHz) | Passive cooling (fanless) | 4 GB RAM (non ECC) | No Storage | No OS | 1 x PCIe slot (X2 lanes) | RS-232 | DVI-D | 16:10 | Aluminium, black | 1280 | 800 | Industrial Panel PC with Intel® Core™ i5-7300U, 4 GB DDR4 RAM (non-ECC), No storage, No OS, PCIe slot, RS-232, 15.4" display with capacitive touchscreen |
| | 12.1 inch | Intel® Core™ i5 | 7300U (2.6 GHz) | Passive cooling (fanless) | 4 GB RAM (non ECC) | No Storage | No OS | 1 x PCIe slot (X2 lanes) | NYML | DVI-D | 16:10 | Aluminium, black | 1280 | 800 | Industrial Panel PC with Intel® Core™ i5-7300U, 4 GB DDR4 RAM (non-ECC), No storage, No OS, PCIe slot, NYML port, 12.1" display with capacitive touchscreen |
| | 15.4 inch | Intel® Core™ i5 | 7300U (2.6 GHz) | Passive cooling (fanless) | 4 GB RAM (non ECC) | No Storage | No OS | 1 x PCIe slot (X2 lanes) | NYML | DVI-D | 16:10 | Aluminium, black | 1280 | 800 | Industrial Panel PC with Intel® Core™ i5-7300U, 4 GB DDR4 RAM (non-ECC), No storage, No OS, PCIe slot, NYML port, 15.4" display with capacitive touchscreen |
| | 12.1 inch | Intel® Core™ i5 | 7300U (2.6 GHz) | Passive cooling (fanless) | 4 GB RAM (non ECC) | 64 GB SSD | Windows 10 (64 bits) | 1 x PCIe slot (X2 lanes) | RS-232 | DVI-D | 16:10 | Aluminium, black | 1280 | 800 | Industrial Panel PC with Intel® Core™ i5-7300U, 4 GB DDR4 RAM (non-ECC), 64 GB SSD-SLC, WIN 10 IoT Ent. (64-bit), PCIe slot, RS-232, 12.1" display with capacitive touchscreen |
| | 15.4 inch | Intel® Core™ i5 | 7300U (2.6 GHz) | Passive cooling (fanless) | 4 GB RAM (non ECC) | 64 GB SSD | Windows 10 (64 bits) | 1 x PCIe slot (X2 lanes) | RS-232 | DVI-D | 16:10 | Aluminium, black | 1280 | 800 | Industrial Panel PC with Intel® Core™ i5-7300U, 4 GB DDR4 RAM (non-ECC), 64 GB SSD-SLC, WIN 10 IoT Ent. (64-bit), PCIe slot, RS-232, 15.4" display with capacitive touchscreen |
| | 12.1 inch | Intel® Core™ i5 | 7300U (2.6 GHz) | Passive cooling (fanless) | 4 GB RAM (non ECC) | 64 GB SSD | Windows 10 (64 bits) | 1 x PCIe slot (X2 lanes) | DVI-D | DVI-D | 16:10 | Aluminium, black | 1280 | 800 | Industrial Panel PC with Intel® Core™ i5-7300U, 4 GB DDR4 RAM (non-ECC), 64 GB SSD-SLC, WIN 10 IoT Ent. (64-bit), PCIe slot, extra DVI-D, 12.1" display with capacitive touchscreen |
| | 15.4 inch | Intel® Core™ i5 | 7300U (2.6 GHz) | Passive cooling (fanless) | 4 GB RAM (non ECC) | 64 GB SSD | Windows 10 (64 bits) | 1 x PCIe slot (X2 lanes) | DVI-D | DVI-D | 16:10 | Aluminium, black | 1280 | 800 | Industrial Panel PC with Intel® Core™ i5-7300U, 4 GB DDR4 RAM (non-ECC), 64 GB SSD-SLC, WIN 10 IoT Ent. (64-bit), PCIe slot, extra DVI-D, 15.4" display with capacitive touchscreen |
| | 12.1 inch | Intel® Core™ i5 | 7300U (2.6 GHz) | Passive cooling (fanless) | 4 GB RAM (non ECC) | 64 GB SSD | Windows 10 (64 bits) | 1 x PCIe slot (X2 lanes) | NYML | DVI-D | 16:10 | Aluminium, black | 1280 | 800 | Industrial Panel PC with Intel® Core™ i5-7300U, 4 GB DDR4 RAM (non-ECC), 64 GB SSD-SLC, WIN 10 IoT Ent. (64-bit), PCIe slot, NYML port, 12.1" display with capacitive touchscreen |
| | 15.4 inch | Intel® Core™ i5 | 7300U (2.6 GHz) | Passive cooling (fanless) | 4 GB RAM (non ECC) | 64 GB SSD | Windows 10 (64 bits) | 1 x PCIe slot (X2 lanes) | NYML | DVI-D | 16:10 | Aluminium, black | 1280 | 800 | Industrial Panel PC with Intel® Core™ i5-7300U, 4 GB DDR4 RAM (non-ECC), 64 GB SSD-SLC, WIN 10 IoT Ent. (64-bit), PCIe slot, NYML port, 15.4" display with capacitive touchscreen |
| | 12.1 inch | Intel® Core™ i5 | 7300U (2.6 GHz) | Passive cooling (fanless) | 4 GB RAM (non ECC) | 320 GB HDD | Windows 10 (64 bits) | 1 x PCIe slot (X2 lanes) | RS-232 | DVI-D | 16:10 | Aluminium, black | 1280 | 800 | Industrial Panel PC with Intel® Core™ i5-7300U, 4 GB DDR4 RAM (non-ECC), 320 GB HDD, WIN 10 IoT Ent. (64-bit), PCIe slot, RS-232, 12.1" display with capacitive touchscreen |
| | 15.4 inch | Intel® Core™ i5 | 7300U (2.6 GHz) | Passive cooling (fanless) | 4 GB RAM (non ECC) | 320 GB HDD | Windows 10 (64 bits) | 1 x PCIe slot (X2 lanes) | RS-232 | DVI-D | 16:10 | Aluminium, black | 1280 | 800 | Industrial Panel PC with Intel® Core™ i5-7300U, 4 GB DDR4 RAM (non-ECC), 320 GB HDD, WIN 10 IoT Ent. (64-bit), PCIe slot, RS-232, 15.4" display with capacitive touchscreen |
| | 12.1 inch | Intel® Core™ i5 | 7300U (2.6 GHz) | Passive cooling (fanless) | 4 GB RAM (non ECC) | 320 GB HDD | Windows 10 (64 bits) | 1 x PCIe slot (X2 lanes) | DVI-D | DVI-D | 16:10 | Aluminium, black | 1280 | 800 | Industrial Panel PC with Intel® Core™ i5-7300U, 4 GB DDR4 RAM (non-ECC), 320 GB HDD, WIN 10 IoT Ent. (64-bit), PCIe slot, extra DVI-D, 12.1" display with capacitive touchscreen |
| | 15.4 inch | Intel® Core™ i5 | 7300U (2.6 GHz) | Passive cooling (fanless) | 4 GB RAM (non ECC) | 320 GB HDD | Windows 10 (64 bits) | 1 x PCIe slot (X2 lanes) | DVI-D | DVI-D | 16:10 | Aluminium, black | 1280 | 800 | Industrial Panel PC with Intel® Core™ i5-7300U, 4 GB DDR4 RAM (non-ECC), 320 GB HDD, WIN 10 IoT Ent. (64-bit), PCIe slot, extra DVI-D, 15.4" display with capacitive touchscreen |
| | 12.1 inch | Intel® Core™ i5 | 7300U (2.6 GHz) | Passive cooling (fanless) | 4 GB RAM (non ECC) | 320 GB HDD | Windows 10 (64 bits) | 1 x PCIe slot (X2 lanes) | NYML | DVI-D | 16:10 | Aluminium, black | 1280 | 800 | Industrial Panel PC with Intel® Core™ i5-7300U, 4 GB DDR4 RAM (non-ECC), 320 GB HDD, WIN 10 IoT Ent. (64-bit), PCIe slot, NYML port, 12.1" display with capacitive touchscreen |
| | 15.4 inch | Intel® Core™ i5 | 7300U (2.6 GHz) | Passive cooling (fanless) | 4 GB RAM (non ECC) | 320 GB HDD | Windows 10 (64 bits) | 1 x PCIe slot (X2 lanes) | NYML | DVI-D | 16:10 | Aluminium, black | 1280 | 800 | Industrial Panel PC with Intel® Core™ i5-7300U, 4 GB DDR4 RAM (non-ECC), 320 GB HDD, WIN 10 IoT Ent. (64-bit), PCIe slot, NYML port, 15.4" display with capacitive touchscreen |
| | 12.1 inch | Intel® Core™ i5 | 7300U (2.6 GHz) | Passive cooling (fanless) | 4 GB RAM (non ECC) | 128 GB SSD | Windows 10 (64 bits) | 1 x PCIe slot (X2 lanes) | RS-232 | DVI-D | 16:10 | Aluminium, black | 1280 | 800 | Industrial Panel PC with Intel® Core™ i5-7300U, 4 GB DDR4 RAM (non-ECC), 128 GB SSD-iMLC, WIN 10 IoT Ent. (64-bit), PCIe slot, RS-232, 12.1" display with capacitive touchscreen |
| | 15.4 inch | Intel® Core™ i5 | 7300U (2.6 GHz) | Passive cooling (fanless) | 4 GB RAM (non ECC) | 128 GB SSD | Windows 10 (64 bits) | 1 x PCIe slot (X2 lanes) | RS-232 | DVI-D | 16:10 | Aluminium, black | 1280 | 800 | Industrial Panel PC with Intel® Core™ i5-7300U, 4 GB DDR4 RAM (non-ECC), 128 GB SSD-iMLC, WIN 10 IoT Ent. (64-bit), PCIe slot, RS-232, 15.4" display with capacitive touchscreen |
| | 12.1 inch | Intel® Core™ i5 | 7300U (2.6 GHz) | Passive cooling (fanless) | 4 GB RAM (non ECC) | 128 GB SSD | Windows 10 (64 bits) | 1 x PCIe slot (X2 lanes) | DVI-D | DVI-D | 16:10 | Aluminium, black | 1280 | 800 | Industrial Panel PC with Intel® Core™ i5-7300U, 4 GB DDR4 RAM (non-ECC), 128 GB SSD-iMLC, WIN 10 IoT Ent. (64-bit), PCIe slot, extra DVI-D, 12.1" display with capacitive touchscreen |
| | 15.4 inch | Intel® Core™ i5 | 7300U (2.6 GHz) | Passive cooling (fanless) | 4 GB RAM (non ECC) | 128 GB SSD | Windows 10 (64 bits) | 1 x PCIe slot (X2 lanes) | DVI-D | DVI-D | 16:10 | Aluminium, black | 1280 | 800 | Industrial Panel PC with Intel® Core™ i5-7300U, 4 GB DDR4 RAM (non-ECC), 128 GB SSD-iMLC, WIN 10 IoT Ent. (64-bit), PCIe slot, extra DVI-D, 15.4" display with capacitive touchscreen |
| | 12.1 inch | Intel® Core™ i5 | 7300U (2.6 GHz) | Passive cooling (fanless) | 4 GB RAM (non ECC) | 128 GB SSD | Windows 10 (64 bits) | 1 x PCIe slot (X2 lanes) | NYML | DVI-D | 16:10 | Aluminium, black | 1280 | 800 | Industrial Panel PC with Intel® Core™ i5-7300U, 4 GB DDR4 RAM (non-ECC), 128 GB SSD-iMLC, WIN 10 IoT Ent. (64-bit), PCIe slot, NYML port, 12.1" display with capacitive touchscreen |
| | 15.4 inch | Intel® Core™ i5 | 7300U (2.6 GHz) | Passive cooling (fanless) | 4 GB RAM (non ECC) | 128 GB SSD | Windows 10 (64 bits) | 1 x PCIe slot (X2 lanes) | NYML | DVI-D | 16:10 | Aluminium, black | 1280 | 800 | Industrial Panel PC with Intel® Core™ i5-7300U, 4 GB DDR4 RAM (non-ECC), 128 GB SSD-iMLC, WIN 10 IoT Ent. (64-bit), PCIe slot, NYML port, 15.4" display with capacitive touchscreen |
| | 12.1 inch | Intel® Core™ i5 | 7300U (2.6 GHz) | Passive cooling (fanless) | 8 GB RAM (non ECC) | No Storage | No OS | No Expansion | No Port | DVI-D | 16:10 | Aluminium, black | 1280 | 800 | Industrial Panel PC with Intel® Core™ i5-7300U, 8 GB DDR4 RAM (non-ECC), No storage, No OS, no PCIe slot, no option port, 12.1" display with capacitive touchscreen |
| | 15.4 inch | Intel® Core™ i5 | 7300U (2.6 GHz) | Passive cooling (fanless) | 8 GB RAM (non ECC) | No Storage | No OS | No Expansion | No Port | DVI-D | 16:10 | Aluminium, black | 1280 | 800 | Industrial Panel PC with Intel® Core™ i5-7300U, 8 GB DDR4 RAM (non-ECC), No storage, No OS, no PCIe slot, no option port, 15.4" display with capacitive touchscreen |
| | 18.5 inch | Intel® Core™ i5 | 7300U (2.6 GHz) | Passive cooling (fanless) | 8 GB RAM (non ECC) | No Storage | No OS | No Expansion | No Port | DVI-D | 16:9 | Aluminium, black | 1920 | 1080 | Industrial Panel PC with Intel® Core™ i5-7300U, 8 GB DRAM (non-ECC), No Storage, No OS, No exp. slots, No I/F option, 18.5" (1920x1080) display with capacitive touchscreen, build-in type |
| | 12.1 inch | Intel® Core™ i5 | 7300U (2.6 GHz) | Passive cooling (fanless) | 8 GB RAM (non ECC) | 64 GB CFast | Windows 10 (64 bits) | No Expansion | No Port | DVI-D | 16:10 | Aluminium, black | 1280 | 800 | Industrial Panel PC with Intel® Core™ i5-7300U, 8 GB DDR4 RAM (non-ECC), 64 GB CFast iMLC, WIN 10 IoT Ent. (64-bit), no PCIe slot, no option port, 12.1" display with capacitive touchscreen |
| | 15.4 inch | Intel® Core™ i5 | 7300U (2.6 GHz) | Passive cooling (fanless) | 8 GB RAM (non ECC) | 64 GB CFast | Windows 10 (64 bits) | No Expansion | No Port | DVI-D | 16:10 | Aluminium, black | 1280 | 800 | Industrial Panel PC with Intel® Core™ i5-7300U, 8 GB DDR4 RAM (non-ECC), 64 GB CFast iMLC, WIN 10 IoT Ent. (64-bit), no PCIe slot, no option port, 15.4" display with capacitive touchscreen |
| | 18.5 inch | Intel® Core™ i5 | 7300U (2.6 GHz) | Passive cooling (fanless) | 8 GB RAM (non ECC) | 64 GB CFast | Windows 10 (64 bits) | No Expansion | No Port | DVI-D | 16:9 | Aluminium, black | 1920 | 1080 | Industrial Panel PC with Intel® Core™ i5-7300U, 8 GB DRAM (non-ECC), 64 GB CFast iMLC, WIN 10 IoT Ent. (64-bit), No exp. slots, No I/F option, 18.5" (1920x1080) display with capacitive touchscreen, build-in type |
| | 12.1 inch | Intel® Core™ i5 | 7300U (2.6 GHz) | Passive cooling (fanless) | 8 GB RAM (non ECC) | 128 GB CFast | Windows 10 (64 bits) | No Expansion | No Port | DVI-D | 16:10 | Aluminium, black | 1280 | 800 | Industrial Panel PC with Intel® Core™ i5-7300U, 8 GB DDR4 RAM (non-ECC), 128 GB CFast iMLC, WIN 10 IoT Ent. (64-bit), no PCIe slot, no option port, 12.1" display with capacitive touchscreen |
| | 15.4 inch | Intel® Core™ i5 | 7300U (2.6 GHz) | Passive cooling (fanless) | 8 GB RAM (non ECC) | 128 GB CFast | Windows 10 (64 bits) | No Expansion | No Port | DVI-D | 16:10 | Aluminium, black | 1280 | 800 | Industrial Panel PC with Intel® Core™ i5-7300U, 8 GB DDR4 RAM (non-ECC), 128 GB CFast iMLC, WIN 10 IoT Ent. (64-bit), no PCIe slot, no option port, 15.4" display with capacitive touchscreen |
| | 18.5 inch | Intel® Core™ i5 | 7300U (2.6 GHz) | Passive cooling (fanless) | 8 GB RAM (non ECC) | 128 GB CFast | Windows 10 (64 bits) | No Expansion | No Port | DVI-D | 16:9 | Aluminium, black | 1920 | 1080 | Industrial Panel PC with Intel® Core™ i5-7300U, 8 GB DRAM (non-ECC), 128 GB CFast iMLC, WIN 10 IoT Ent. (64-bit), No exp. slots, No I/F option, 18.5" (1920x1080) display with capacitive touchscreen, build-in type |
| | 12.1 inch | Intel® Core™ i5 | 7300U (2.6 GHz) | Passive cooling (fanless) | 8 GB RAM (non ECC) | 256 GB CFast | Windows 10 (64 bits) | No Expansion | No Port | DVI-D | 16:10 | Aluminium, black | 1280 | 800 | Industrial Panel PC with Intel® Core™ i5-7300U, 8 GB DDR4 RAM (non-ECC), 256 GB CFast iMLC, WIN 10 IoT Ent. (64-bit), no PCIe slot, no option port, 12.1" display with capacitive touchscreen |
| | 15.4 inch | Intel® Core™ i5 | 7300U (2.6 GHz) | Passive cooling (fanless) | 8 GB RAM (non ECC) | 256 GB CFast | Windows 10 (64 bits) | No Expansion | No Port | DVI-D | 16:10 | Aluminium, black | 1280 | 800 | Industrial Panel PC with Intel® Core™ i5-7300U, 8 GB DDR4 RAM (non-ECC), 256 GB CFast iMLC, WIN 10 IoT Ent. (64-bit), no PCIe slot, no option port, 15.4" display with capacitive touchscreen |
| | 15.4 inch | Intel® Core™ i5 | 7300U (2.6 GHz) | Passive cooling (fanless) | 8 GB RAM (non ECC) | 256 GB CFast | Windows 10 (64 bits) | No Expansion | No Port | DVI-D | 16:10 | Aluminium, nickel plating | 1280 | 800 | Industrial Panel PC with Intel® Core™ i5-7300U, 8 GB DRAM (non-ECC), 256 GB CFast iMLC, WIN 10 IoT Ent. (64-bit), No exp. slots, No I/F option, 15.4" (1280x800) display with capacitive touchscreen, build-in type, Ni plating |
| | 18.5 inch | Intel® Core™ i5 | 7300U (2.6 GHz) | Passive cooling (fanless) | 8 GB RAM (non ECC) | 256 GB CFast | Windows 10 (64 bits) | No Expansion | No Port | DVI-D | 16:9 | Aluminium, black | 1920 | 1080 | Industrial Panel PC with Intel® Core™ i5-7300U, 8 GB DRAM (non-ECC), 256 GB CFast iMLC, WIN 10 IoT Ent. (64-bit), No exp. slots, No I/F option, 18.5" (1920x1080) display with capacitive touchscreen, build-in type |
| | 18.5 inch | Intel® Core™ i5 | 7300U (2.6 GHz) | Passive cooling (fanless) | 8 GB RAM (non ECC) | 256 GB CFast | Windows 10 (64 bits) | No Expansion | No Port | DVI-D | 16:9 | Aluminium, nickel plating | 1920 | 1080 | Industrial Panel PC with Intel® Core™ i5-7300U, 8 GB DRAM (non-ECC), 256 GB CFast iMLC, WIN 10 IoT Ent. (64-bit), No exp. slots, No I/F option, 18.5" (1920x1080) display with capacitive touchscreen, build-in type, Ni plating |
| | 12.1 inch | Intel® Core™ i5 | 7300U (2.6 GHz) | Passive cooling (fanless) | 8 GB RAM (non ECC) | No Storage | No OS | 1 x PCIe slot (X2 lanes) | RS-232 | DVI-D | 16:10 | Aluminium, black | 1280 | 800 | Industrial Panel PC with Intel® Core™ i5-7300U, 8 GB DDR4 RAM (non-ECC), No storage, No OS, PCIe slot, RS-232, 12.1" display with capacitive touchscreen |
| | 15.4 inch | Intel® Core™ i5 | 7300U (2.6 GHz) | Passive cooling (fanless) | 8 GB RAM (non ECC) | No Storage | No OS | 1 x PCIe slot (X2 lanes) | RS-232 | DVI-D | 16:10 | Aluminium, black | 1280 | 800 | Industrial Panel PC with Intel® Core™ i5-7300U, 8 GB DDR4 RAM (non-ECC), No storage, No OS, PCIe slot, RS-232, 15.4" display with capacitive touchscreen |
| | 12.1 inch | Intel® Core™ i5 | 7300U (2.6 GHz) | Passive cooling (fanless) | 8 GB RAM (non ECC) | No Storage | No OS | 1 x PCIe slot (X2 lanes) | DVI-D | DVI-D | 16:10 | Aluminium, black | 1280 | 800 | Industrial Panel PC with Intel® Core™ i5-7300U, 8 GB DDR4 RAM (non-ECC), No storage, No OS, PCIe slot, extra DVI-D, 12.1" display with capacitive touchscreen |
| | 15.4 inch | Intel® Core™ i5 | 7300U (2.6 GHz) | Passive cooling (fanless) | 8 GB RAM (non ECC) | No Storage | No OS | 1 x PCIe slot (X2 lanes) | DVI-D | DVI-D | 16:10 | Aluminium, black | 1280 | 800 | Industrial Panel PC with Intel® Core™ i5-7300U, 8 GB DDR4 RAM (non-ECC), No storage, No OS, PCIe slot, extra DVI-D, 15.4" display with capacitive touchscreen |
| | 12.1 inch | Intel® Core™ i5 | 7300U (2.6 GHz) | Passive cooling (fanless) | 8 GB RAM (non ECC) | No Storage | No OS | 1 x PCIe slot (X2 lanes) | NYML | DVI-D | 16:10 | Aluminium, black | 1280 | 800 | Industrial Panel PC with Intel® Core™ i5-7300U, 8 GB DDR4 RAM (non-ECC), No storage, No OS, PCIe slot, NYML port, 12.1" display with capacitive touchscreen |
| | 15.4 inch | Intel® Core™ i5 | 7300U (2.6 GHz) | Passive cooling (fanless) | 8 GB RAM (non ECC) | No Storage | No OS | 1 x PCIe slot (X2 lanes) | NYML | DVI-D | 16:10 | Aluminium, black | 1280 | 800 | Industrial Panel PC with Intel® Core™ i5-7300U, 8 GB DDR4 RAM (non-ECC), No storage, No OS, PCIe slot, NYML port, 15.4" display with capacitive touchscreen |
| | 12.1 inch | Intel® Core™ i5 | 7300U (2.6 GHz) | Passive cooling (fanless) | 8 GB RAM (non ECC) | 64 GB SSD | Windows 10 (64 bits) | 1 x PCIe slot (X2 lanes) | RS-232 | DVI-D | 16:10 | Aluminium, black | 1280 | 800 | Industrial Panel PC with Intel® Core™ i5-7300U, 8 GB DDR4 RAM (non-ECC), 64 GB SSD-SLC, WIN 10 IoT Ent. (64-bit), PCIe slot, RS-232, 12.1" display with capacitive touchscreen |
| | 15.4 inch | Intel® Core™ i5 | 7300U (2.6 GHz) | Passive cooling (fanless) | 8 GB RAM (non ECC) | 64 GB SSD | Windows 10 (64 bits) | 1 x PCIe slot (X2 lanes) | RS-232 | DVI-D | 16:10 | Aluminium, black | 1280 | 800 | Industrial Panel PC with Intel® Core™ i5-7300U, 8 GB DDR4 RAM (non-ECC), 64 GB SSD-SLC, WIN 10 IoT Ent. (64-bit), PCIe slot, RS-232, 15.4" display with capacitive touchscreen |
| | 12.1 inch | Intel® Core™ i5 | 7300U (2.6 GHz) | Passive cooling (fanless) | 8 GB RAM (non ECC) | 64 GB SSD | Windows 10 (64 bits) | 1 x PCIe slot (X2 lanes) | DVI-D | DVI-D | 16:10 | Aluminium, black | 1280 | 800 | Industrial Panel PC with Intel® Core™ i5-7300U, 8 GB DDR4 RAM (non-ECC), 64 GB SSD-SLC, WIN 10 IoT Ent. (64-bit), PCIe slot, extra DVI-D, 12.1" display with capacitive touchscreen |
| | 15.4 inch | Intel® Core™ i5 | 7300U (2.6 GHz) | Passive cooling (fanless) | 8 GB RAM (non ECC) | 64 GB SSD | Windows 10 (64 bits) | 1 x PCIe slot (X2 lanes) | DVI-D | DVI-D | 16:10 | Aluminium, black | 1280 | 800 | Industrial Panel PC with Intel® Core™ i5-7300U, 8 GB DDR4 RAM (non-ECC), 64 GB SSD-SLC, WIN 10 IoT Ent. (64-bit), PCIe slot, extra DVI-D, 15.4" display with capacitive touchscreen |
| | 12.1 inch | Intel® Core™ i5 | 7300U (2.6 GHz) | Passive cooling (fanless) | 8 GB RAM (non ECC) | 64 GB SSD | Windows 10 (64 bits) | 1 x PCIe slot (X2 lanes) | NYML | DVI-D | 16:10 | Aluminium, black | 1280 | 800 | Industrial Panel PC with Intel® Core™ i5-7300U, 8 GB DDR4 RAM (non-ECC), 64 GB SSD-SLC, WIN 10 IoT Ent. (64-bit), PCIe slot, NYML port, 12.1" display with capacitive touchscreen |
| | 15.4 inch | Intel® Core™ i5 | 7300U (2.6 GHz) | Passive cooling (fanless) | 8 GB RAM (non ECC) | 64 GB SSD | Windows 10 (64 bits) | 1 x PCIe slot (X2 lanes) | NYML | DVI-D | 16:10 | Aluminium, black | 1280 | 800 | Industrial Panel PC with Intel® Core™ i5-7300U, 8 GB DDR4 RAM (non-ECC), 64 GB SSD-SLC, WIN 10 IoT Ent. (64-bit), PCIe slot, NYML port, 15.4" display with capacitive touchscreen |
| | 12.1 inch | Intel® Core™ i5 | 7300U (2.6 GHz) | Passive cooling (fanless) | 8 GB RAM (non ECC) | 320 GB HDD | Windows 10 (64 bits) | 1 x PCIe slot (X2 lanes) | RS-232 | DVI-D | 16:10 | Aluminium, black | 1280 | 800 | Industrial Panel PC with Intel® Core™ i5-7300U, 8 GB DDR4 RAM (non-ECC), 320 GB HDD, WIN 10 IoT Ent. (64-bit), PCIe slot, RS-232, 12.1" display with capacitive touchscreen |
| | 15.4 inch | Intel® Core™ i5 | 7300U (2.6 GHz) | Passive cooling (fanless) | 8 GB RAM (non ECC) | 320 GB HDD | Windows 10 (64 bits) | 1 x PCIe slot (X2 lanes) | RS-232 | DVI-D | 16:10 | Aluminium, black | 1280 | 800 | Industrial Panel PC with Intel® Core™ i5-7300U, 8 GB DDR4 RAM (non-ECC), 320 GB HDD, WIN 10 IoT Ent. (64-bit), PCIe slot, RS-232, 15.4" display with capacitive touchscreen |
| | 12.1 inch | Intel® Core™ i5 | 7300U (2.6 GHz) | Passive cooling (fanless) | 8 GB RAM (non ECC) | 320 GB HDD | Windows 10 (64 bits) | 1 x PCIe slot (X2 lanes) | DVI-D | DVI-D | 16:10 | Aluminium, black | 1280 | 800 | Industrial Panel PC with Intel® Core™ i5-7300U, 8 GB DDR4 RAM (non-ECC), 320 GB HDD, WIN 10 IoT Ent. (64-bit), PCIe slot, extra DVI-D, 12.1" display with capacitive touchscreen |
| | 15.4 inch | Intel® Core™ i5 | 7300U (2.6 GHz) | Passive cooling (fanless) | 8 GB RAM (non ECC) | 320 GB HDD | Windows 10 (64 bits) | 1 x PCIe slot (X2 lanes) | DVI-D | DVI-D | 16:10 | Aluminium, black | 1280 | 800 | Industrial Panel PC with Intel® Core™ i5-7300U, 8 GB DDR4 RAM (non-ECC), 320 GB HDD, WIN 10 IoT Ent. (64-bit), PCIe slot, extra DVI-D, 15.4" display with capacitive touchscreen |
| | 12.1 inch | Intel® Core™ i5 | 7300U (2.6 GHz) | Passive cooling (fanless) | 8 GB RAM (non ECC) | 320 GB HDD | Windows 10 (64 bits) | 1 x PCIe slot (X2 lanes) | NYML | DVI-D | 16:10 | Aluminium, black | 1280 | 800 | Industrial Panel PC with Intel® Core™ i5-7300U, 8 GB DDR4 RAM (non-ECC), 320 GB HDD, WIN 10 IoT Ent. (64-bit), PCIe slot, NYML port, 12.1" display with capacitive touchscreen |
| | 15.4 inch | Intel® Core™ i5 | 7300U (2.6 GHz) | Passive cooling (fanless) | 8 GB RAM (non ECC) | 320 GB HDD | Windows 10 (64 bits) | 1 x PCIe slot (X2 lanes) | NYML | DVI-D | 16:10 | Aluminium, black | 1280 | 800 | Industrial Panel PC with Intel® Core™ i5-7300U, 8 GB DDR4 RAM (non-ECC), 320 GB HDD, WIN 10 IoT Ent. (64-bit), PCIe slot, NYML port, 15.4" display with capacitive touchscreen |
| | 12.1 inch | Intel® Core™ i5 | 7300U (2.6 GHz) | Passive cooling (fanless) | 8 GB RAM (non ECC) | 128 GB SSD | Windows 10 (64 bits) | 1 x PCIe slot (X2 lanes) | RS-232 | DVI-D | 16:10 | Aluminium, black | 1280 | 800 | Industrial Panel PC with Intel® Core™ i5-7300U, 8 GB DDR4 RAM (non-ECC), 128 GB SSD-iMLC, WIN 10 IoT Ent. (64-bit), PCIe slot, RS-232, 12.1" display with capacitive touchscreen |
| | 15.4 inch | Intel® Core™ i5 | 7300U (2.6 GHz) | Passive cooling (fanless) | 8 GB RAM (non ECC) | 128 GB SSD | Windows 10 (64 bits) | 1 x PCIe slot (X2 lanes) | RS-232 | DVI-D | 16:10 | Aluminium, black | 1280 | 800 | Industrial Panel PC with Intel® Core™ i5-7300U, 8 GB DDR4 RAM (non-ECC), 128 GB SSD-iMLC, WIN 10 IoT Ent. (64-bit), PCIe slot, RS-232, 15.4" display with capacitive touchscreen |
| | 12.1 inch | Intel® Core™ i5 | 7300U (2.6 GHz) | Passive cooling (fanless) | 8 GB RAM (non ECC) | 128 GB SSD | Windows 10 (64 bits) | 1 x PCIe slot (X2 lanes) | DVI-D | DVI-D | 16:10 | Aluminium, black | 1280 | 800 | Industrial Panel PC with Intel® Core™ i5-7300U, 8 GB DDR4 RAM (non-ECC), 128 GB SSD-iMLC, WIN 10 IoT Ent. (64-bit), PCIe slot, extra DVI-D, 12.1" display with capacitive touchscreen |
| | 15.4 inch | Intel® Core™ i5 | 7300U (2.6 GHz) | Passive cooling (fanless) | 8 GB RAM (non ECC) | 128 GB SSD | Windows 10 (64 bits) | 1 x PCIe slot (X2 lanes) | DVI-D | DVI-D | 16:10 | Aluminium, black | 1280 | 800 | Industrial Panel PC with Intel® Core™ i5-7300U, 8 GB DDR4 RAM (non-ECC), 128 GB SSD-iMLC, WIN 10 IoT Ent. (64-bit), PCIe slot, extra DVI-D, 15.4" display with capacitive touchscreen |
| | 12.1 inch | Intel® Core™ i5 | 7300U (2.6 GHz) | Passive cooling (fanless) | 8 GB RAM (non ECC) | 128 GB SSD | Windows 10 (64 bits) | 1 x PCIe slot (X2 lanes) | NYML | DVI-D | 16:10 | Aluminium, black | 1280 | 800 | Industrial Panel PC with Intel® Core™ i5-7300U, 8 GB DDR4 RAM (non-ECC), 128 GB SSD-iMLC, WIN 10 IoT Ent. (64-bit), PCIe slot, NYML port, 12.1" display with capacitive touchscreen |
| | 15.4 inch | Intel® Core™ i5 | 7300U (2.6 GHz) | Passive cooling (fanless) | 8 GB RAM (non ECC) | 128 GB SSD | Windows 10 (64 bits) | 1 x PCIe slot (X2 lanes) | NYML | DVI-D | 16:10 | Aluminium, black | 1280 | 800 | Industrial Panel PC with Intel® Core™ i5-7300U, 8 GB DDR4 RAM (non-ECC), 128 GB SSD-iMLC, WIN 10 IoT Ent. (64-bit), PCIe slot, NYML port, 15.4" display with capacitive touchscreen |
| | 12.1 inch | Intel® Core™ i5 | 7300U (2.6 GHz) | Passive cooling (fanless) | 16 GB RAM (non ECC) | No Storage | No OS | No Expansion | No Port | DVI-D | 16:10 | Aluminium, black | 1280 | 800 | Industrial Panel PC with Intel® Core™ i5-7300U, 16 GB DDR4 RAM (non-ECC), No storage, No OS, no PCIe slot, no option port, 12.1" display with capacitive touchscreen |
| | 15.4 inch | Intel® Core™ i5 | 7300U (2.6 GHz) | Passive cooling (fanless) | 16 GB RAM (non ECC) | No Storage | No OS | No Expansion | No Port | DVI-D | 16:10 | Aluminium, black | 1280 | 800 | Industrial Panel PC with Intel® Core™ i5-7300U, 16 GB DDR4 RAM (non-ECC), No storage, No OS, no PCIe slot, no option port, 15.4" display with capacitive touchscreen |
| | 18.5 inch | Intel® Core™ i5 | 7300U (2.6 GHz) | Passive cooling (fanless) | 16 GB RAM (non ECC) | No Storage | No OS | No Expansion | No Port | DVI-D | 16:9 | Aluminium, black | 1920 | 1080 | Industrial Panel PC with Intel® Core™ i5-7300U, 16 GB DRAM (non-ECC), No Storage, No OS, No exp. slots, No I/F option, 18.5" (1920x1080) display with capacitive touchscreen, build-in type |
| | 12.1 inch | Intel® Core™ i5 | 7300U (2.6 GHz) | Passive cooling (fanless) | 16 GB RAM (non ECC) | 64 GB CFast | Windows 10 (64 bits) | No Expansion | No Port | DVI-D | 16:10 | Aluminium, black | 1280 | 800 | Industrial Panel PC with Intel® Core™ i5-7300U, 16 GB DDR4 RAM (non-ECC), 64 GB CFast iMLC, WIN 10 IoT Ent. (64-bit), no PCIe slot, no option port, 12.1" display with capacitive touchscreen |
| | 15.4 inch | Intel® Core™ i5 | 7300U (2.6 GHz) | Passive cooling (fanless) | 16 GB RAM (non ECC) | 64 GB CFast | Windows 10 (64 bits) | No Expansion | No Port | DVI-D | 16:10 | Aluminium, black | 1280 | 800 | Industrial Panel PC with Intel® Core™ i5-7300U, 16 GB DDR4 RAM (non-ECC), 64 GB CFast iMLC, WIN 10 IoT Ent. (64-bit), no PCIe slot, no option port, 15.4" display with capacitive touchscreen |
| | 18.5 inch | Intel® Core™ i5 | 7300U (2.6 GHz) | Passive cooling (fanless) | 16 GB RAM (non ECC) | 64 GB CFast | Windows 10 (64 bits) | No Expansion | No Port | DVI-D | 16:9 | Aluminium, black | 1920 | 1080 | Industrial Panel PC with Intel® Core™ i5-7300U, 16 GB DRAM (non-ECC), 64 GB CFast iMLC, WIN 10 IoT Ent. (64-bit), No exp. slots, No I/F option, 18.5" (1920x1080) display with capacitive touchscreen, build-in type |
| | 12.1 inch | Intel® Core™ i5 | 7300U (2.6 GHz) | Passive cooling (fanless) | 16 GB RAM (non ECC) | 128 GB CFast | Windows 10 (64 bits) | No Expansion | No Port | DVI-D | 16:10 | Aluminium, black | 1280 | 800 | Industrial Panel PC with Intel® Core™ i5-7300U, 16 GB DDR4 RAM (non-ECC), 128 GB CFast iMLC, WIN 10 IoT Ent. (64-bit), no PCIe slot, no option port, 12.1" display with capacitive touchscreen |
| | 15.4 inch | Intel® Core™ i5 | 7300U (2.6 GHz) | Passive cooling (fanless) | 16 GB RAM (non ECC) | 128 GB CFast | Windows 10 (64 bits) | No Expansion | No Port | DVI-D | 16:10 | Aluminium, black | 1280 | 800 | Industrial Panel PC with Intel® Core™ i5-7300U, 16 GB DDR4 RAM (non-ECC), 128 GB CFast iMLC, WIN 10 IoT Ent. (64-bit), no PCIe slot, no option port, 15.4" display with capacitive touchscreen |
| | 18.5 inch | Intel® Core™ i5 | 7300U (2.6 GHz) | Passive cooling (fanless) | 16 GB RAM (non ECC) | 128 GB CFast | Windows 10 (64 bits) | No Expansion | No Port | DVI-D | 16:9 | Aluminium, black | 1920 | 1080 | Industrial Panel PC with Intel® Core™ i5-7300U, 16 GB DRAM (non-ECC), 128 GB CFast iMLC, WIN 10 IoT Ent. (64-bit), No exp. slots, No I/F option, 18.5" (1920x1080) display with capacitive touchscreen, build-in type |
| | 12.1 inch | Intel® Core™ i5 | 7300U (2.6 GHz) | Passive cooling (fanless) | 16 GB RAM (non ECC) | 256 GB CFast | Windows 10 (64 bits) | No Expansion | No Port | DVI-D | 16:10 | Aluminium, black | 1280 | 800 | Industrial Panel PC with Intel® Core™ i5-7300U, 16 GB DDR4 RAM (non-ECC), 256 GB CFast iMLC, WIN 10 IoT Ent. (64-bit), no PCIe slot, no option port, 12.1" display with capacitive touchscreen |
| | 15.4 inch | Intel® Core™ i5 | 7300U (2.6 GHz) | Passive cooling (fanless) | 16 GB RAM (non ECC) | 256 GB CFast | Windows 10 (64 bits) | No Expansion | No Port | DVI-D | 16:10 | Aluminium, black | 1280 | 800 | Industrial Panel PC with Intel® Core™ i5-7300U, 16 GB DDR4 RAM (non-ECC), 256 GB CFast iMLC, WIN 10 IoT Ent. (64-bit), no PCIe slot, no option port, 15.4" display with capacitive touchscreen |
| | 18.5 inch | Intel® Core™ i5 | 7300U (2.6 GHz) | Passive cooling (fanless) | 16 GB RAM (non ECC) | 256 GB CFast | Windows 10 (64 bits) | No Expansion | No Port | DVI-D | 16:9 | Aluminium, black | 1920 | 1080 | Industrial Panel PC with Intel® Core™ i5-7300U, 16 GB DRAM (non-ECC), 256 GB CFast iMLC, WIN 10 IoT Ent. (64-bit), No exp. slots, No I/F option, 18.5" (1920x1080) display with capacitive touchscreen, build-in type |
Compare products
Show more products
How can we help you?
If you have a question or would like to ask for a quote, please contact us or send a request.
Pricing
Request a quote
Thank you for requesting a quotation. We will provide you with the required information as soon as possible.
We are experiencing technical difficulties. Your form submission has not been successful. Please accept our apologies and try again later. Details: [details]
Download
Features
NY Monitor Link
Up to 100 m connection between IPC and Display
Standard Ethernet cable
Optimum display response time
4K Ready
A few details...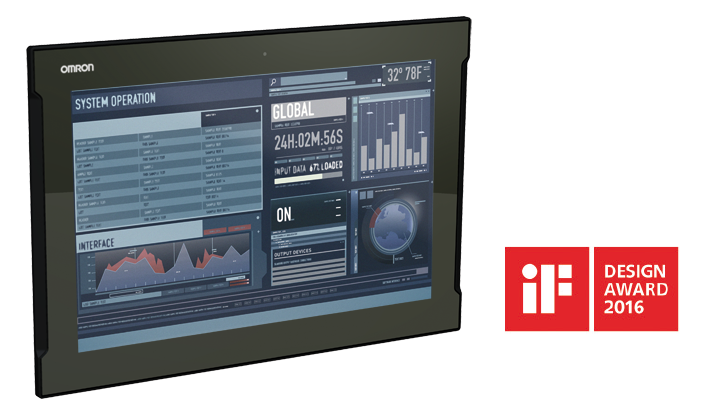 12.1, 15.4 & 18.5 inch industrial display
Multi-touch, using the latest projected capacitive technology
False touch detection
Glove operation
Easy built-in supportive mounting
Connections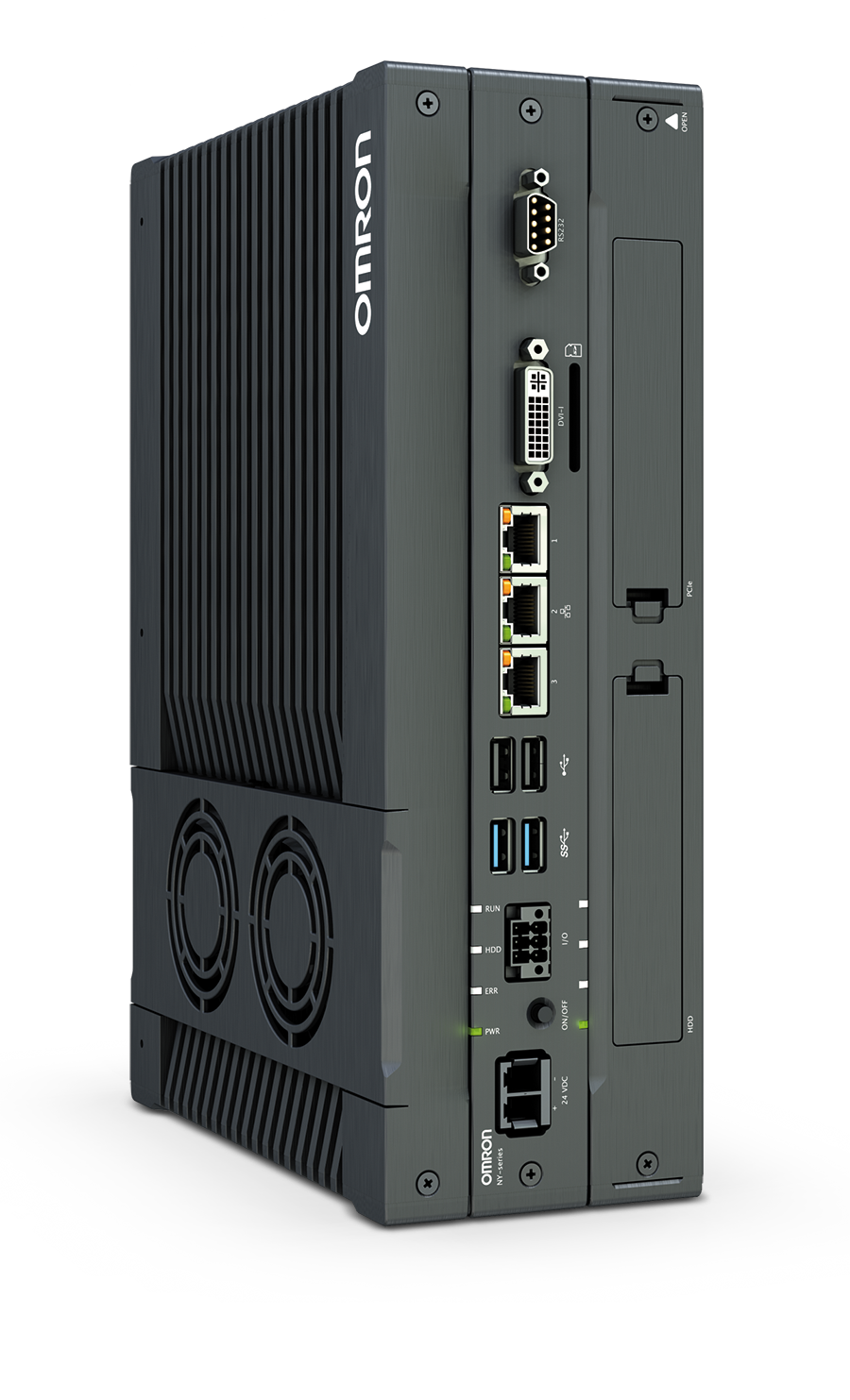 Options: RS-232C or extra DVI-D for dual monitor
DVI -3x RJ45 Gigabit Ethernet ports -2x USB2.0, 2x USB3.0
Choice of storages devices: HDD or SSD (MLC and long-life SLC types) Second drive option
I/O connection prepared for UPS connection -Power supply: 24VDC non-isolated
Technology
Performance
Based on Intel® Atom® to Intel® Xeon® processors
Up to 32 GB ECC (DDR4 SDRAM) supported
Intel® Iris™ Pro Graphics or Intel® HD Graphics
Unique heatsink effectiveness
RoHS Directive (2002/95/EC), EU Directives, KC Registration, RCM, cULus, EAC
Simplicity improves reliability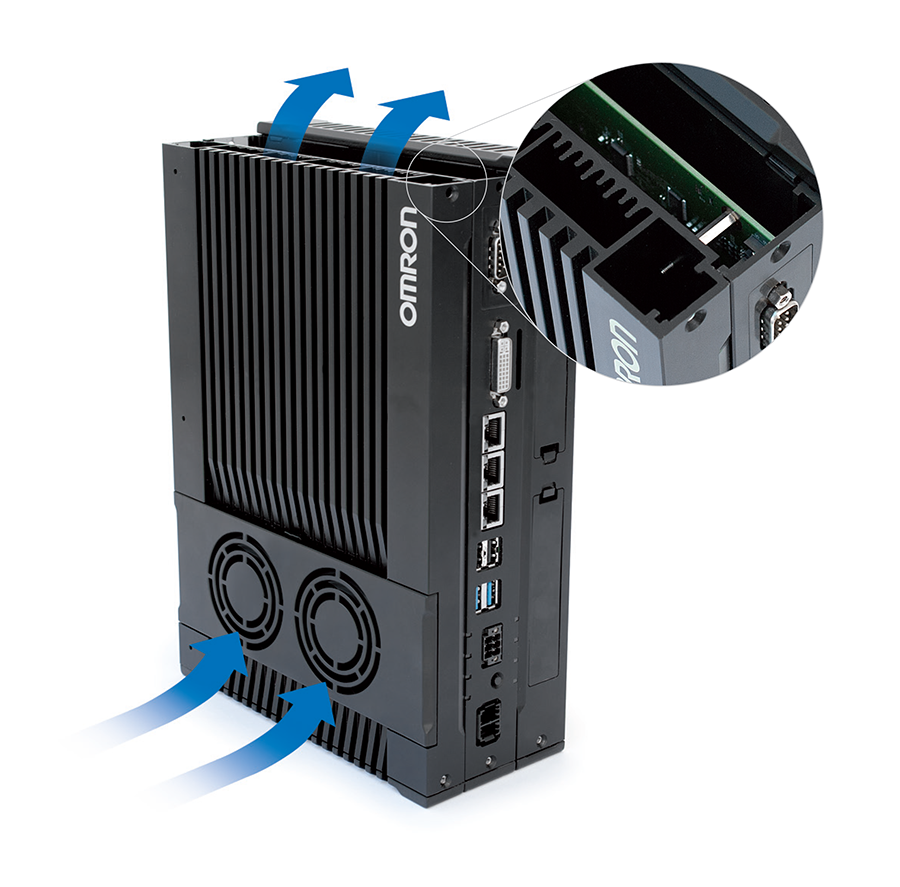 Unnecessary complexity causes problems, so we've eliminated it totally, to improve reliability, maximize performance.
No internal cables
No complex heatpipes
Structurally uniform mechanics to enable future expansion
Reduced assembly, maintenance and labor costs
Rock-solid architecture. Die-cast aluminum case
Active cooling and air-flow isolated from the electronics
Videos
Engineering video - How Omron keeps Industrial PC's cool
Omron engineers explain what choices they made during the development of the NY Industrial PC platform. In this episode R&D engineer Santiago Figueira talks about the challenge of making heat transfer more efficient. He describes how he worked with colleagues to create an entirely new concept, which was tested using simulations and prototypes until the ideal solution was developed.
Engineering video: "How Omron makes multi-touch industry-proof"
Is it possible to operate capacitive touchscreens with gloves or to detect abnormal touch behavior, like water? In this episode R&D engineer Tom Derks explains which choices they made during the development of the NY Industrial PC platform to make it industry proof.