NY5
IPC Machine Controller
Hybrid controller which combines Sysmac machine control and IT technology
Intel Core i7 Quad-core processor
Windows Embedded Standard 7 64-bit
Open operating system allows running customised software and hardware
Functions: Logic sequence, Motion and CNC
CNC functionality available on Industrial Panel PC: Ideal for XY cutting, milling, lathe and any other path-following application such as dispensing, bending, grinding and forming machines
Built-in EtherNet/IP port for your IT systems and machine to machine communication
Sysmac machine controller inside
500 μs system cycle time
Up to 64 synchronized axes
Built-in EtherCAT port for up to 192 synchronized slaves
Specifications & ordering info
| Product | IPC type | Controller type | Max. number of motion axes | Screen diagonal | Processor family | Processor specification | Cooling method | Memory | Storage | Operating system | Expansion slot | Modular port | Video output | Display ratio | Number of pixels, horizontal | Number of pixels, vertical | Height | Description |
| --- | --- | --- | --- | --- | --- | --- | --- | --- | --- | --- | --- | --- | --- | --- | --- | --- | --- | --- |
| | Box PC | Machine Control | 16 axes | | Intel® Core™ i7 | 4700EQ (2.4 GHz) | Active cooling (fan) | 8 GB RAM (non ECC) | 32 GB SSD | WES 7 (64 bits) | 1 x PCIe slot (X4 lanes) | RS-232 | DVI-I | | | | 89 mm | Machine Controller for 16 axes, Industrial Box PC with Intel® Core™ i7-4700EQ, 8 GB DRAM (non-ECC), 32 GB SSD-SLC, WES 7 (64-bit), PCIe slot, RS-232 |
| | Box PC | Machine Control | 16 axes | | Intel® Core™ i7 | 4700EQ (2.4 GHz) | Active cooling (fan) | 8 GB RAM (non ECC) | 32 GB SSD | WES 7 (64 bits) | 1 x PCIe slot (X4 lanes) | DVI-D | DVI-I | | | | 89 mm | Machine Controller for 16 axes, Industrial Box PC with Intel® Core™ i7-4700EQ, 8 GB DRAM (non-ECC), 32 GB SSD-SLC, WES 7 (64-bit), PCIe slot, extra DVI-D |
| | Box PC | Machine Control | 16 axes | | Intel® Core™ i7 | 4700EQ (2.4 GHz) | Active cooling (fan) | 8 GB RAM (non ECC) | 32 GB SSD | WES 7 (64 bits) | 1 x PCIe slot (X4 lanes) | NYML | DVI-I | | | | 89 mm | Machine Controller for 16 axes, Industrial Box PC with Intel® Core™ i7-4700EQ, 8 GB DRAM (non-ECC), 32 GB SSD-SLC, WES 7 (64-bit), PCIe slot, NYML port |
| | Box PC | Machine Control | 16 axes | | Intel® Core™ i7 | 4700EQ (2.4 GHz) | Active cooling (fan) | 8 GB RAM (non ECC) | 64 GB SSD | WES 7 (64 bits) | 1 x PCIe slot (X4 lanes) | RS-232 | DVI-I | | | | 89 mm | Machine Controller for 16 axes, Industrial Box PC with Intel® Core™ i7-4700EQ, 8 GB DRAM (non-ECC), 64 GB SSD-SLC, WES 7 (64-bit), PCIe slot, RS-232 |
| | Box PC | Machine Control | 16 axes | | Intel® Core™ i7 | 4700EQ (2.4 GHz) | Active cooling (fan) | 8 GB RAM (non ECC) | 64 GB SSD | WES 7 (64 bits) | 1 x PCIe slot (X4 lanes) | DVI-D | DVI-I | | | | 89 mm | Machine Controller for 16 axes, Industrial Box PC with Intel® Core™ i7-4700EQ, 8 GB DRAM (non-ECC), 64 GB SSD-SLC, WES 7 (64-bit), PCIe slot, extra DVI-D |
| | Box PC | Machine Control | 16 axes | | Intel® Core™ i7 | 4700EQ (2.4 GHz) | Active cooling (fan) | 8 GB RAM (non ECC) | 64 GB SSD | WES 7 (64 bits) | 1 x PCIe slot (X4 lanes) | NYML | DVI-I | | | | 89 mm | Machine Controller for 16 axes, Industrial Box PC with Intel® Core™ i7-4700EQ, 8 GB DRAM (non-ECC), 64 GB SSD-SLC, WES 7 (64-bit), PCIe slot, NYML port |
| | Box PC | Machine Control | 16 axes | | Intel® Core™ i7 | 4700EQ (2.4 GHz) | Active cooling (fan) | 8 GB RAM (non ECC) | 320 GB HDD | WES 7 (64 bits) | 1 x PCIe slot (X4 lanes) | RS-232 | DVI-I | | | | 89 mm | Machine Controller for 16 axes, Industrial Box PC with Intel® Core™ i7-4700EQ, 8 GB DRAM (non-ECC), 320 GB HDD, WES 7 (64-bit), PCIe slot, RS-232 |
| | Box PC | Machine Control | 16 axes | | Intel® Core™ i7 | 4700EQ (2.4 GHz) | Active cooling (fan) | 8 GB RAM (non ECC) | 320 GB HDD | WES 7 (64 bits) | 1 x PCIe slot (X4 lanes) | DVI-D | DVI-I | | | | 89 mm | Machine Controller for 16 axes, Industrial Box PC with Intel® Core™ i7-4700EQ, 8 GB DRAM (non-ECC), 320 GB HDD, WES 7 (64-bit), PCIe slot, extra DVI-D |
| | Box PC | Machine Control | 16 axes | | Intel® Core™ i7 | 4700EQ (2.4 GHz) | Active cooling (fan) | 8 GB RAM (non ECC) | 320 GB HDD | WES 7 (64 bits) | 1 x PCIe slot (X4 lanes) | NYML | DVI-I | | | | 89 mm | Machine Controller for 16 axes, Industrial Box PC with Intel® Core™ i7-4700EQ, 8 GB DRAM (non-ECC), 320 GB HDD, WES 7 (64-bit), PCIe slot, NYML port |
| | Box PC | Machine Control | 16 axes | | Intel® Core™ i7 | 4700EQ (2.4 GHz) | Active cooling (fan) | 8 GB RAM (non ECC) | 128 GB SSD | WES 7 (64 bits) | 1 x PCIe slot (X4 lanes) | RS-232 | DVI-I | | | | 89 mm | Machine Controller for 16 axes, Industrial Box PC with Intel® Core™ i7-4700EQ, 8 GB DRAM (non-ECC), 128 GB SSD-iMLC, WES 7 (64-bit), PCIe slot, RS-232 |
| | Box PC | Machine Control | 16 axes | | Intel® Core™ i7 | 4700EQ (2.4 GHz) | Active cooling (fan) | 8 GB RAM (non ECC) | 128 GB SSD | WES 7 (64 bits) | 1 x PCIe slot (X4 lanes) | DVI-D | DVI-I | | | | 89 mm | Machine Controller for 16 axes, Industrial Box PC with Intel® Core™ i7-4700EQ, 8 GB DRAM (non-ECC), 128 GB SSD-iMLC, WES 7 (64-bit), PCIe slot, extra DVI-D |
| | Box PC | Machine Control | 16 axes | | Intel® Core™ i7 | 4700EQ (2.4 GHz) | Active cooling (fan) | 8 GB RAM (non ECC) | 128 GB SSD | WES 7 (64 bits) | 1 x PCIe slot (X4 lanes) | NYML | DVI-I | | | | 89 mm | Machine Controller for 16 axes, Industrial Box PC with Intel® Core™ i7-4700EQ, 8 GB DRAM (non-ECC), 128 GB SSD-iMLC, WES 7 (64-bit), PCIe slot, NYML port |
| | Box PC | Machine Control | 32 axes | | Intel® Core™ i7 | 4700EQ (2.4 GHz) | Active cooling (fan) | 8 GB RAM (non ECC) | 32 GB SSD | WES 7 (64 bits) | 1 x PCIe slot (X4 lanes) | RS-232 | DVI-I | | | | 89 mm | Machine Controller for 32 axes, Industrial Box PC with Intel® Core™ i7-4700EQ, 8 GB DRAM (non-ECC), 32 GB SSD-SLC, WES 7 (64-bit), PCIe slot, RS-232 |
| | Box PC | Machine Control | 32 axes | | Intel® Core™ i7 | 4700EQ (2.4 GHz) | Active cooling (fan) | 8 GB RAM (non ECC) | 32 GB SSD | WES 7 (64 bits) | 1 x PCIe slot (X4 lanes) | DVI-D | DVI-I | | | | 89 mm | Machine Controller for 32 axes, Industrial Box PC with Intel® Core™ i7-4700EQ, 8 GB DRAM (non-ECC), 32 GB SSD-SLC, WES 7 (64-bit), PCIe slot, extra DVI-D |
| | Box PC | Machine Control | 32 axes | | Intel® Core™ i7 | 4700EQ (2.4 GHz) | Active cooling (fan) | 8 GB RAM (non ECC) | 32 GB SSD | WES 7 (64 bits) | 1 x PCIe slot (X4 lanes) | NYML | DVI-I | | | | 89 mm | Machine Controller for 32 axes, Industrial Box PC with Intel® Core™ i7-4700EQ, 8 GB DRAM (non-ECC), 32 GB SSD-SLC, WES 7 (64-bit), PCIe slot, NYML port |
| | Box PC | Machine Control | 32 axes | | Intel® Core™ i7 | 4700EQ (2.4 GHz) | Active cooling (fan) | 8 GB RAM (non ECC) | 64 GB SSD | WES 7 (64 bits) | 1 x PCIe slot (X4 lanes) | RS-232 | DVI-I | | | | 89 mm | Machine Controller for 32 axes, Industrial Box PC with Intel® Core™ i7-4700EQ, 8 GB DRAM (non-ECC), 64 GB SSD-SLC, WES 7 (64-bit), PCIe slot, RS-232 |
| | Box PC | Machine Control | 32 axes | | Intel® Core™ i7 | 4700EQ (2.4 GHz) | Active cooling (fan) | 8 GB RAM (non ECC) | 64 GB SSD | WES 7 (64 bits) | 1 x PCIe slot (X4 lanes) | DVI-D | DVI-I | | | | 89 mm | Machine Controller for 32 axes, Industrial Box PC with Intel® Core™ i7-4700EQ, 8 GB DRAM (non-ECC), 64 GB SSD-SLC, WES 7 (64-bit), PCIe slot, extra DVI-D |
| | Box PC | Machine Control | 32 axes | | Intel® Core™ i7 | 4700EQ (2.4 GHz) | Active cooling (fan) | 8 GB RAM (non ECC) | 64 GB SSD | WES 7 (64 bits) | 1 x PCIe slot (X4 lanes) | NYML | DVI-I | | | | 89 mm | Machine Controller for 32 axes, Industrial Box PC with Intel® Core™ i7-4700EQ, 8 GB DRAM (non-ECC), 64 GB SSD-SLC, WES 7 (64-bit), PCIe slot, NYML port |
| | Box PC | Machine Control | 32 axes | | Intel® Core™ i7 | 4700EQ (2.4 GHz) | Active cooling (fan) | 8 GB RAM (non ECC) | 320 GB HDD | WES 7 (64 bits) | 1 x PCIe slot (X4 lanes) | RS-232 | DVI-I | | | | 89 mm | Machine Controller for 32 axes, Industrial Box PC with Intel® Core™ i7-4700EQ, 8 GB DRAM (non-ECC), 320 GB HDD, WES 7 (64-bit), PCIe slot, RS-232 |
| | Box PC | Machine Control | 32 axes | | Intel® Core™ i7 | 4700EQ (2.4 GHz) | Active cooling (fan) | 8 GB RAM (non ECC) | 320 GB HDD | WES 7 (64 bits) | 1 x PCIe slot (X4 lanes) | DVI-D | DVI-I | | | | 89 mm | Machine Controller for 32 axes, Industrial Box PC with Intel® Core™ i7-4700EQ, 8 GB DRAM (non-ECC), 320 GB HDD, WES 7 (64-bit), PCIe slot, extra DVI-D |
| | Box PC | Machine Control | 32 axes | | Intel® Core™ i7 | 4700EQ (2.4 GHz) | Active cooling (fan) | 8 GB RAM (non ECC) | 320 GB HDD | WES 7 (64 bits) | 1 x PCIe slot (X4 lanes) | NYML | DVI-I | | | | 89 mm | Machine Controller for 32 axes, Industrial Box PC with Intel® Core™ i7-4700EQ, 8 GB DRAM (non-ECC), 320 GB HDD, WES 7 (64-bit), PCIe slot, NYML port |
| | Box PC | Machine Control | 32 axes | | Intel® Core™ i7 | 4700EQ (2.4 GHz) | Active cooling (fan) | 8 GB RAM (non ECC) | 128 GB SSD | WES 7 (64 bits) | 1 x PCIe slot (X4 lanes) | RS-232 | DVI-I | | | | 89 mm | Machine Controller for 32 axes, Industrial Box PC with Intel® Core™ i7-4700EQ, 8 GB DRAM (non-ECC), 128 GB SSD-iMLC, WES 7 (64-bit), PCIe slot, RS-232 |
| | Box PC | Machine Control | 32 axes | | Intel® Core™ i7 | 4700EQ (2.4 GHz) | Active cooling (fan) | 8 GB RAM (non ECC) | 128 GB SSD | WES 7 (64 bits) | 1 x PCIe slot (X4 lanes) | DVI-D | DVI-I | | | | 89 mm | Machine Controller for 32 axes, Industrial Box PC with Intel® Core™ i7-4700EQ, 8 GB DRAM (non-ECC), 128 GB SSD-iMLC, WES 7 (64-bit), PCIe slot, extra DVI-D |
| | Box PC | Machine Control | 32 axes | | Intel® Core™ i7 | 4700EQ (2.4 GHz) | Active cooling (fan) | 8 GB RAM (non ECC) | 128 GB SSD | WES 7 (64 bits) | 1 x PCIe slot (X4 lanes) | NYML | DVI-I | | | | 89 mm | Machine Controller for 32 axes, Industrial Box PC with Intel® Core™ i7-4700EQ, 8 GB DRAM (non-ECC), 128 GB SSD-iMLC, WES 7 (64-bit), PCIe slot, NYML port |
| | Box PC | Machine Control | 64 axes | | Intel® Core™ i7 | 4700EQ (2.4 GHz) | Active cooling (fan) | 8 GB RAM (non ECC) | 32 GB SSD | WES 7 (64 bits) | 1 x PCIe slot (X4 lanes) | RS-232 | DVI-I | | | | 89 mm | Machine Controller for 64 axes, Industrial Box PC with Intel® Core™ i7-4700EQ, 8 GB DRAM (non-ECC), 32 GB SSD-SLC, WES 7 (64-bit), PCIe slot, RS-232 |
| | Box PC | Machine Control | 64 axes | | Intel® Core™ i7 | 4700EQ (2.4 GHz) | Active cooling (fan) | 8 GB RAM (non ECC) | 32 GB SSD | WES 7 (64 bits) | 1 x PCIe slot (X4 lanes) | DVI-D | DVI-I | | | | 89 mm | Machine Controller for 64 axes, Industrial Box PC with Intel® Core™ i7-4700EQ, 8 GB DRAM (non-ECC), 32 GB SSD-SLC, WES 7 (64-bit), PCIe slot, extra DVI-D |
| | Box PC | Machine Control | 64 axes | | Intel® Core™ i7 | 4700EQ (2.4 GHz) | Active cooling (fan) | 8 GB RAM (non ECC) | 32 GB SSD | WES 7 (64 bits) | 1 x PCIe slot (X4 lanes) | NYML | DVI-I | | | | 89 mm | Machine Controller for 64 axes, Industrial Box PC with Intel® Core™ i7-4700EQ, 8 GB DRAM (non-ECC), 32 GB SSD-SLC, WES 7 (64-bit), PCIe slot, NYML port |
| | Box PC | Machine Control | 64 axes | | Intel® Core™ i7 | 4700EQ (2.4 GHz) | Active cooling (fan) | 8 GB RAM (non ECC) | 64 GB SSD | WES 7 (64 bits) | 1 x PCIe slot (X4 lanes) | RS-232 | DVI-I | | | | 89 mm | Machine Controller for 64 axes, Industrial Box PC with Intel® Core™ i7-4700EQ, 8 GB DRAM (non-ECC), 64 GB SSD-SLC, WES 7 (64-bit), PCIe slot, RS-232 |
| | Box PC | Machine Control | 64 axes | | Intel® Core™ i7 | 4700EQ (2.4 GHz) | Active cooling (fan) | 8 GB RAM (non ECC) | 64 GB SSD | WES 7 (64 bits) | 1 x PCIe slot (X4 lanes) | DVI-D | DVI-I | | | | 89 mm | Machine Controller for 64 axes, Industrial Box PC with Intel® Core™ i7-4700EQ, 8 GB DRAM (non-ECC), 64 GB SSD-SLC, WES 7 (64-bit), PCIe slot, extra DVI-D |
| | Box PC | Machine Control | 64 axes | | Intel® Core™ i7 | 4700EQ (2.4 GHz) | Active cooling (fan) | 8 GB RAM (non ECC) | 64 GB SSD | WES 7 (64 bits) | 1 x PCIe slot (X4 lanes) | NYML | DVI-I | | | | 89 mm | Machine Controller for 64 axes, Industrial Box PC with Intel® Core™ i7-4700EQ, 8 GB DRAM (non-ECC), 64 GB SSD-SLC, WES 7 (64-bit), PCIe slot, NYML port |
| | Box PC | Machine Control | 64 axes | | Intel® Core™ i7 | 4700EQ (2.4 GHz) | Active cooling (fan) | 8 GB RAM (non ECC) | 320 GB HDD | WES 7 (64 bits) | 1 x PCIe slot (X4 lanes) | RS-232 | DVI-I | | | | 89 mm | Machine Controller for 64 axes, Industrial Box PC with Intel® Core™ i7-4700EQ, 8 GB DRAM (non-ECC), 320 GB HDD, WES 7 (64-bit), PCIe slot, RS-232 |
| | Box PC | Machine Control | 64 axes | | Intel® Core™ i7 | 4700EQ (2.4 GHz) | Active cooling (fan) | 8 GB RAM (non ECC) | 320 GB HDD | WES 7 (64 bits) | 1 x PCIe slot (X4 lanes) | DVI-D | DVI-I | | | | 89 mm | Machine Controller for 64 axes, Industrial Box PC with Intel® Core™ i7-4700EQ, 8 GB DRAM (non-ECC), 320 GB HDD, WES 7 (64-bit), PCIe slot, extra DVI-D |
| | Box PC | Machine Control | 64 axes | | Intel® Core™ i7 | 4700EQ (2.4 GHz) | Active cooling (fan) | 8 GB RAM (non ECC) | 320 GB HDD | WES 7 (64 bits) | 1 x PCIe slot (X4 lanes) | NYML | DVI-I | | | | 89 mm | Machine Controller for 64 axes, Industrial Box PC with Intel® Core™ i7-4700EQ, 8 GB DRAM (non-ECC), 320 GB HDD, WES 7 (64-bit), PCIe slot, NYML port |
| | Box PC | Machine Control | 64 axes | | Intel® Core™ i7 | 4700EQ (2.4 GHz) | Active cooling (fan) | 8 GB RAM (non ECC) | 128 GB SSD | WES 7 (64 bits) | 1 x PCIe slot (X4 lanes) | RS-232 | DVI-I | | | | 89 mm | Machine Controller for 64 axes, Industrial Box PC with Intel® Core™ i7-4700EQ, 8 GB DRAM (non-ECC), 128 GB SSD-iMLC, WES 7 (64-bit), PCIe slot, RS-232 |
| | Box PC | Machine Control | 64 axes | | Intel® Core™ i7 | 4700EQ (2.4 GHz) | Active cooling (fan) | 8 GB RAM (non ECC) | 128 GB SSD | WES 7 (64 bits) | 1 x PCIe slot (X4 lanes) | DVI-D | DVI-I | | | | 89 mm | Machine Controller for 64 axes, Industrial Box PC with Intel® Core™ i7-4700EQ, 8 GB DRAM (non-ECC), 128 GB SSD-iMLC, WES 7 (64-bit), PCIe slot, extra DVI-D |
| | Box PC | Machine Control | 64 axes | | Intel® Core™ i7 | 4700EQ (2.4 GHz) | Active cooling (fan) | 8 GB RAM (non ECC) | 128 GB SSD | WES 7 (64 bits) | 1 x PCIe slot (X4 lanes) | NYML | DVI-I | | | | 89 mm | Machine Controller for 64 axes, Industrial Box PC with Intel® Core™ i7-4700EQ, 8 GB DRAM (non-ECC), 128 GB SSD-iMLC, WES 7 (64-bit), PCIe slot, NYML port |
| | Box PC | AI Machine Control | 16 axes | | Intel® Core™ i7 | 4700EQ (2.4 GHz) | Active cooling (fan) | 8 GB RAM (non ECC) | 128 GB SSD | WES 7 (64 bits) | 1 x PCIe slot (X4 lanes) | RS-232 | DVI-I | | | | 89 mm | AI Machine Controller for 16 axes, Industrial Box PC with Intel® Core™ i7-4700EQ, 8 GB DRAM (non-ECC), 128 GB SSD-iMLC, WES 7 (64-bit), PCIe slot, RS-232 |
| | Box PC | AI Machine Control | 16 axes | | Intel® Core™ i7 | 4700EQ (2.4 GHz) | Active cooling (fan) | 8 GB RAM (non ECC) | 128 GB SSD | WES 7 (64 bits) | 1 x PCIe slot (X4 lanes) | DVI-D | DVI-I | | | | 89 mm | AI Machine Controller for 16 axes, Industrial Box PC with Intel® Core™ i7-4700EQ, 8 GB DRAM (non-ECC), 128 GB SSD-iMLC, WES 7 (64-bit), PCIe slot, extra DVI-D |
| | Box PC | AI Machine Control | 32 axes | | Intel® Core™ i7 | 4700EQ (2.4 GHz) | Active cooling (fan) | 8 GB RAM (non ECC) | 128 GB SSD | WES 7 (64 bits) | 1 x PCIe slot (X4 lanes) | RS-232 | DVI-I | | | | 89 mm | AI Machine Controller for 32 axes, Industrial Box PC with Intel® Core™ i7-4700EQ, 8 GB DRAM (non-ECC), 128 GB SSD-iMLC, WES 7 (64-bit), PCIe slot, RS-232 |
| | Box PC | AI Machine Control | 32 axes | | Intel® Core™ i7 | 4700EQ (2.4 GHz) | Active cooling (fan) | 8 GB RAM (non ECC) | 128 GB SSD | WES 7 (64 bits) | 1 x PCIe slot (X4 lanes) | DVI-D | DVI-I | | | | 89 mm | AI Machine Controller for 32 axes, Industrial Box PC with Intel® Core™ i7-4700EQ, 8 GB DRAM (non-ECC), 128 GB SSD-iMLC, WES 7 (64-bit), PCIe slot, extra DVI-D |
| | Box PC | AI Machine Control | 64 axes | | Intel® Core™ i7 | 4700EQ (2.4 GHz) | Active cooling (fan) | 8 GB RAM (non ECC) | 128 GB SSD | WES 7 (64 bits) | 1 x PCIe slot (X4 lanes) | RS-232 | DVI-I | | | | 89 mm | AI Machine Controller for 64 axes, Industrial Box PC with Intel® Core™ i7-4700EQ, 8 GB DRAM (non-ECC), 128 GB SSD-iMLC, WES 7 (64-bit), PCIe slot, RS-232 |
| | Box PC | AI Machine Control | 64 axes | | Intel® Core™ i7 | 4700EQ (2.4 GHz) | Active cooling (fan) | 8 GB RAM (non ECC) | 128 GB SSD | WES 7 (64 bits) | 1 x PCIe slot (X4 lanes) | DVI-D | DVI-I | | | | 89 mm | AI Machine Controller for 64 axes, Industrial Box PC with Intel® Core™ i7-4700EQ, 8 GB DRAM (non-ECC), 128 GB SSD-iMLC, WES 7 (64-bit), PCIe slot, extra DVI-D |
| | Panel PC | Machine Control | 16 axes | 12.1 inch | Intel® Core™ i7 | 4700EQ (2.4 GHz) | Active cooling (fan) | 8 GB RAM (non ECC) | 32 GB SSD | WES 7 (64 bits) | 1 x PCIe slot (X4 lanes) | RS-232 | DVI-I | 16:10 | 1280 | 800 | | Machine Controller for 16 axes, Industrial Panel PC with Intel® Core™ i7-4700EQ, 8 GB DRAM (non-ECC), 32 GB SSD-SLC, WES 7 (64-bit), PCIe slot, RS-232, 12.1" display with capacitive touchscreen |
| | Panel PC | Machine Control | 16 axes | 12.1 inch | Intel® Core™ i7 | 4700EQ (2.4 GHz) | Active cooling (fan) | 8 GB RAM (non ECC) | 32 GB SSD | WES 7 (64 bits) | 1 x PCIe slot (X4 lanes) | DVI-D | DVI-I | 16:10 | 1280 | 800 | | Machine Controller for 16 axes, Industrial Panel PC with Intel® Core™ i7-4700EQ, 8 GB DRAM (non-ECC), 32 GB SSD-SLC, WES 7 (64-bit), PCIe slot, extra DVI-D, 12.1" display with capacitive touchscreen |
| | Panel PC | Machine Control | 16 axes | 12.1 inch | Intel® Core™ i7 | 4700EQ (2.4 GHz) | Active cooling (fan) | 8 GB RAM (non ECC) | 32 GB SSD | WES 7 (64 bits) | 1 x PCIe slot (X4 lanes) | NYML | DVI-I | 16:10 | 1280 | 800 | | Machine Controller for 16 axes, Industrial Panel PC with Intel® Core™ i7-4700EQ, 8 GB DRAM (non-ECC), 32 GB SSD-SLC, WES 7 (64-bit), PCIe slot, NYML port, 12.1" display with capacitive touchscreen |
| | Panel PC | Machine Control | 16 axes | 12.1 inch | Intel® Core™ i7 | 4700EQ (2.4 GHz) | Active cooling (fan) | 8 GB RAM (non ECC) | 64 GB SSD | WES 7 (64 bits) | 1 x PCIe slot (X4 lanes) | RS-232 | DVI-I | 16:10 | 1280 | 800 | | Machine Controller for 16 axes, Industrial Panel PC with Intel® Core™ i7-4700EQ, 8 GB DRAM (non-ECC), 64 GB SSD-SLC, WES 7 (64-bit), PCIe slot, RS-232, 12.1" display with capacitive touchscreen |
| | Panel PC | Machine Control | 16 axes | 12.1 inch | Intel® Core™ i7 | 4700EQ (2.4 GHz) | Active cooling (fan) | 8 GB RAM (non ECC) | 64 GB SSD | WES 7 (64 bits) | 1 x PCIe slot (X4 lanes) | DVI-D | DVI-I | 16:10 | 1280 | 800 | | Machine Controller for 16 axes, Industrial Panel PC with Intel® Core™ i7-4700EQ, 8 GB DRAM (non-ECC), 64 GB SSD-SLC, WES 7 (64-bit), PCIe slot, extra DVI-D, 12.1" display with capacitive touchscreen |
| | Panel PC | Machine Control | 16 axes | 12.1 inch | Intel® Core™ i7 | 4700EQ (2.4 GHz) | Active cooling (fan) | 8 GB RAM (non ECC) | 64 GB SSD | WES 7 (64 bits) | 1 x PCIe slot (X4 lanes) | NYML | DVI-I | 16:10 | 1280 | 800 | | Machine Controller for 16 axes, Industrial Panel PC with Intel® Core™ i7-4700EQ, 8 GB DRAM (non-ECC), 64 GB SSD-SLC, WES 7 (64-bit), PCIe slot, NYML port, 12.1" display with capacitive touchscreen |
| | Panel PC | Machine Control | 16 axes | 12.1 inch | Intel® Core™ i7 | 4700EQ (2.4 GHz) | Active cooling (fan) | 8 GB RAM (non ECC) | 320 GB HDD | WES 7 (64 bits) | 1 x PCIe slot (X4 lanes) | RS-232 | DVI-I | 16:10 | 1280 | 800 | | Machine Controller for 16 axes, Industrial Panel PC with Intel® Core™ i7-4700EQ, 8 GB DRAM (non-ECC), 320 GB HDD, WES 7 (64-bit), PCIe slot, RS-232, 12.1" display with capacitive touchscreen |
| | Panel PC | Machine Control | 16 axes | 12.1 inch | Intel® Core™ i7 | 4700EQ (2.4 GHz) | Active cooling (fan) | 8 GB RAM (non ECC) | 320 GB HDD | WES 7 (64 bits) | 1 x PCIe slot (X4 lanes) | DVI-D | DVI-I | 16:10 | 1280 | 800 | | Machine Controller for 16 axes, Industrial Panel PC with Intel® Core™ i7-4700EQ, 8 GB DRAM (non-ECC), 320 GB HDD, WES 7 (64-bit), PCIe slot, extra DVI-D, 12.1" display with capacitive touchscreen |
| | Panel PC | Machine Control | 16 axes | 12.1 inch | Intel® Core™ i7 | 4700EQ (2.4 GHz) | Active cooling (fan) | 8 GB RAM (non ECC) | 320 GB HDD | WES 7 (64 bits) | 1 x PCIe slot (X4 lanes) | NYML | DVI-I | 16:10 | 1280 | 800 | | Machine Controller for 16 axes, Industrial Panel PC with Intel® Core™ i7-4700EQ, 8 GB DRAM (non-ECC), 320 GB HDD, WES 7 (64-bit), PCIe slot, NYML port, 12.1" display with capacitive touchscreen |
| | Panel PC | Machine Control | 16 axes | 12.1 inch | Intel® Core™ i7 | 4700EQ (2.4 GHz) | Active cooling (fan) | 8 GB RAM (non ECC) | 128 GB SSD | WES 7 (64 bits) | 1 x PCIe slot (X4 lanes) | RS-232 | DVI-I | 16:10 | 1280 | 800 | | Machine Controller for 16 axes, Industrial Panel PC with Intel® Core™ i7-4700EQ, 8 GB DRAM (non-ECC), 128 GB SSD-iMLC, WES 7 (64-bit), PCIe slot, RS-232, 12.1" display with capacitive touchscreen |
| | Panel PC | Machine Control | 16 axes | 12.1 inch | Intel® Core™ i7 | 4700EQ (2.4 GHz) | Active cooling (fan) | 8 GB RAM (non ECC) | 128 GB SSD | WES 7 (64 bits) | 1 x PCIe slot (X4 lanes) | DVI-D | DVI-I | 16:10 | 1280 | 800 | | Machine Controller for 16 axes, Industrial Panel PC with Intel® Core™ i7-4700EQ, 8 GB DRAM (non-ECC), 128 GB SSD-iMLC, WES 7 (64-bit), PCIe slot, extra DVI-D, 12.1" display with capacitive touchscreen |
| | Panel PC | Machine Control | 16 axes | 12.1 inch | Intel® Core™ i7 | 4700EQ (2.4 GHz) | Active cooling (fan) | 8 GB RAM (non ECC) | 128 GB SSD | WES 7 (64 bits) | 1 x PCIe slot (X4 lanes) | NYML | DVI-I | 16:10 | 1280 | 800 | | Machine Controller for 16 axes, Industrial Panel PC with Intel® Core™ i7-4700EQ, 8 GB DRAM (non-ECC), 128 GB SSD-iMLC, WES 7 (64-bit), PCIe slot, NYML port, 12.1" display with capacitive touchscreen |
| | Panel PC | Machine Control | 16 axes | 15.4 inch | Intel® Core™ i7 | 4700EQ (2.4 GHz) | Active cooling (fan) | 8 GB RAM (non ECC) | 32 GB SSD | WES 7 (64 bits) | 1 x PCIe slot (X4 lanes) | RS-232 | DVI-I | 16:10 | 1280 | 800 | | Machine Controller for 16 axes, Industrial Panel PC with Intel® Core™ i7-4700EQ, 8 GB DRAM (non-ECC), 32 GB SSD-SLC, WES 7 (64-bit), PCIe slot, RS-232, 15.4" display with capacitive touchscreen |
| | Panel PC | Machine Control | 16 axes | 15.4 inch | Intel® Core™ i7 | 4700EQ (2.4 GHz) | Active cooling (fan) | 8 GB RAM (non ECC) | 32 GB SSD | WES 7 (64 bits) | 1 x PCIe slot (X4 lanes) | DVI-D | DVI-I | 16:10 | 1280 | 800 | | Machine Controller for 16 axes, Industrial Panel PC with Intel® Core™ i7-4700EQ, 8 GB DRAM (non-ECC), 32 GB SSD-SLC, WES 7 (64-bit), PCIe slot, extra DVI-D, 15.4" display with capacitive touchscreen |
| | Panel PC | Machine Control | 16 axes | 15.4 inch | Intel® Core™ i7 | 4700EQ (2.4 GHz) | Active cooling (fan) | 8 GB RAM (non ECC) | 32 GB SSD | WES 7 (64 bits) | 1 x PCIe slot (X4 lanes) | NYML | DVI-I | 16:10 | 1280 | 800 | | Machine Controller for 16 axes, Industrial Panel PC with Intel® Core™ i7-4700EQ, 8 GB DRAM (non-ECC), 32 GB SSD-SLC, WES 7 (64-bit), PCIe slot, NYML port, 15.4" display with capacitive touchscreen |
| | Panel PC | Machine Control | 16 axes | 15.4 inch | Intel® Core™ i7 | 4700EQ (2.4 GHz) | Active cooling (fan) | 8 GB RAM (non ECC) | 64 GB SSD | WES 7 (64 bits) | 1 x PCIe slot (X4 lanes) | RS-232 | DVI-I | 16:10 | 1280 | 800 | | Machine Controller for 16 axes, Industrial Panel PC with Intel® Core™ i7-4700EQ, 8 GB DRAM (non-ECC), 64 GB SSD-SLC, WES 7 (64-bit), PCIe slot, RS-232, 15.4" display with capacitive touchscreen |
| | Panel PC | Machine Control | 16 axes | 15.4 inch | Intel® Core™ i7 | 4700EQ (2.4 GHz) | Active cooling (fan) | 8 GB RAM (non ECC) | 64 GB SSD | WES 7 (64 bits) | 1 x PCIe slot (X4 lanes) | DVI-D | DVI-I | 16:10 | 1280 | 800 | | Machine Controller for 16 axes, Industrial Panel PC with Intel® Core™ i7-4700EQ, 8 GB DRAM (non-ECC), 64 GB SSD-SLC, WES 7 (64-bit), PCIe slot, extra DVI-D, 15.4" display with capacitive touchscreen |
| | Panel PC | Machine Control | 16 axes | 15.4 inch | Intel® Core™ i7 | 4700EQ (2.4 GHz) | Active cooling (fan) | 8 GB RAM (non ECC) | 64 GB SSD | WES 7 (64 bits) | 1 x PCIe slot (X4 lanes) | NYML | DVI-I | 16:10 | 1280 | 800 | | Machine Controller for 16 axes, Industrial Panel PC with Intel® Core™ i7-4700EQ, 8 GB DRAM (non-ECC), 64 GB SSD-SLC, WES 7 (64-bit), PCIe slot, NYML port, 15.4" display with capacitive touchscreen |
| | Panel PC | Machine Control | 16 axes | 15.4 inch | Intel® Core™ i7 | 4700EQ (2.4 GHz) | Active cooling (fan) | 8 GB RAM (non ECC) | 320 GB HDD | WES 7 (64 bits) | 1 x PCIe slot (X4 lanes) | RS-232 | DVI-I | 16:10 | 1280 | 800 | | Machine Controller for 16 axes, Industrial Panel PC with Intel® Core™ i7-4700EQ, 8 GB DRAM (non-ECC), 320 GB HDD, WES 7 (64-bit), PCIe slot, RS-232, 15.4" display with capacitive touchscreen |
| | Panel PC | Machine Control | 16 axes | 15.4 inch | Intel® Core™ i7 | 4700EQ (2.4 GHz) | Active cooling (fan) | 8 GB RAM (non ECC) | 320 GB HDD | WES 7 (64 bits) | 1 x PCIe slot (X4 lanes) | DVI-D | DVI-I | 16:10 | 1280 | 800 | | Machine Controller for 16 axes, Industrial Panel PC with Intel® Core™ i7-4700EQ, 8 GB DRAM (non-ECC), 320 GB HDD, WES 7 (64-bit), PCIe slot, extra DVI-D, 15.4" display with capacitive touchscreen |
| | Panel PC | Machine Control | 16 axes | 15.4 inch | Intel® Core™ i7 | 4700EQ (2.4 GHz) | Active cooling (fan) | 8 GB RAM (non ECC) | 320 GB HDD | WES 7 (64 bits) | 1 x PCIe slot (X4 lanes) | NYML | DVI-I | 16:10 | 1280 | 800 | | Machine Controller for 16 axes, Industrial Panel PC with Intel® Core™ i7-4700EQ, 8 GB DRAM (non-ECC), 320 GB HDD, WES 7 (64-bit), PCIe slot, NYML port, 15.4" display with capacitive touchscreen |
| | Panel PC | Machine Control | 16 axes | 15.4 inch | Intel® Core™ i7 | 4700EQ (2.4 GHz) | Active cooling (fan) | 8 GB RAM (non ECC) | 128 GB SSD | WES 7 (64 bits) | 1 x PCIe slot (X4 lanes) | RS-232 | DVI-I | 16:10 | 1280 | 800 | | Machine Controller for 16 axes, Industrial Panel PC with Intel® Core™ i7-4700EQ, 8 GB DRAM (non-ECC), 128 GB SSD-iMLC, WES 7 (64-bit), PCIe slot, RS-232, 15.4" display with capacitive touchscreen |
| | Panel PC | Machine Control | 16 axes | 15.4 inch | Intel® Core™ i7 | 4700EQ (2.4 GHz) | Active cooling (fan) | 8 GB RAM (non ECC) | 128 GB SSD | WES 7 (64 bits) | 1 x PCIe slot (X4 lanes) | DVI-D | DVI-I | 16:10 | 1280 | 800 | | Machine Controller for 16 axes, Industrial Panel PC with Intel® Core™ i7-4700EQ, 8 GB DRAM (non-ECC), 128 GB SSD-iMLC, WES 7 (64-bit), PCIe slot, extra DVI-D, 15.4" display with capacitive touchscreen |
| | Panel PC | Machine Control | 16 axes | 15.4 inch | Intel® Core™ i7 | 4700EQ (2.4 GHz) | Active cooling (fan) | 8 GB RAM (non ECC) | 128 GB SSD | WES 7 (64 bits) | 1 x PCIe slot (X4 lanes) | NYML | DVI-I | 16:10 | 1280 | 800 | | Machine Controller for 16 axes, Industrial Panel PC with Intel® Core™ i7-4700EQ, 8 GB DRAM (non-ECC), 128 GB SSD-iMLC, WES 7 (64-bit), PCIe slot, NYML port, 15.4" display with capacitive touchscreen |
| | Panel PC | Machine Control | 32 axes | 12.1 inch | Intel® Core™ i7 | 4700EQ (2.4 GHz) | Active cooling (fan) | 8 GB RAM (non ECC) | 32 GB SSD | WES 7 (64 bits) | 1 x PCIe slot (X4 lanes) | RS-232 | DVI-I | 16:10 | 1280 | 800 | | Machine Controller for 32 axes, Industrial Panel PC with Intel® Core™ i7-4700EQ, 8 GB DRAM (non-ECC), 32 GB SSD-SLC, WES 7 (64-bit), PCIe slot, RS-232, 12.1" display with capacitive touchscreen |
| | Panel PC | Machine Control | 32 axes | 12.1 inch | Intel® Core™ i7 | 4700EQ (2.4 GHz) | Active cooling (fan) | 8 GB RAM (non ECC) | 32 GB SSD | WES 7 (64 bits) | 1 x PCIe slot (X4 lanes) | DVI-D | DVI-I | 16:10 | 1280 | 800 | | Machine Controller for 32 axes, Industrial Panel PC with Intel® Core™ i7-4700EQ, 8 GB DRAM (non-ECC), 32 GB SSD-SLC, WES 7 (64-bit), PCIe slot, extra DVI-D, 12.1" display with capacitive touchscreen |
| | Panel PC | Machine Control | 32 axes | 12.1 inch | Intel® Core™ i7 | 4700EQ (2.4 GHz) | Active cooling (fan) | 8 GB RAM (non ECC) | 32 GB SSD | WES 7 (64 bits) | 1 x PCIe slot (X4 lanes) | NYML | DVI-I | 16:10 | 1280 | 800 | | Machine Controller for 32 axes, Industrial Panel PC with Intel® Core™ i7-4700EQ, 8 GB DRAM (non-ECC), 32 GB SSD-SLC, WES 7 (64-bit), PCIe slot, NYML port, 12.1" display with capacitive touchscreen |
| | Panel PC | Machine Control | 32 axes | 12.1 inch | Intel® Core™ i7 | 4700EQ (2.4 GHz) | Active cooling (fan) | 8 GB RAM (non ECC) | 64 GB SSD | WES 7 (64 bits) | 1 x PCIe slot (X4 lanes) | RS-232 | DVI-I | 16:10 | 1280 | 800 | | Machine Controller for 32 axes, Industrial Panel PC with Intel® Core™ i7-4700EQ, 8 GB DRAM (non-ECC), 64 GB SSD-SLC, WES 7 (64-bit), PCIe slot, RS-232, 12.1" display with capacitive touchscreen |
| | Panel PC | Machine Control | 32 axes | 12.1 inch | Intel® Core™ i7 | 4700EQ (2.4 GHz) | Active cooling (fan) | 8 GB RAM (non ECC) | 64 GB SSD | WES 7 (64 bits) | 1 x PCIe slot (X4 lanes) | DVI-D | DVI-I | 16:10 | 1280 | 800 | | Machine Controller for 32 axes, Industrial Panel PC with Intel® Core™ i7-4700EQ, 8 GB DRAM (non-ECC), 64 GB SSD-SLC, WES 7 (64-bit), PCIe slot, extra DVI-D, 12.1" display with capacitive touchscreen |
| | Panel PC | Machine Control | 32 axes | 12.1 inch | Intel® Core™ i7 | 4700EQ (2.4 GHz) | Active cooling (fan) | 8 GB RAM (non ECC) | 64 GB SSD | WES 7 (64 bits) | 1 x PCIe slot (X4 lanes) | NYML | DVI-I | 16:10 | 1280 | 800 | | Machine Controller for 32 axes, Industrial Panel PC with Intel® Core™ i7-4700EQ, 8 GB DRAM (non-ECC), 64 GB SSD-SLC, WES 7 (64-bit), PCIe slot, NYML port, 12.1" display with capacitive touchscreen |
| | Panel PC | Machine Control | 32 axes | 12.1 inch | Intel® Core™ i7 | 4700EQ (2.4 GHz) | Active cooling (fan) | 8 GB RAM (non ECC) | 320 GB HDD | WES 7 (64 bits) | 1 x PCIe slot (X4 lanes) | RS-232 | DVI-I | 16:10 | 1280 | 800 | | Machine Controller for 32 axes, Industrial Panel PC with Intel® Core™ i7-4700EQ, 8 GB DRAM (non-ECC), 320 GB HDD, WES 7 (64-bit), PCIe slot, RS-232, 12.1" display with capacitive touchscreen |
| | Panel PC | Machine Control | 32 axes | 12.1 inch | Intel® Core™ i7 | 4700EQ (2.4 GHz) | Active cooling (fan) | 8 GB RAM (non ECC) | 320 GB HDD | WES 7 (64 bits) | 1 x PCIe slot (X4 lanes) | DVI-D | DVI-I | 16:10 | 1280 | 800 | | Machine Controller for 32 axes, Industrial Panel PC with Intel® Core™ i7-4700EQ, 8 GB DRAM (non-ECC), 320 GB HDD, WES 7 (64-bit), PCIe slot, extra DVI-D, 12.1" display with capacitive touchscreen |
| | Panel PC | Machine Control | 32 axes | 12.1 inch | Intel® Core™ i7 | 4700EQ (2.4 GHz) | Active cooling (fan) | 8 GB RAM (non ECC) | 320 GB HDD | WES 7 (64 bits) | 1 x PCIe slot (X4 lanes) | NYML | DVI-I | 16:10 | 1280 | 800 | | Machine Controller for 32 axes, Industrial Panel PC with Intel® Core™ i7-4700EQ, 8 GB DRAM (non-ECC), 320 GB HDD, WES 7 (64-bit), PCIe slot, NYML port, 12.1" display with capacitive touchscreen |
| | Panel PC | Machine Control | 32 axes | 12.1 inch | Intel® Core™ i7 | 4700EQ (2.4 GHz) | Active cooling (fan) | 8 GB RAM (non ECC) | 128 GB SSD | WES 7 (64 bits) | 1 x PCIe slot (X4 lanes) | RS-232 | DVI-I | 16:10 | 1280 | 800 | | Machine Controller for 32 axes, Industrial Panel PC with Intel® Core™ i7-4700EQ, 8 GB DRAM (non-ECC), 128 GB SSD-iMLC, WES 7 (64-bit), PCIe slot, RS-232, 12.1" display with capacitive touchscreen |
| | Panel PC | Machine Control | 32 axes | 12.1 inch | Intel® Core™ i7 | 4700EQ (2.4 GHz) | Active cooling (fan) | 8 GB RAM (non ECC) | 128 GB SSD | WES 7 (64 bits) | 1 x PCIe slot (X4 lanes) | DVI-D | DVI-I | 16:10 | 1280 | 800 | | Machine Controller for 32 axes, Industrial Panel PC with Intel® Core™ i7-4700EQ, 8 GB DRAM (non-ECC), 128 GB SSD-iMLC, WES 7 (64-bit), PCIe slot, extra DVI-D, 12.1" display with capacitive touchscreen |
| | Panel PC | Machine Control | 32 axes | 12.1 inch | Intel® Core™ i7 | 4700EQ (2.4 GHz) | Active cooling (fan) | 8 GB RAM (non ECC) | 128 GB SSD | WES 7 (64 bits) | 1 x PCIe slot (X4 lanes) | NYML | DVI-I | 16:10 | 1280 | 800 | | Machine Controller for 32 axes, Industrial Panel PC with Intel® Core™ i7-4700EQ, 8 GB DRAM (non-ECC), 128 GB SSD-iMLC, WES 7 (64-bit), PCIe slot, NYML port, 12.1" display with capacitive touchscreen |
| | Panel PC | Machine Control | 32 axes | 15.4 inch | Intel® Core™ i7 | 4700EQ (2.4 GHz) | Active cooling (fan) | 8 GB RAM (non ECC) | 32 GB SSD | WES 7 (64 bits) | 1 x PCIe slot (X4 lanes) | RS-232 | DVI-I | 16:10 | 1280 | 800 | | Machine Controller for 32 axes, Industrial Panel PC with Intel® Core™ i7-4700EQ, 8 GB DRAM (non-ECC), 32 GB SSD-SLC, WES 7 (64-bit), PCIe slot, RS-232, 15.4" display with capacitive touchscreen |
| | Panel PC | Machine Control | 32 axes | 15.4 inch | Intel® Core™ i7 | 4700EQ (2.4 GHz) | Active cooling (fan) | 8 GB RAM (non ECC) | 32 GB SSD | WES 7 (64 bits) | 1 x PCIe slot (X4 lanes) | DVI-D | DVI-I | 16:10 | 1280 | 800 | | Machine Controller for 32 axes, Industrial Panel PC with Intel® Core™ i7-4700EQ, 8 GB DRAM (non-ECC), 32 GB SSD-SLC, WES 7 (64-bit), PCIe slot, extra DVI-D, 15.4" display with capacitive touchscreen |
| | Panel PC | Machine Control | 32 axes | 15.4 inch | Intel® Core™ i7 | 4700EQ (2.4 GHz) | Active cooling (fan) | 8 GB RAM (non ECC) | 32 GB SSD | WES 7 (64 bits) | 1 x PCIe slot (X4 lanes) | NYML | DVI-I | 16:10 | 1280 | 800 | | Machine Controller for 32 axes, Industrial Panel PC with Intel® Core™ i7-4700EQ, 8 GB DRAM (non-ECC), 32 GB SSD-SLC, WES 7 (64-bit), PCIe slot, NYML port, 15.4" display with capacitive touchscreen |
| | Panel PC | Machine Control | 32 axes | 15.4 inch | Intel® Core™ i7 | 4700EQ (2.4 GHz) | Active cooling (fan) | 8 GB RAM (non ECC) | 64 GB SSD | WES 7 (64 bits) | 1 x PCIe slot (X4 lanes) | RS-232 | DVI-I | 16:10 | 1280 | 800 | | Machine Controller for 32 axes, Industrial Panel PC with Intel® Core™ i7-4700EQ, 8 GB DRAM (non-ECC), 64 GB SSD-SLC, WES 7 (64-bit), PCIe slot, RS-232, 15.4" display with capacitive touchscreen |
| | Panel PC | Machine Control | 32 axes | 15.4 inch | Intel® Core™ i7 | 4700EQ (2.4 GHz) | Active cooling (fan) | 8 GB RAM (non ECC) | 64 GB SSD | WES 7 (64 bits) | 1 x PCIe slot (X4 lanes) | DVI-D | DVI-I | 16:10 | 1280 | 800 | | Machine Controller for 32 axes, Industrial Panel PC with Intel® Core™ i7-4700EQ, 8 GB DRAM (non-ECC), 64 GB SSD-SLC, WES 7 (64-bit), PCIe slot, extra DVI-D, 15.4" display with capacitive touchscreen |
| | Panel PC | Machine Control | 32 axes | 15.4 inch | Intel® Core™ i7 | 4700EQ (2.4 GHz) | Active cooling (fan) | 8 GB RAM (non ECC) | 64 GB SSD | WES 7 (64 bits) | 1 x PCIe slot (X4 lanes) | NYML | DVI-I | 16:10 | 1280 | 800 | | Machine Controller for 32 axes, Industrial Panel PC with Intel® Core™ i7-4700EQ, 8 GB DRAM (non-ECC), 64 GB SSD-SLC, WES 7 (64-bit), PCIe slot, NYML port, 15.4" display with capacitive touchscreen |
| | Panel PC | Machine Control | 32 axes | 15.4 inch | Intel® Core™ i7 | 4700EQ (2.4 GHz) | Active cooling (fan) | 8 GB RAM (non ECC) | 320 GB HDD | WES 7 (64 bits) | 1 x PCIe slot (X4 lanes) | RS-232 | DVI-I | 16:10 | 1280 | 800 | | Machine Controller for 32 axes, Industrial Panel PC with Intel® Core™ i7-4700EQ, 8 GB DRAM (non-ECC), 320 GB HDD, WES 7 (64-bit), PCIe slot, RS-232, 15.4" display with capacitive touchscreen |
| | Panel PC | Machine Control | 32 axes | 15.4 inch | Intel® Core™ i7 | 4700EQ (2.4 GHz) | Active cooling (fan) | 8 GB RAM (non ECC) | 320 GB HDD | WES 7 (64 bits) | 1 x PCIe slot (X4 lanes) | DVI-D | DVI-I | 16:10 | 1280 | 800 | | Machine Controller for 32 axes, Industrial Panel PC with Intel® Core™ i7-4700EQ, 8 GB DRAM (non-ECC), 320 GB HDD, WES 7 (64-bit), PCIe slot, extra DVI-D, 15.4" display with capacitive touchscreen |
| | Panel PC | Machine Control | 32 axes | 15.4 inch | Intel® Core™ i7 | 4700EQ (2.4 GHz) | Active cooling (fan) | 8 GB RAM (non ECC) | 320 GB HDD | WES 7 (64 bits) | 1 x PCIe slot (X4 lanes) | NYML | DVI-I | 16:10 | 1280 | 800 | | Machine Controller for 32 axes, Industrial Panel PC with Intel® Core™ i7-4700EQ, 8 GB DRAM (non-ECC), 320 GB HDD, WES 7 (64-bit), PCIe slot, NYML port, 15.4" display with capacitive touchscreen |
| | Panel PC | Machine Control | 32 axes | 15.4 inch | Intel® Core™ i7 | 4700EQ (2.4 GHz) | Active cooling (fan) | 8 GB RAM (non ECC) | 128 GB SSD | WES 7 (64 bits) | 1 x PCIe slot (X4 lanes) | RS-232 | DVI-I | 16:10 | 1280 | 800 | | Machine Controller for 32 axes, Industrial Panel PC with Intel® Core™ i7-4700EQ, 8 GB DRAM (non-ECC), 128 GB SSD-iMLC, WES 7 (64-bit), PCIe slot, RS-232, 15.4" display with capacitive touchscreen |
| | Panel PC | Machine Control | 32 axes | 15.4 inch | Intel® Core™ i7 | 4700EQ (2.4 GHz) | Active cooling (fan) | 8 GB RAM (non ECC) | 128 GB SSD | WES 7 (64 bits) | 1 x PCIe slot (X4 lanes) | DVI-D | DVI-I | 16:10 | 1280 | 800 | | Machine Controller for 32 axes, Industrial Panel PC with Intel® Core™ i7-4700EQ, 8 GB DRAM (non-ECC), 128 GB SSD-iMLC, WES 7 (64-bit), PCIe slot, extra DVI-D, 15.4" display with capacitive touchscreen |
| | Panel PC | Machine Control | 32 axes | 15.4 inch | Intel® Core™ i7 | 4700EQ (2.4 GHz) | Active cooling (fan) | 8 GB RAM (non ECC) | 128 GB SSD | WES 7 (64 bits) | 1 x PCIe slot (X4 lanes) | NYML | DVI-I | 16:10 | 1280 | 800 | | Machine Controller for 32 axes, Industrial Panel PC with Intel® Core™ i7-4700EQ, 8 GB DRAM (non-ECC), 128 GB SSD-iMLC, WES 7 (64-bit), PCIe slot, NYML port, 15.4" display with capacitive touchscreen |
| | Panel PC | Machine Control | 64 axes | 12.1 inch | Intel® Core™ i7 | 4700EQ (2.4 GHz) | Active cooling (fan) | 8 GB RAM (non ECC) | 32 GB SSD | WES 7 (64 bits) | 1 x PCIe slot (X4 lanes) | RS-232 | DVI-I | 16:10 | 1280 | 800 | | Machine Controller for 64 axes, Industrial Panel PC with Intel® Core™ i7-4700EQ, 8 GB DRAM (non-ECC), 32 GB SSD-SLC, WES 7 (64-bit), PCIe slot, RS-232, 12.1" display with capacitive touchscreen |
| | Panel PC | Machine Control | 64 axes | 12.1 inch | Intel® Core™ i7 | 4700EQ (2.4 GHz) | Active cooling (fan) | 8 GB RAM (non ECC) | 32 GB SSD | WES 7 (64 bits) | 1 x PCIe slot (X4 lanes) | DVI-D | DVI-I | 16:10 | 1280 | 800 | | Machine Controller for 64 axes, Industrial Panel PC with Intel® Core™ i7-4700EQ, 8 GB DRAM (non-ECC), 32 GB SSD-SLC, WES 7 (64-bit), PCIe slot, extra DVI-D, 12.1" display with capacitive touchscreen |
| | Panel PC | Machine Control | 64 axes | 12.1 inch | Intel® Core™ i7 | 4700EQ (2.4 GHz) | Active cooling (fan) | 8 GB RAM (non ECC) | 32 GB SSD | WES 7 (64 bits) | 1 x PCIe slot (X4 lanes) | NYML | DVI-I | 16:10 | 1280 | 800 | | Machine Controller for 64 axes, Industrial Panel PC with Intel® Core™ i7-4700EQ, 8 GB DRAM (non-ECC), 32 GB SSD-SLC, WES 7 (64-bit), PCIe slot, NYML port, 12.1" display with capacitive touchscreen |
| | Panel PC | Machine Control | 64 axes | 12.1 inch | Intel® Core™ i7 | 4700EQ (2.4 GHz) | Active cooling (fan) | 8 GB RAM (non ECC) | 64 GB SSD | WES 7 (64 bits) | 1 x PCIe slot (X4 lanes) | RS-232 | DVI-I | 16:10 | 1280 | 800 | | Machine Controller for 64 axes, Industrial Panel PC with Intel® Core™ i7-4700EQ, 8 GB DRAM (non-ECC), 64 GB SSD-SLC, WES 7 (64-bit), PCIe slot, RS-232, 12.1" display with capacitive touchscreen |
| | Panel PC | Machine Control | 64 axes | 12.1 inch | Intel® Core™ i7 | 4700EQ (2.4 GHz) | Active cooling (fan) | 8 GB RAM (non ECC) | 64 GB SSD | WES 7 (64 bits) | 1 x PCIe slot (X4 lanes) | DVI-D | DVI-I | 16:10 | 1280 | 800 | | Machine Controller for 64 axes, Industrial Panel PC with Intel® Core™ i7-4700EQ, 8 GB DRAM (non-ECC), 64 GB SSD-SLC, WES 7 (64-bit), PCIe slot, extra DVI-D, 12.1" display with capacitive touchscreen |
| | Panel PC | Machine Control | 64 axes | 12.1 inch | Intel® Core™ i7 | 4700EQ (2.4 GHz) | Active cooling (fan) | 8 GB RAM (non ECC) | 64 GB SSD | WES 7 (64 bits) | 1 x PCIe slot (X4 lanes) | NYML | DVI-I | 16:10 | 1280 | 800 | | Machine Controller for 64 axes, Industrial Panel PC with Intel® Core™ i7-4700EQ, 8 GB DRAM (non-ECC), 64 GB SSD-SLC, WES 7 (64-bit), PCIe slot, NYML port, 12.1" display with capacitive touchscreen |
| | Panel PC | Machine Control | 64 axes | 12.1 inch | Intel® Core™ i7 | 4700EQ (2.4 GHz) | Active cooling (fan) | 8 GB RAM (non ECC) | 320 GB HDD | WES 7 (64 bits) | 1 x PCIe slot (X4 lanes) | RS-232 | DVI-I | 16:10 | 1280 | 800 | | Machine Controller for 64 axes, Industrial Panel PC with Intel® Core™ i7-4700EQ, 8 GB DRAM (non-ECC), 320 GB HDD, WES 7 (64-bit), PCIe slot, RS-232, 12.1" display with capacitive touchscreen |
| | Panel PC | Machine Control | 64 axes | 12.1 inch | Intel® Core™ i7 | 4700EQ (2.4 GHz) | Active cooling (fan) | 8 GB RAM (non ECC) | 320 GB HDD | WES 7 (64 bits) | 1 x PCIe slot (X4 lanes) | DVI-D | DVI-I | 16:10 | 1280 | 800 | | Machine Controller for 64 axes, Industrial Panel PC with Intel® Core™ i7-4700EQ, 8 GB DRAM (non-ECC), 320 GB HDD, WES 7 (64-bit), PCIe slot, extra DVI-D, 12.1" display with capacitive touchscreen |
| | Panel PC | Machine Control | 64 axes | 12.1 inch | Intel® Core™ i7 | 4700EQ (2.4 GHz) | Active cooling (fan) | 8 GB RAM (non ECC) | 320 GB HDD | WES 7 (64 bits) | 1 x PCIe slot (X4 lanes) | NYML | DVI-I | 16:10 | 1280 | 800 | | Machine Controller for 64 axes, Industrial Panel PC with Intel® Core™ i7-4700EQ, 8 GB DRAM (non-ECC), 320 GB HDD, WES 7 (64-bit), PCIe slot, NYML port, 12.1" display with capacitive touchscreen |
| | Panel PC | Machine Control | 64 axes | 12.1 inch | Intel® Core™ i7 | 4700EQ (2.4 GHz) | Active cooling (fan) | 8 GB RAM (non ECC) | 128 GB SSD | WES 7 (64 bits) | 1 x PCIe slot (X4 lanes) | RS-232 | DVI-I | 16:10 | 1280 | 800 | | Machine Controller for 64 axes, Industrial Panel PC with Intel® Core™ i7-4700EQ, 8 GB DRAM (non-ECC), 128 GB SSD-iMLC, WES 7 (64-bit), PCIe slot, RS-232, 12.1" display with capacitive touchscreen |
| | Panel PC | Machine Control | 64 axes | 12.1 inch | Intel® Core™ i7 | 4700EQ (2.4 GHz) | Active cooling (fan) | 8 GB RAM (non ECC) | 128 GB SSD | WES 7 (64 bits) | 1 x PCIe slot (X4 lanes) | DVI-D | DVI-I | 16:10 | 1280 | 800 | | Machine Controller for 64 axes, Industrial Panel PC with Intel® Core™ i7-4700EQ, 8 GB DRAM (non-ECC), 128 GB SSD-iMLC, WES 7 (64-bit), PCIe slot, extra DVI-D, 12.1" display with capacitive touchscreen |
| | Panel PC | Machine Control | 64 axes | 12.1 inch | Intel® Core™ i7 | 4700EQ (2.4 GHz) | Active cooling (fan) | 8 GB RAM (non ECC) | 128 GB SSD | WES 7 (64 bits) | 1 x PCIe slot (X4 lanes) | NYML | DVI-I | 16:10 | 1280 | 800 | | Machine Controller for 64 axes, Industrial Panel PC with Intel® Core™ i7-4700EQ, 8 GB DRAM (non-ECC), 128 GB SSD-iMLC, WES 7 (64-bit), PCIe slot, NYML port, 12.1" display with capacitive touchscreen |
| | Panel PC | Machine Control | 64 axes | 15.4 inch | Intel® Core™ i7 | 4700EQ (2.4 GHz) | Active cooling (fan) | 8 GB RAM (non ECC) | 32 GB SSD | WES 7 (64 bits) | 1 x PCIe slot (X4 lanes) | RS-232 | DVI-I | 16:10 | 1280 | 800 | | Machine Controller for 64 axes, Industrial Panel PC with Intel® Core™ i7-4700EQ, 8 GB DRAM (non-ECC), 32 GB SSD-SLC, WES 7 (64-bit), PCIe slot, RS-232, 15.4" display with capacitive touchscreen |
| | Panel PC | Machine Control | 64 axes | 15.4 inch | Intel® Core™ i7 | 4700EQ (2.4 GHz) | Active cooling (fan) | 8 GB RAM (non ECC) | 32 GB SSD | WES 7 (64 bits) | 1 x PCIe slot (X4 lanes) | DVI-D | DVI-I | 16:10 | 1280 | 800 | | Machine Controller for 64 axes, Industrial Panel PC with Intel® Core™ i7-4700EQ, 8 GB DRAM (non-ECC), 32 GB SSD-SLC, WES 7 (64-bit), PCIe slot, extra DVI-D, 15.4" display with capacitive touchscreen |
| | Panel PC | Machine Control | 64 axes | 15.4 inch | Intel® Core™ i7 | 4700EQ (2.4 GHz) | Active cooling (fan) | 8 GB RAM (non ECC) | 32 GB SSD | WES 7 (64 bits) | 1 x PCIe slot (X4 lanes) | NYML | DVI-I | 16:10 | 1280 | 800 | | Machine Controller for 64 axes, Industrial Panel PC with Intel® Core™ i7-4700EQ, 8 GB DRAM (non-ECC), 32 GB SSD-SLC, WES 7 (64-bit), PCIe slot, NYML port, 15.4" display with capacitive touchscreen |
| | Panel PC | Machine Control | 64 axes | 15.4 inch | Intel® Core™ i7 | 4700EQ (2.4 GHz) | Active cooling (fan) | 8 GB RAM (non ECC) | 64 GB SSD | WES 7 (64 bits) | 1 x PCIe slot (X4 lanes) | RS-232 | DVI-I | 16:10 | 1280 | 800 | | Machine Controller for 64 axes, Industrial Panel PC with Intel® Core™ i7-4700EQ, 8 GB DRAM (non-ECC), 64 GB SSD-SLC, WES 7 (64-bit), PCIe slot, RS-232, 15.4" display with capacitive touchscreen |
| | Panel PC | Machine Control | 64 axes | 15.4 inch | Intel® Core™ i7 | 4700EQ (2.4 GHz) | Active cooling (fan) | 8 GB RAM (non ECC) | 64 GB SSD | WES 7 (64 bits) | 1 x PCIe slot (X4 lanes) | DVI-D | DVI-I | 16:10 | 1280 | 800 | | Machine Controller for 64 axes, Industrial Panel PC with Intel® Core™ i7-4700EQ, 8 GB DRAM (non-ECC), 64 GB SSD-SLC, WES 7 (64-bit), PCIe slot, extra DVI-D, 15.4" display with capacitive touchscreen |
| | Panel PC | Machine Control | 64 axes | 15.4 inch | Intel® Core™ i7 | 4700EQ (2.4 GHz) | Active cooling (fan) | 8 GB RAM (non ECC) | 64 GB SSD | WES 7 (64 bits) | 1 x PCIe slot (X4 lanes) | NYML | DVI-I | 16:10 | 1280 | 800 | | Machine Controller for 64 axes, Industrial Panel PC with Intel® Core™ i7-4700EQ, 8 GB DRAM (non-ECC), 64 GB SSD-SLC, WES 7 (64-bit), PCIe slot, NYML port, 15.4" display with capacitive touchscreen |
| | Panel PC | Machine Control | 64 axes | 15.4 inch | Intel® Core™ i7 | 4700EQ (2.4 GHz) | Active cooling (fan) | 8 GB RAM (non ECC) | 320 GB HDD | WES 7 (64 bits) | 1 x PCIe slot (X4 lanes) | RS-232 | DVI-I | 16:10 | 1280 | 800 | | Machine Controller for 64 axes, Industrial Panel PC with Intel® Core™ i7-4700EQ, 8 GB DRAM (non-ECC), 320 GB HDD, WES 7 (64-bit), PCIe slot, RS-232, 15.4" display with capacitive touchscreen |
| | Panel PC | Machine Control | 64 axes | 15.4 inch | Intel® Core™ i7 | 4700EQ (2.4 GHz) | Active cooling (fan) | 8 GB RAM (non ECC) | 320 GB HDD | WES 7 (64 bits) | 1 x PCIe slot (X4 lanes) | DVI-D | DVI-I | 16:10 | 1280 | 800 | | Machine Controller for 64 axes, Industrial Panel PC with Intel® Core™ i7-4700EQ, 8 GB DRAM (non-ECC), 320 GB HDD, WES 7 (64-bit), PCIe slot, extra DVI-D, 15.4" display with capacitive touchscreen |
| | Panel PC | Machine Control | 64 axes | 15.4 inch | Intel® Core™ i7 | 4700EQ (2.4 GHz) | Active cooling (fan) | 8 GB RAM (non ECC) | 320 GB HDD | WES 7 (64 bits) | 1 x PCIe slot (X4 lanes) | NYML | DVI-I | 16:10 | 1280 | 800 | | Machine Controller for 64 axes, Industrial Panel PC with Intel® Core™ i7-4700EQ, 8 GB DRAM (non-ECC), 320 GB HDD, WES 7 (64-bit), PCIe slot, NYML port, 15.4" display with capacitive touchscreen |
| | Panel PC | Machine Control | 64 axes | 15.4 inch | Intel® Core™ i7 | 4700EQ (2.4 GHz) | Active cooling (fan) | 8 GB RAM (non ECC) | 128 GB SSD | WES 7 (64 bits) | 1 x PCIe slot (X4 lanes) | RS-232 | DVI-I | 16:10 | 1280 | 800 | | Machine Controller for 64 axes, Industrial Panel PC with Intel® Core™ i7-4700EQ, 8 GB DRAM (non-ECC), 128 GB SSD-iMLC, WES 7 (64-bit), PCIe slot, RS-232, 15.4" display with capacitive touchscreen |
| | Panel PC | Machine Control | 64 axes | 15.4 inch | Intel® Core™ i7 | 4700EQ (2.4 GHz) | Active cooling (fan) | 8 GB RAM (non ECC) | 128 GB SSD | WES 7 (64 bits) | 1 x PCIe slot (X4 lanes) | DVI-D | DVI-I | 16:10 | 1280 | 800 | | Machine Controller for 64 axes, Industrial Panel PC with Intel® Core™ i7-4700EQ, 8 GB DRAM (non-ECC), 128 GB SSD-iMLC, WES 7 (64-bit), PCIe slot, extra DVI-D, 15.4" display with capacitive touchscreen |
| | Panel PC | Machine Control | 64 axes | 15.4 inch | Intel® Core™ i7 | 4700EQ (2.4 GHz) | Active cooling (fan) | 8 GB RAM (non ECC) | 128 GB SSD | WES 7 (64 bits) | 1 x PCIe slot (X4 lanes) | NYML | DVI-I | 16:10 | 1280 | 800 | | Machine Controller for 64 axes, Industrial Panel PC with Intel® Core™ i7-4700EQ, 8 GB DRAM (non-ECC), 128 GB SSD-iMLC, WES 7 (64-bit), PCIe slot, NYML port, 15.4" display with capacitive touchscreen |
| | Panel PC | CNC | 32 axes | 12.1 inch | Intel® Core™ i7 | 4700EQ (2.4 GHz) | Active cooling (fan) | 8 GB RAM (non ECC) | 64 GB SSD | WES 7 (64 bits) | 1 x PCIe slot (X4 lanes) | RS-232 | DVI-I | 16:10 | 1280 | 800 | | CNC Controller for 32 axes, Industrial Panel PC with Intel® Core™ i7-4700EQ, 8 GB DRAM (non-ECC), 64 GB SSD-SLC, WES 7 (64-bit), PCIe slot, RS-232, 12.1" display with capacitive touchscreen |
| | Panel PC | CNC | 32 axes | 12.1 inch | Intel® Core™ i7 | 4700EQ (2.4 GHz) | Active cooling (fan) | 8 GB RAM (non ECC) | 128 GB SSD | WES 7 (64 bits) | 1 x PCIe slot (X4 lanes) | RS-232 | DVI-I | 16:10 | 1280 | 800 | | CNC Controller for 32 axes, Industrial Panel PC with Intel® Core™ i7-4700EQ, 8 GB DRAM (non-ECC), 128 GB SSD-iMLC, WES 7 (64-bit), PCIe slot, RS-232, 12.1" display with capacitive touchscreen |
| | Panel PC | CNC | 32 axes | 15.4 inch | Intel® Core™ i7 | 4700EQ (2.4 GHz) | Active cooling (fan) | 8 GB RAM (non ECC) | 64 GB SSD | WES 7 (64 bits) | 1 x PCIe slot (X4 lanes) | RS-232 | DVI-I | 16:10 | 1280 | 800 | | CNC Controller for 32 axes, Industrial Panel PC with Intel® Core™ i7-4700EQ, 8 GB DRAM (non-ECC), 64 GB SSD-SLC, WES 7 (64-bit), PCIe slot, RS-232, 15.4" display with capacitive touchscreen |
| | Panel PC | CNC | 32 axes | 15.4 inch | Intel® Core™ i7 | 4700EQ (2.4 GHz) | Active cooling (fan) | 8 GB RAM (non ECC) | 128 GB SSD | WES 7 (64 bits) | 1 x PCIe slot (X4 lanes) | RS-232 | DVI-I | 16:10 | 1280 | 800 | | CNC Controller for 32 axes, Industrial Panel PC with Intel® Core™ i7-4700EQ, 8 GB DRAM (non-ECC), 128 GB SSD-iMLC, WES 7 (64-bit), PCIe slot, RS-232, 15.4" display with capacitive touchscreen |
| | Panel PC | AI Machine Control | 16 axes | 15.4 inch | Intel® Core™ i7 | 4700EQ (2.4 GHz) | Active cooling (fan) | 8 GB RAM (non ECC) | 128 GB SSD | WES 7 (64 bits) | 1 x PCIe slot (X4 lanes) | RS-232 | DVI-I | 16:10 | 1280 | 800 | | AI Machine Controller for 16 axes, Industrial Panel PC with Intel® Core™ i7-4700EQ, 8 GB DRAM (non-ECC), 128 GB SSD-iMLC, WES 7 (64-bit), PCIe slot, RS-232, 15.4" display with capacitive touchscreen |
| | Panel PC | AI Machine Control | 16 axes | 15.4 inch | Intel® Core™ i7 | 4700EQ (2.4 GHz) | Active cooling (fan) | 8 GB RAM (non ECC) | 128 GB SSD | WES 7 (64 bits) | 1 x PCIe slot (X4 lanes) | DVI-D | DVI-I | 16:10 | 1280 | 800 | | AI Machine Controller for 16 axes, Industrial Panel PC with Intel® Core™ i7-4700EQ, 8 GB DRAM (non-ECC), 128 GB SSD-iMLC, WES 7 (64-bit), PCIe slot, extra DVI-D, 15.4" display with capacitive touchscreen |
| | Panel PC | AI Machine Control | 32 axes | 15.4 inch | Intel® Core™ i7 | 4700EQ (2.4 GHz) | Active cooling (fan) | 8 GB RAM (non ECC) | 128 GB SSD | WES 7 (64 bits) | 1 x PCIe slot (X4 lanes) | RS-232 | DVI-I | 16:10 | 1280 | 800 | | AI Machine Controller for 32 axes, Industrial Panel PC with Intel® Core™ i7-4700EQ, 8 GB DRAM (non-ECC), 128 GB SSD-iMLC, WES 7 (64-bit), PCIe slot, RS-232, 15.4" display with capacitive touchscreen |
| | Panel PC | AI Machine Control | 32 axes | 15.4 inch | Intel® Core™ i7 | 4700EQ (2.4 GHz) | Active cooling (fan) | 8 GB RAM (non ECC) | 128 GB SSD | WES 7 (64 bits) | 1 x PCIe slot (X4 lanes) | DVI-D | DVI-I | 16:10 | 1280 | 800 | | AI Machine Controller for 32 axes, Industrial Panel PC with Intel® Core™ i7-4700EQ, 8 GB DRAM (non-ECC), 128 GB SSD-iMLC, WES 7 (64-bit), PCIe slot, extra DVI-D, 15.4" display with capacitive touchscreen |
| | Panel PC | AI Machine Control | 64 axes | 15.4 inch | Intel® Core™ i7 | 4700EQ (2.4 GHz) | Active cooling (fan) | 8 GB RAM (non ECC) | 128 GB SSD | WES 7 (64 bits) | 1 x PCIe slot (X4 lanes) | RS-232 | DVI-I | 16:10 | 1280 | 800 | | AI Machine Controller for 64 axes, Industrial Panel PC with Intel® Core™ i7-4700EQ, 8 GB DRAM (non-ECC), 128 GB SSD-iMLC, WES 7 (64-bit), PCIe slot, RS-232, 15.4" display with capacitive touchscreen |
| | Panel PC | AI Machine Control | 64 axes | 15.4 inch | Intel® Core™ i7 | 4700EQ (2.4 GHz) | Active cooling (fan) | 8 GB RAM (non ECC) | 128 GB SSD | WES 7 (64 bits) | 1 x PCIe slot (X4 lanes) | DVI-D | DVI-I | 16:10 | 1280 | 800 | | AI Machine Controller for 64 axes, Industrial Panel PC with Intel® Core™ i7-4700EQ, 8 GB DRAM (non-ECC), 128 GB SSD-iMLC, WES 7 (64-bit), PCIe slot, extra DVI-D, 15.4" display with capacitive touchscreen |
Compare products
Show more products
How can we help you?
If you have a question or would like to ask for a quote, please contact us or send a request.
Pricing
Request a quote
Thank you for requesting a quotation. We will provide you with the required information as soon as possible.
We are experiencing technical difficulties. Your form submission has not been successful. Please accept our apologies and try again later. Details: [details]
Download
Features
NY Monitor Link

Up to 100 m connection between IPC and Display
Standard Ethernet cable
Optimum display response time
4K Ready
A few details...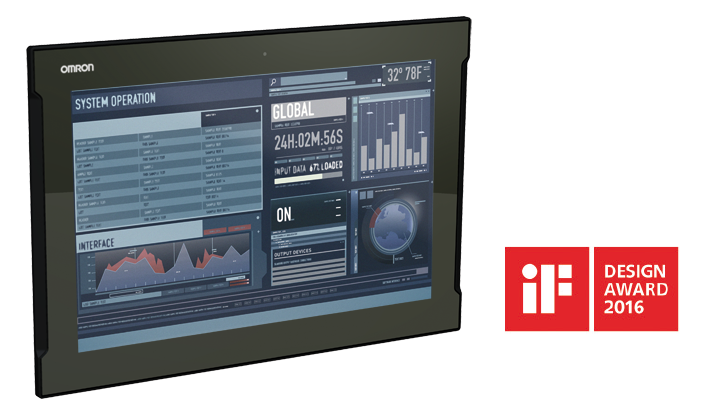 12.1, 15.4 & 18.5 inch industrial display
Multi-touch, using the latest projected capacitive technology
False touch detection
Glove operation
Easy built-in supportive mounting
Connections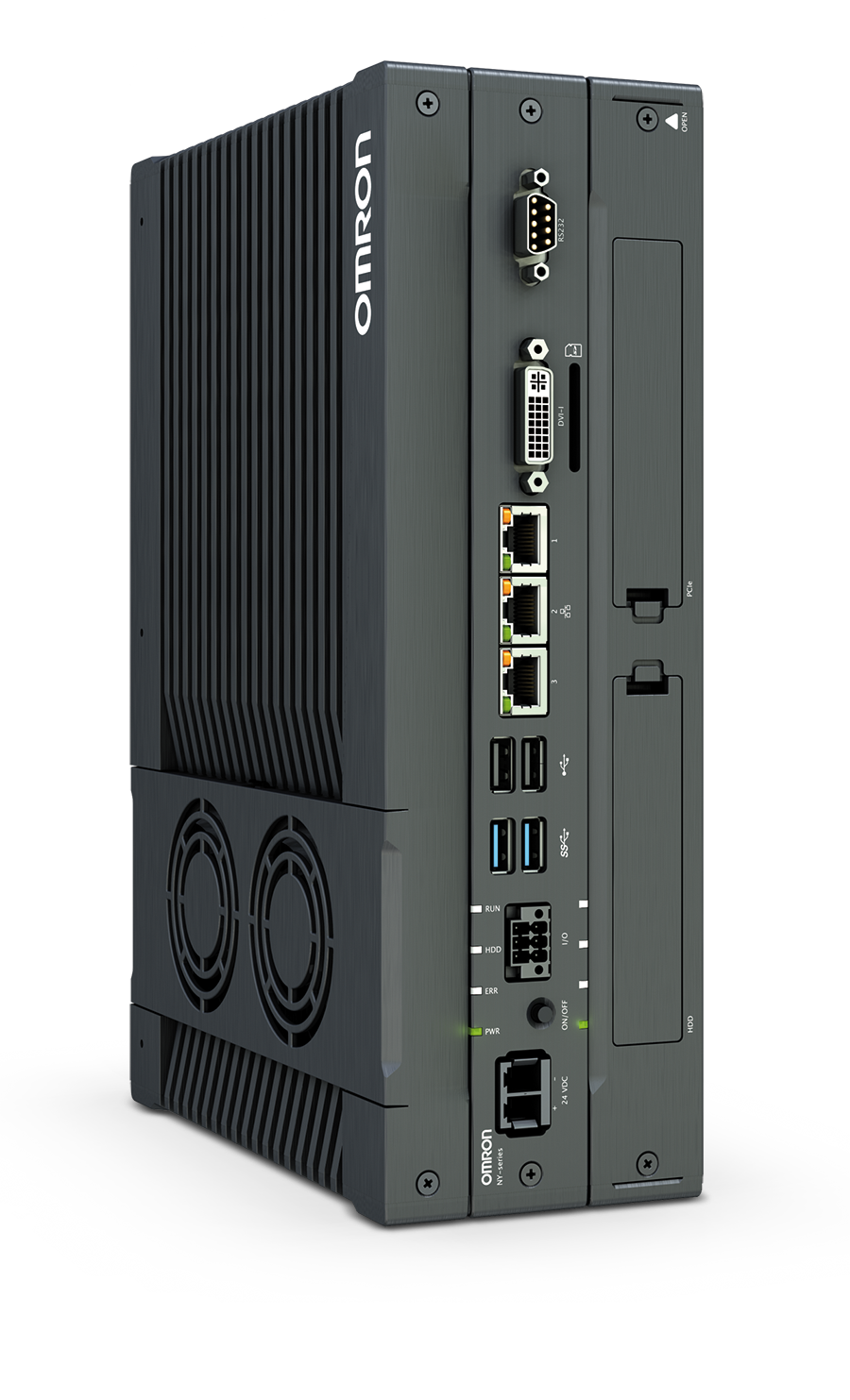 Options: RS-232C or extra DVI-D for dual monitor
DVI -3x RJ45 Gigabit Ethernet ports -2x USB2.0, 2x USB3.0
Choice of storages devices: HDD or SSD (MLC and long-life SLC types) Second drive option
I/O connection prepared for UPS connection -Power supply: 24VDC non-isolated
The beating heart of the IPC machine controller
Industrial Box PC – versatile installation
Technology
Performance
Based on fourth-generation Intel® Celeron® to Intel® Core™ i7 processors
Up to 8 GB DDR3L RAM
Intel® HD Graphics
Unique heatsink effectiveness
RoHS Directive (2002/95/EC), EU directives
Simplicity improves reliability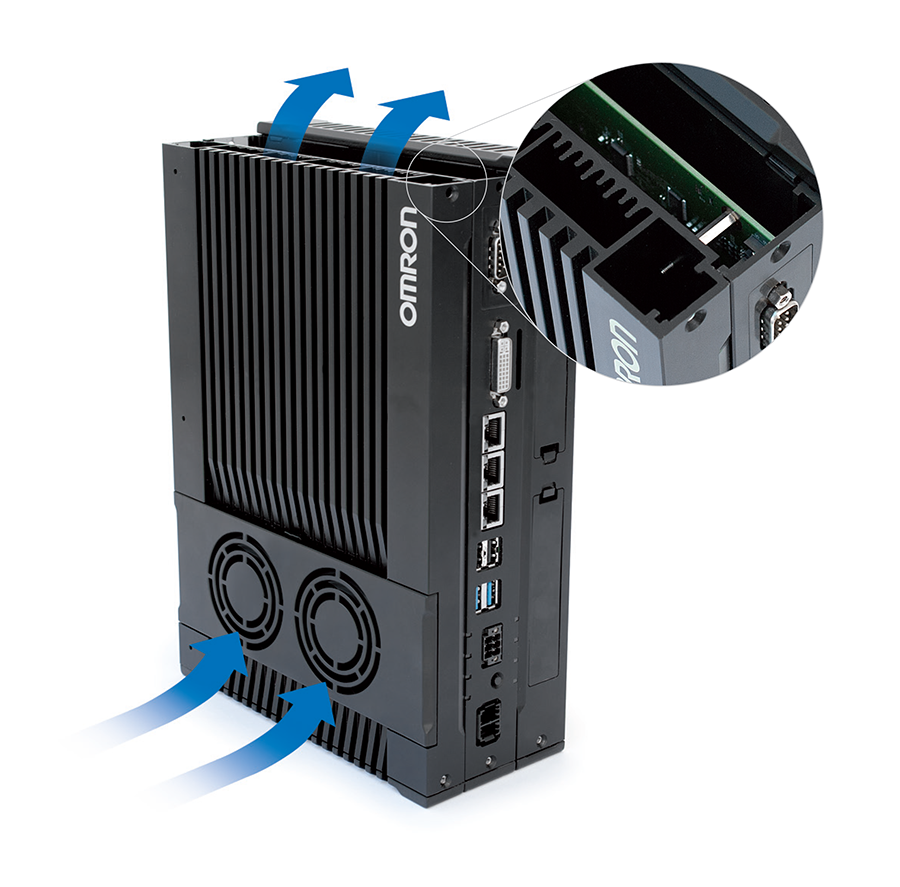 Unnecessary complexity causes problems, so we've eliminated it totally, to improve reliability, maximize performance.
No internal cables
No complex heatpipes
Structurally uniform mechanics to enable future expansion
Reduced assembly, maintenance and labor costs
Rock-solid architecture. Die-cast aluminum case
Active cooling and air-flow isolated from the electronics
Machine Controller
Sysmac Machine control inside
500 μs system cycle time
16 to 64 axes of motion control
EtherNet/IP port for machine-to-machine, HMI communication
EtherCAT port for up to 192 synchronized slaves
Safety over EtherCAT - FSoE
Sysmac Integrated Platform
Software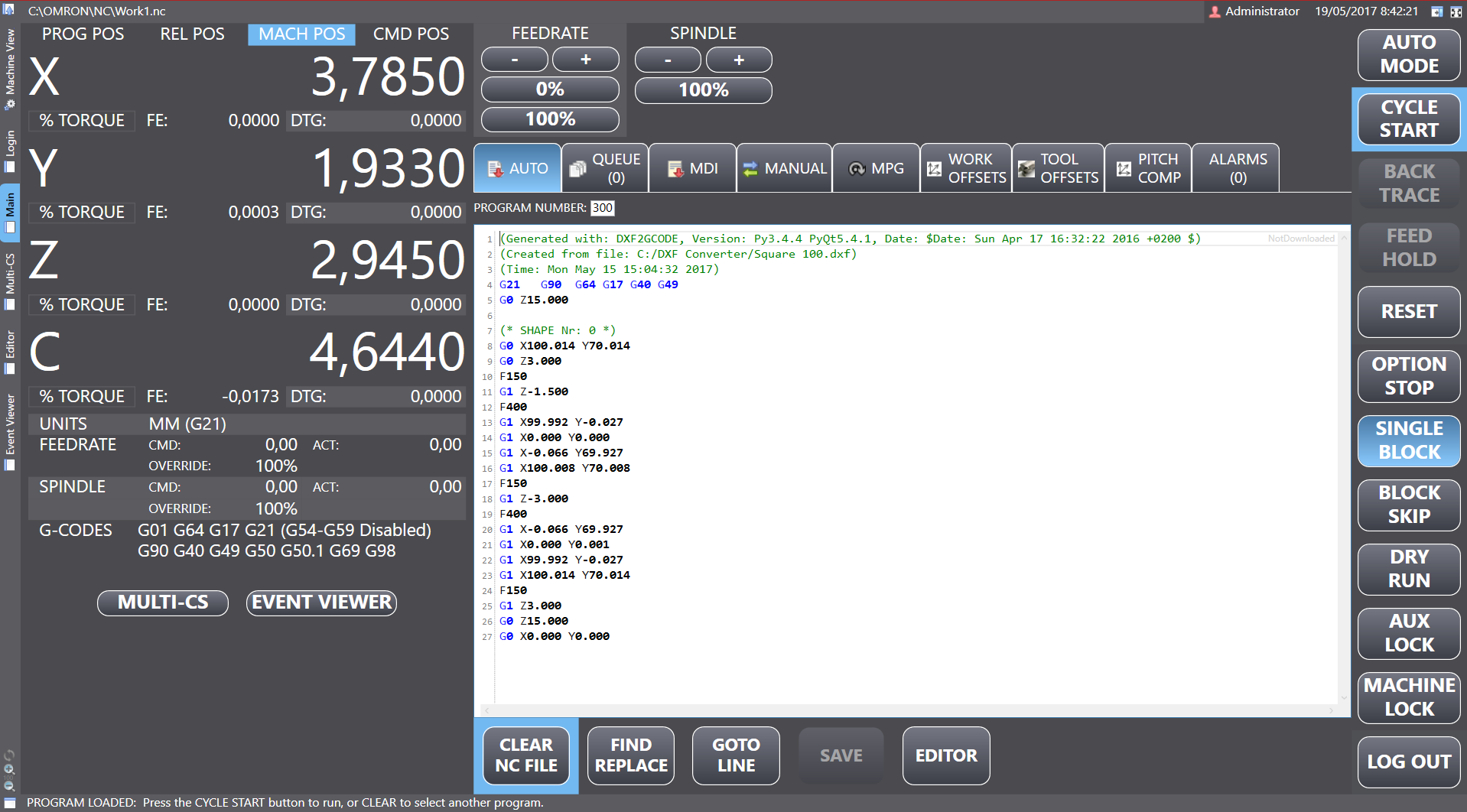 G-Code File Editor
Execution monitor Active G/M code display
Command terminal
Jogging, homing
Customizable software allows adding functionality by the users (Requires CNC operator SDK version)