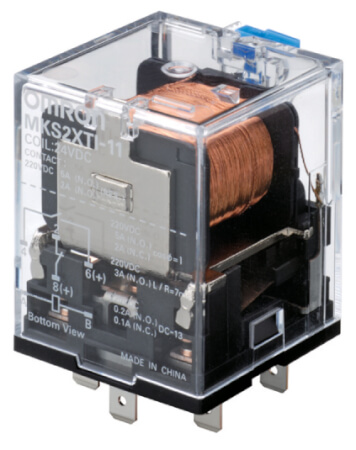 MKS(X)
DC-switching relay that can switch 220 VDC, 10 A (resistive load)
The MK-S(X) is the smallest relay in the world that can switch 220VDC 10A resistive load. Applications include the safe and reliable switching of valves, solenoids, contactor coils and other instances where high resistive loads are encountered.
Suitable for DC-switching
DC load switching up to 10 A; 220 VDC (resistive load)
AC load models are capable of switching up to 15 A; 250 VAC (resistive load)
SPST-NO/SPST-NC contact form enables contact welding detection
Lockable test button for easy testing
Product discontinuation: 31st of March 2022. Download replacement.
Specifications & ordering info
Ordering information
Models for DC loads
Models for AC loads
Sockets & accessories
Specifications
Coil ratings
Contact ratings
Note: These values apply to a switching frequency of 30 times per minute for DC Load models and 20 times per minute for AC Load models.
Technical data
| | |
| --- | --- |
| | |
| | |
| | |
| | |
| | |
| | |
| Electrical endurance3 | 100.000 operations min. (at rated load and maximum switching frequency) |
---
How can we help you?
If you have a question or would like to ask for a quote, please contact us or send a request.
Request
Contact us
Contact me MKS(X)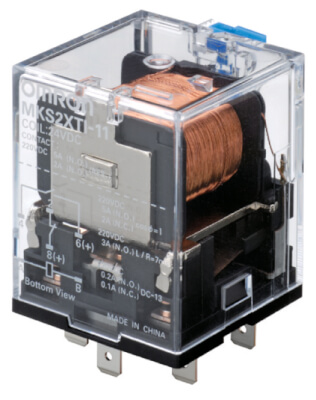 Thank you for submitting your request. We will come back to you as soon as possible.
We are experiencing technical difficulties. Your form submission has not been successful. Please accept our apologies and try again later. Details: [details]
Download
Request quotation
Request quotation
Quotation for MKS(X)
By completing this form you can request a quotation. Your personal details will be handled confidentially.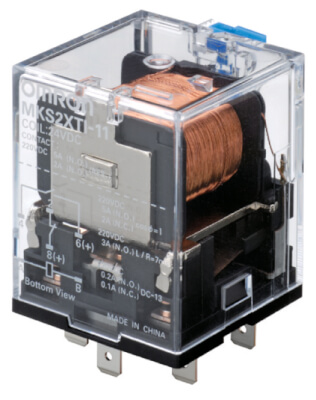 Thank you for requesting a quotation. We will provide you with the required information as soon as possible.
We are experiencing technical difficulties. Your form submission has not been successful. Please accept our apologies and try again later. Details: [details]
Download