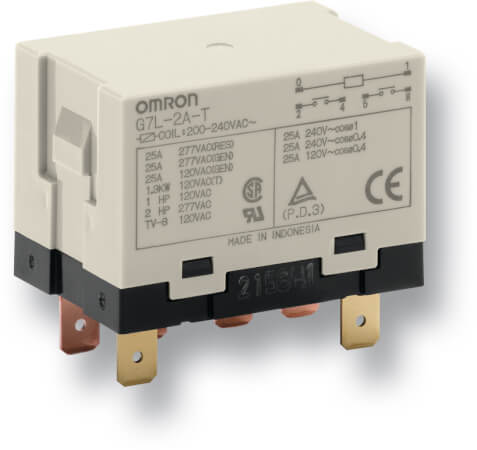 G7L
Multi-pole power relay
A high-capacity, high-dielectric-strength relay compatible with momentary voltage drops. G7L is equipped with a double-break mechanism and a test button (excluding -P models).
SPST-NO or DPST-NO contact types
Quick connect, PCB or screw terminals
20, 25 or 30A rated load
Compatible with momentary voltage drops
Wide range of applications with 100 or 200V coils
Specifications & ordering info
Ordering information
Order code1

Common Coil Voltages 2
Accessories
Specifications
Coil Ratings
Note 1. The rated current and coil resistance are measured at a coil temperature of 23°C with tolerances of ±15%/20% for AC rated current and ±15% for DC coil resistance.
Contact Ratings
Failure rate3 (reference value)
---
How can we help you?
If you have a question or would like to ask for a quote, please contact us or send a request.
Request
Contact us
Contact me G7L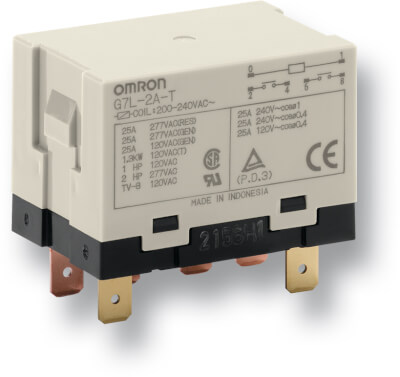 Thank you for submitting your request. We will come back to you as soon as possible.
We are experiencing technical difficulties. Your form submission has not been successful. Please accept our apologies and try again later. Details: [details]
Download
Request quotation
Request quotation
Quotation for G7L
By completing this form you can request a quotation. Your personal details will be handled confidentially.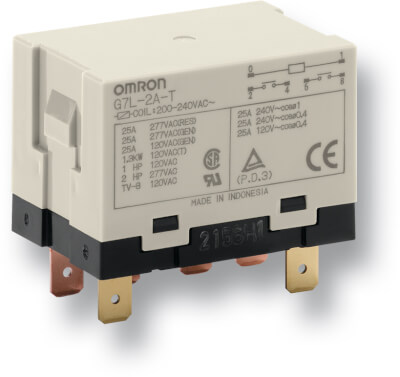 Thank you for requesting a quotation. We will provide you with the required information as soon as possible.
We are experiencing technical difficulties. Your form submission has not been successful. Please accept our apologies and try again later. Details: [details]
Download