Did you know that 4 out of 5 distributors buy this product in a bundle?

There are many variations of passages of Lorem Ipsum available, but the majority have suffered alteration in some form, by injected humour, or randomised words which don't look even slightly believable.

Read more
Meet Omron's F3SG – SR Safety Light Curtain

F3SG-SR the best ever light curtain. The F3SG-SR series offers a complete lineup of light curtains that comply with global safety standards and a wide range of functionality that covers all aspects from design through to maintenance.

02:09
Features
Redefining safety at manufacturing sites
The F3SG-SR series offers a complete lineup of light curtains with wide range of functionality that covers all aspects from design through to maintenance.
Increased design flexibility: adaptable for a wide variety of applications and protective heights
Environmental resistance and rugged structure for use in any environment (IP67G, IP69K*1)
Quick installation: Area Beam Indicator (ABI) facilitates the fine adjustment of beams for long-distance sensing
Easy diagnostics: Operating Status indicators help to determine the optimal replacement timing and possible errors
Protection without dead space*2 in both sides: detects an operator's hand anywhere on the safety area even with series-connected or U-shape connected
Plug and work for quick replacement thanks to the copy and restore settings function of the intelligent tap. It includes also remote configuration and monitoring via Bluetooth®
Operating data collection to prevent unplanned stoppages through intelligent tap by means of IO-Link communication
*1. Available soon. 
*2. Except for finger protection models.
Wide range of protection applications
Area Beam Indicator (ABI) for an at-a-glance check of beam status
The ON or OFF state of the light curtain and low light intensity can be checked. The ABI also facilitates fine adjustment of beams for long-distance sensing.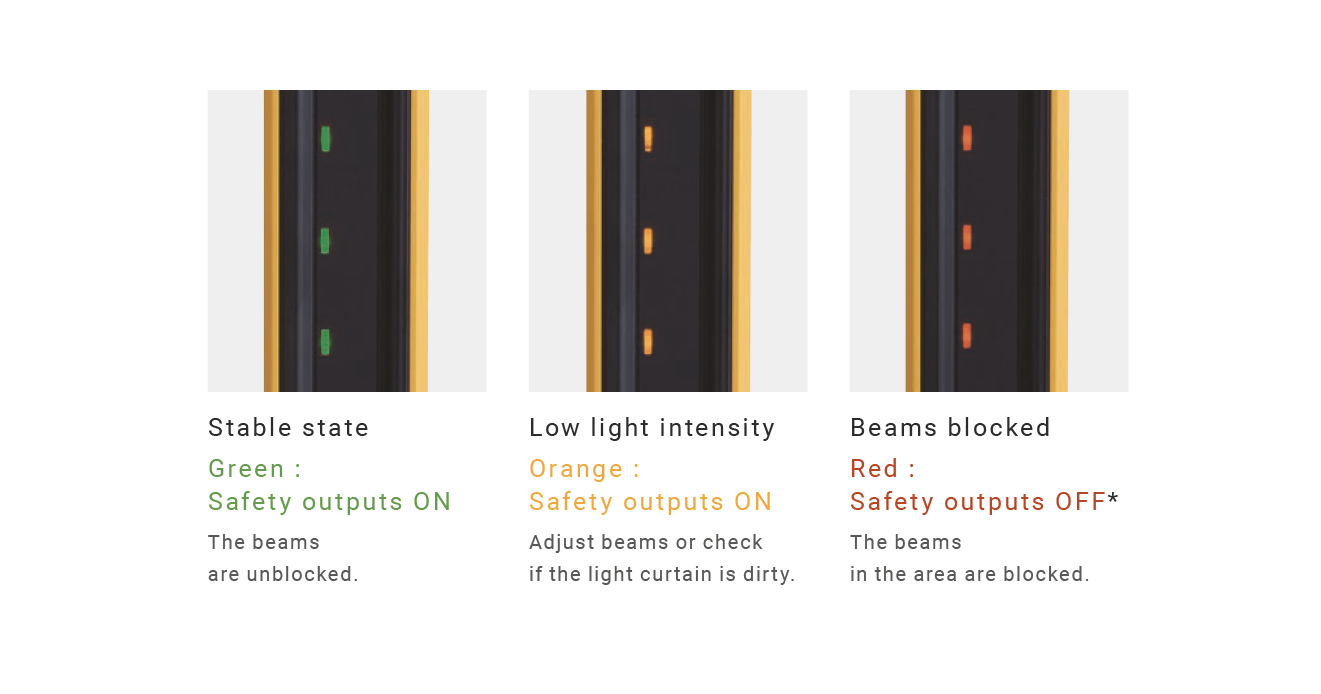 Easy error diagnosis with clear color indicators
Clear LED indicators with labels help perform predictive maintenance by dirt detection and determine the optimal replacement timing.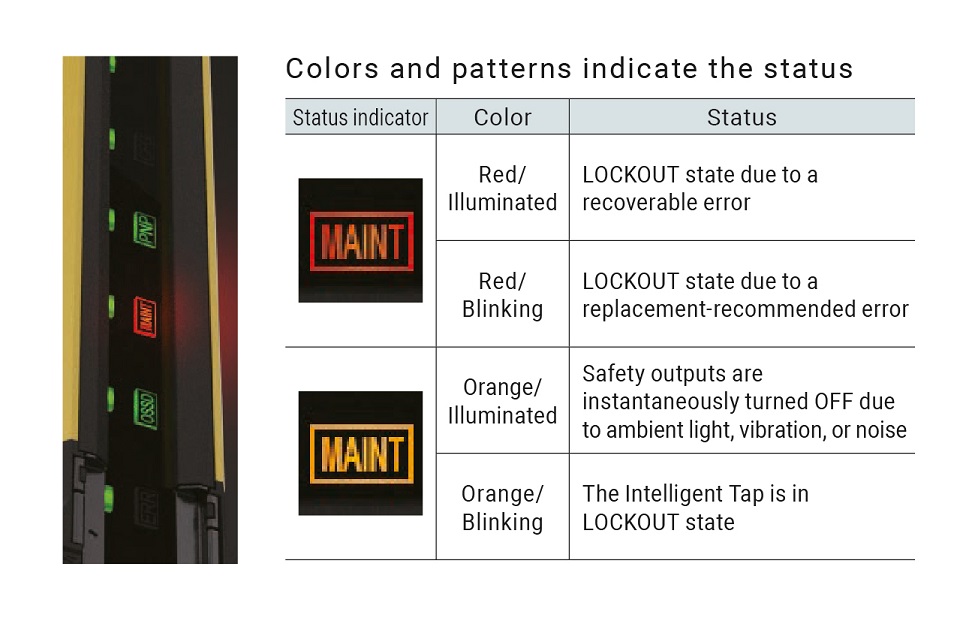 Back up and restore settings with Intelligent Tap
Install the Intelligent Tap to automatically copy the settings of the replaced light curtain to a new one. Virtually anyone can easily replace light curtains and immediately restart the machine.

Easy monitoring
Remote monitoring: Various devices can be connected via IO-Link.
On-site monitoring: The Bluetooth communication unit allows you to monitor information about device stoppages on mobile devices.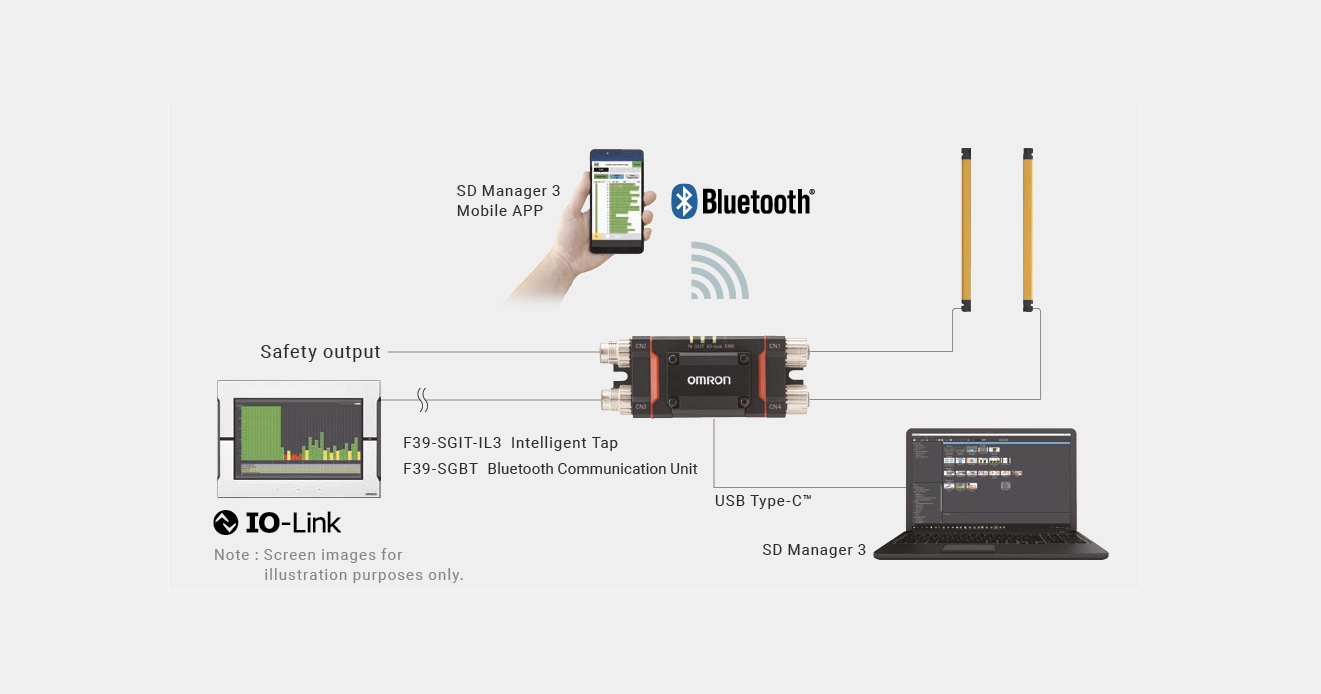 Specifications & ordering info
| Product | Type of safety acc. IEC 61496-1 | Type of sensor | Detection capability | Safety field height | Beam gap | Number of beams | Number of protected semiconductor outputs | Number of semiconductor outputs with signalling function | Maximum safety range | Minimum operating distance | Time of reaction | Cascadable | With muting function | With beam coding | Type of switching output of the OSSD | Communication port(s) | Special function | Description |
| --- | --- | --- | --- | --- | --- | --- | --- | --- | --- | --- | --- | --- | --- | --- | --- | --- | --- | --- |
| | 2 | Finger detection | 14 mm | 160 mm | 10 mm | 15 | 2 | 1 | 10 m | 0.3 m | 8 ms | Yes | Yes | Yes | PNP/NPN | Other | | Safety Light Curtain, F3SG-SRB Standard, Type 2, 14 mm resolution, range 0.3 to 10.0 m, height 160 mm, PNP/NPN |
| | 2 | Hand detection | 25 mm | 160 mm | 20 mm | 8 | 2 | 1 | 20 m | 0.3 m | 8 ms | Yes | Yes | Yes | PNP/NPN | Other | | Safety Light Curtain, F3SG-SRB Standard, Type 2, 25 mm resolution, range 0.3 to 20.0 m, height 160 mm, PNP/NPN |
| | 2 | Hand detection | 25 mm | 240 mm | 20 mm | 12 | 2 | 1 | 20 m | 0.3 m | 8 ms | Yes | Yes | Yes | PNP/NPN | Other | | Safety Light Curtain, F3SG-SRB Standard, Type 2, 25 mm resolution, range 0.3 to 20.0 m, height 240 mm, PNP/NPN |
| | 2 | Finger detection | 14 mm | 320 mm | 10 mm | 31 | 2 | 1 | 10 m | 0.3 m | 8 ms | Yes | Yes | Yes | PNP/NPN | Other | | Safety Light Curtain, F3SG-SRB Standard, Type 2, 14 mm resolution, range 0.3 to 10.0 m, height 320 mm, PNP/NPN |
| | 2 | Hand detection | 25 mm | 320 mm | 20 mm | 16 | 2 | 1 | 20 m | 0.3 m | 8 ms | Yes | Yes | Yes | PNP/NPN | Other | | Safety Light Curtain, F3SG-SRB Standard, Type 2, 25 mm resolution, range 0.3 to 20.0 m, height 320 mm, PNP/NPN |
| | 2 | Finger detection | 14 mm | 400 mm | 10 mm | 39 | 2 | 1 | 10 m | 0.3 m | 8 ms | Yes | Yes | Yes | PNP/NPN | Other | | Safety Light Curtain, F3SG-SRB Standard, Type 2, 14 mm resolution, range 0.3 to 10.0 m, height 400 mm, PNP/NPN |
| | 2 | Hand detection | 25 mm | 400 mm | 20 mm | 20 | 2 | 1 | 20 m | 0.3 m | 8 ms | Yes | Yes | Yes | PNP/NPN | Other | | Safety Light Curtain, F3SG-SRB Standard, Type 2, 25 mm resolution, range 0.3 to 20.0 m, height 400 mm, PNP/NPN |
| | 2 | Finger detection | 14 mm | 480 mm | 10 mm | 47 | 2 | 1 | 10 m | 0.3 m | 13 ms | Yes | Yes | Yes | PNP/NPN | Other | | Safety Light Curtain, F3SG-SRB Standard, Type 2, 14 mm resolution, range 0.3 to 10.0 m, height 480 mm, PNP/NPN |
| | 2 | Hand detection | 25 mm | 480 mm | 20 mm | 24 | 2 | 1 | 20 m | 0.3 m | 8 ms | Yes | Yes | Yes | PNP/NPN | Other | | Safety Light Curtain, F3SG-SRB Standard, Type 2, 25 mm resolution, range 0.3 to 20.0 m, height 480 mm, PNP/NPN |
| | 2 | Finger detection | 14 mm | 560 mm | 10 mm | 55 | 2 | 1 | 10 m | 0.3 m | 13 ms | Yes | Yes | Yes | PNP/NPN | Other | | Safety Light Curtain, F3SG-SRB Standard, Type 2, 14 mm resolution, range 0.3 to 10.0 m, height 560 mm, PNP/NPN |
| | 2 | Hand detection | 25 mm | 560 mm | 20 mm | 28 | 2 | 1 | 20 m | 0.3 m | 8 ms | Yes | Yes | Yes | PNP/NPN | Other | | Safety Light Curtain, F3SG-SRB Standard, Type 2, 25 mm resolution, range 0.3 to 20.0 m, height 560 mm, PNP/NPN |
| | 2 | Finger detection | 14 mm | 640 mm | 10 mm | 63 | 2 | 1 | 10 m | 0.3 m | 13 ms | Yes | Yes | Yes | PNP/NPN | Other | | Safety Light Curtain, F3SG-SRB Standard, Type 2, 14 mm resolution, range 0.3 to 10.0 m, height 640 mm, PNP/NPN |
| | 2 | Hand detection | 25 mm | 640 mm | 20 mm | 32 | 2 | 1 | 20 m | 0.3 m | 8 ms | Yes | Yes | Yes | PNP/NPN | Other | | Safety Light Curtain, F3SG-SRB Standard, Type 2, 25 mm resolution, range 0.3 to 20.0 m, height 640 mm, PNP/NPN |
| | 2 | Hand detection | 25 mm | 720 mm | 20 mm | 36 | 2 | 1 | 20 m | 0.3 m | 8 ms | Yes | Yes | Yes | PNP/NPN | Other | | Safety Light Curtain, F3SG-SRB Standard, Type 2, 25 mm resolution, range 0.3 to 20.0 m, height 720 mm, PNP/NPN |
| | 2 | Hand detection | 25 mm | 800 mm | 20 mm | 40 | 2 | 1 | 20 m | 0.3 m | 8 ms | Yes | Yes | Yes | PNP/NPN | Other | | Safety Light Curtain, F3SG-SRB Standard, Type 2, 25 mm resolution, range 0.3 to 20.0 m, height 800 mm, PNP/NPN |
| | 2 | Hand detection | 25 mm | 880 mm | 20 mm | 44 | 2 | 1 | 20 m | 0.3 m | 13 ms | Yes | Yes | Yes | PNP/NPN | Other | | Safety Light Curtain, F3SG-SRB Standard, Type 2, 25 mm resolution, range 0.3 to 20.0 m, height 880 mm, PNP/NPN |
| | 2 | Hand detection | 25 mm | 960 mm | 20 mm | 48 | 2 | 1 | 20 m | 0.3 m | 13 ms | Yes | Yes | Yes | PNP/NPN | Other | | Safety Light Curtain, F3SG-SRB Standard, Type 2, 25 mm resolution, range 0.3 to 20.0 m, height 960 mm, PNP/NPN |
| | 2 | Finger detection | 14 mm | 1000 mm | 10 mm | 99 | 2 | 1 | 10 m | 0.3 m | 13 ms | Yes | Yes | Yes | PNP/NPN | Other | | Safety Light Curtain, F3SG-SRB Standard, Type 2, 14 mm resolution, range 0.3 to 10.0 m, height 1000 mm, PNP/NPN |
| | 2 | Hand detection | 25 mm | 1040 mm | 20 mm | 52 | 2 | 1 | 20 m | 0.3 m | 13 ms | Yes | Yes | Yes | PNP/NPN | Other | | Safety Light Curtain, F3SG-SRB Standard, Type 2, 25 mm resolution, range 0.3 to 20.0 m, height 1040 mm, PNP/NPN |
| | 2 | Hand detection | 25 mm | 1120 mm | 20 mm | 56 | 2 | 1 | 20 m | 0.3 m | 13 ms | Yes | Yes | Yes | PNP/NPN | Other | | Safety Light Curtain, F3SG-SRB Standard, Type 2, 25 mm resolution, range 0.3 to 20.0 m, height 1120 mm, PNP/NPN |
| | 2 | Hand detection | 25 mm | 1280 mm | 20 mm | 64 | 2 | 1 | 20 m | 0.3 m | 13 ms | Yes | Yes | Yes | PNP/NPN | Other | | Safety Light Curtain, F3SG-SRB Standard, Type 2, 25 mm resolution, range 0.3 to 20.0 m, height 1280 mm, PNP/NPN |
| | 2 | Hand detection | 25 mm | 1600 mm | 20 mm | 80 | 2 | 1 | 20 m | 0.3 m | 13 ms | Yes | Yes | Yes | PNP/NPN | Other | | Safety Light Curtain, F3SG-SRB Standard, Type 2, 25 mm resolution, range 0.3 to 20.0 m, height 1600 mm, PNP/NPN |
| | 4 | Hand detection | 25 mm | 240 mm | 20 mm | 12 | 2 | 1 | 20 m | 0.3 m | 8 ms | Yes | Yes | Yes | PNP/NPN | Other | Area Beam Indicator, Vibration detection | Safety Light Curtain, F3SG-SRA Advanced, Type 4, 25 mm resolution, range 0.3 to 20.0 m, height 240 mm, PNP/NPN |
| | 4 | Hand detection | 25 mm | 280 mm | 20 mm | 14 | 2 | 1 | 20 m | 0.3 m | 8 ms | Yes | Yes | Yes | PNP/NPN | Other | Area Beam Indicator, Vibration detection | Safety Light Curtain, F3SG-SRA Advanced, Type 4, 25 mm resolution, range 0.3 to 20.0 m, height 280 mm, PNP/NPN |
| | 4 | Finger detection | 14 mm | 320 mm | 10 mm | 31 | 2 | 1 | 10 m | 0.3 m | 8 ms | Yes | Yes | Yes | PNP/NPN | Other | Area Beam Indicator, Vibration detection | Safety Light Curtain, F3SG-SRA Advanced, Type 4, 14 mm resolution, range 0.3 to 20.0 m, height 320 mm, PNP/NPN |
| | 4 | Hand detection | 25 mm | 320 mm | 20 mm | 16 | 2 | 1 | 20 m | 0.3 m | 8 ms | Yes | Yes | Yes | PNP/NPN | Other | Area Beam Indicator, Vibration detection | Safety Light Curtain, F3SG-SRA Advanced, Type 4, 25 mm resolution, range 0.3 to 20.0 m, height 320 mm, PNP/NPN |
| | 4 | Finger detection | 14 mm | 400 mm | 10 mm | 39 | 2 | 1 | 10 m | 0.3 m | 8 ms | Yes | Yes | Yes | PNP/NPN | Other | Area Beam Indicator, Vibration detection | Safety Light Curtain, F3SG-SRA Advanced, Type 4, 14 mm resolution, range 0.3 to 20.0 m, height 400 mm, PNP/NPN |
| | 4 | Hand detection | 25 mm | 440 mm | 20 mm | 22 | 2 | 1 | 20 m | 0.3 m | 8 ms | Yes | Yes | Yes | PNP/NPN | Other | Area Beam Indicator, Vibration detection | Safety Light Curtain, F3SG-SRA Advanced, Type 4, 25 mm resolution, range 0.3 to 20.0 m, height 440 mm, PNP/NPN |
| | 4 | Finger detection | 14 mm | 480 mm | 10 mm | 47 | 2 | 1 | 10 m | 0.3 m | 13 ms | Yes | Yes | Yes | PNP/NPN | Other | Area Beam Indicator, Vibration detection | Safety Light Curtain, F3SG-SRA Advanced, Type 4, 14 mm resolution, range 0.3 to 20.0 m, height 480 mm, PNP/NPN |
| | 4 | Hand detection | 25 mm | 480 mm | 20 mm | 24 | 2 | 1 | 20 m | 0.3 m | 8 ms | Yes | Yes | Yes | PNP/NPN | Other | Area Beam Indicator, Vibration detection | Safety Light Curtain, F3SG-SRA Advanced, Type 4, 25 mm resolution, range 0.3 to 20.0 m, height 480 mm, PNP/NPN |
| | 4 | Finger detection | 14 mm | 600 mm | 10 mm | 59 | 2 | 1 | 10 m | 0.3 m | 13 ms | Yes | Yes | Yes | PNP/NPN | Other | Area Beam Indicator, Vibration detection | Safety Light Curtain, F3SG-SRA Advanced, Type 4, 14 mm resolution, range 0.3 to 20.0 m, height 600 mm, PNP/NPN |
| | 4 | Finger detection | 14 mm | 640 mm | 10 mm | 63 | 2 | 1 | 10 m | 0.3 m | 13 ms | Yes | Yes | Yes | PNP/NPN | Other | Area Beam Indicator, Vibration detection | Safety Light Curtain, F3SG-SRA Advanced, Type 4, 14 mm resolution, range 0.3 to 20.0 m, height 640 mm, PNP/NPN |
| | 4 | Finger detection | 14 mm | 800 mm | 10 mm | 79 | 2 | 1 | 10 m | 0.3 m | 13 ms | Yes | Yes | Yes | PNP/NPN | Other | Area Beam Indicator, Vibration detection | Safety Light Curtain, F3SG-SRA Advanced, Type 4, 14 mm resolution, range 0.3 to 20.0 m, height 800 mm, PNP/NPN |
| | 4 | Finger detection | 14 mm | 1000 mm | 10 mm | 99 | 2 | 1 | 10 m | 0.3 m | 13 ms | Yes | Yes | Yes | PNP/NPN | Other | Area Beam Indicator, Vibration detection | Safety Light Curtain, F3SG-SRA Advanced, Type 4, 14 mm resolution, range 0.3 to 20.0 m, height 1000 mm, PNP/NPN |
| | 4 | Hand detection | 25 mm | 1000 mm | 20 mm | 50 | 2 | 1 | 20 m | 0.3 m | 13 ms | Yes | Yes | Yes | PNP/NPN | Other | Area Beam Indicator, Vibration detection | Safety Light Curtain, F3SG-SRA Advanced, Type 4, 25 mm resolution, range 0.3 to 20.0 m, height 1000 mm, PNP/NPN |
| | 4 | Hand detection | 25 mm | 1200 mm | 20 mm | 60 | 2 | 1 | 20 m | 0.3 m | 13 ms | Yes | Yes | Yes | PNP/NPN | Other | Area Beam Indicator, Vibration detection | Safety Light Curtain, F3SG-SRA Advanced, Type 4, 25 mm resolution, range 0.3 to 20.0 m, height 1200 mm, PNP/NPN |
| | 4 | Hand detection | 25 mm | 1520 mm | 20 mm | 76 | 2 | 1 | 20 m | 0.3 m | 13 ms | Yes | Yes | Yes | PNP/NPN | Other | Area Beam Indicator, Vibration detection | Safety Light Curtain, F3SG-SRA Advanced, Type 4, 25 mm resolution, range 0.3 to 20.0 m, height 1520 mm, PNP/NPN |
| | 4 | Arm/leg detection | 45 mm | 1520 mm | 40 mm | 38 | 2 | 1 | 20 m | 0.3 m | 8 ms | Yes | Yes | Yes | PNP/NPN | Other | Area Beam Indicator, Vibration detection | Safety Light Curtain, F3SG-SRA Advanced, Type 4, 45 mm resolution, range 0.3 to 20.0 m, height 1520 mm, PNP/NPN |
| | 4 | Finger detection | 14 mm | 1600 mm | 10 mm | 159 | 2 | 1 | 10 m | 0.3 m | 18 ms | Yes | Yes | Yes | PNP/NPN | Other | Area Beam Indicator, Vibration detection | Safety Light Curtain, F3SG-SRA Advanced, Type 4, 14 mm resolution, range 0.3 to 20.0 m, height 1600 mm, PNP/NPN |
| | 4 | Hand detection | 25 mm | 1600 mm | 20 mm | 80 | 2 | 1 | 20 m | 0.3 m | 13 ms | Yes | Yes | Yes | PNP/NPN | Other | Area Beam Indicator, Vibration detection | Safety Light Curtain, F3SG-SRA Advanced, Type 4, 25 mm resolution, range 0.3 to 20.0 m, height 1600 mm, PNP/NPN |
| | 4 | Finger detection | 14 mm | 1800 mm | 10 mm | 179 | 2 | 1 | 10 m | 0.3 m | 18 ms | Yes | Yes | Yes | PNP/NPN | Other | Area Beam Indicator, Vibration detection | Safety Light Curtain, F3SG-SRA Advanced, Type 4, 14 mm resolution, range 0.3 to 20.0 m, height 1800 mm, PNP/NPN |
| | 4 | Finger detection | 14 mm | 2000 mm | 10 mm | 199 | 2 | 1 | 10 m | 0.3 m | 18 ms | Yes | Yes | Yes | PNP/NPN | Other | Area Beam Indicator, Vibration detection | Safety Light Curtain, F3SG-SRA Advanced, Type 4, 14 mm resolution, range 0.3 to 20.0 m, height 2000 mm, PNP/NPN |
| | 4 | Hand detection | 25 mm | 2480 mm | 20 mm | 124 | 2 | 1 | 20 m | 0.3 m | 13 ms | Yes | Yes | Yes | PNP/NPN | Other | Area Beam Indicator, Vibration detection | Safety Light Curtain, F3SG-SRA Advanced, Type 4, 25 mm resolution, range 0.3 to 20.0 m, height 2480 mm, PNP/NPN |
| | 4 | Finger detection | 14 mm | 160 mm | 10 mm | 15 | 2 | 1 | 10 m | 0.3 m | 8 ms | Yes | Yes | Yes | PNP/NPN | Other | | Safety Light Curtain, F3SG-SRB Standard, Type 4, 14 mm resolution, range 0.3 to 10.0 m, height 160 mm, PNP/NPN |
| | 4 | Finger detection | 14 mm | 240 mm | 10 mm | 23 | 2 | 1 | 10 m | 0.3 m | 8 ms | Yes | Yes | Yes | PNP/NPN | Other | | Safety Light Curtain, F3SG-SRB Standard, Type 4, 14 mm resolution, range 0.3 to 10.0 m, height 240 mm, PNP/NPN |
| | 4 | Hand detection | 25 mm | 280 mm | 20 mm | 14 | 2 | 1 | 20 m | 0.3 m | 8 ms | Yes | Yes | Yes | PNP/NPN | Other | | Safety Light Curtain, F3SG-SRB Standard, Type 4, 25 mm resolution, range 0.3 to 20.0 m, height 280 mm, PNP/NPN |
| | 4 | Finger detection | 14 mm | 320 mm | 10 mm | 31 | 2 | 1 | 10 m | 0.3 m | 8 ms | Yes | Yes | Yes | PNP/NPN | Other | | Safety Light Curtain, F3SG-SRB Standard, Type 4, 14 mm resolution, range 0.3 to 10.0 m, height 320 mm, PNP/NPN |
| | 4 | Finger detection | 14 mm | 400 mm | 10 mm | 39 | 2 | 1 | 10 m | 0.3 m | 8 ms | Yes | Yes | Yes | PNP/NPN | Other | | Safety Light Curtain, F3SG-SRB Standard, Type 4, 14 mm resolution, range 0.3 to 10.0 m, height 400 mm, PNP/NPN |
| | 4 | Hand detection | 25 mm | 440 mm | 20 mm | 22 | 2 | 1 | 20 m | 0.3 m | 8 ms | Yes | Yes | Yes | PNP/NPN | Other | | Safety Light Curtain, F3SG-SRB Standard, Type 4, 25 mm resolution, range 0.3 to 20.0 m, height 440 mm, PNP/NPN |
| | 4 | Finger detection | 14 mm | 480 mm | 10 mm | 47 | 2 | 1 | 10 m | 0.3 m | 13 ms | Yes | Yes | Yes | PNP/NPN | Other | | Safety Light Curtain, F3SG-SRB Standard, Type 4, 14 mm resolution, range 0.3 to 10.0 m, height 480 mm, PNP/NPN |
| | 4 | Hand detection | 25 mm | 520 mm | 20 mm | 26 | 2 | 1 | 20 m | 0.3 m | 8 ms | Yes | Yes | Yes | PNP/NPN | Other | | Safety Light Curtain, F3SG-SRB Standard, Type 4, 25 mm resolution, range 0.3 to 20.0 m, height 520 mm, PNP/NPN |
| | 4 | Finger detection | 14 mm | 560 mm | 10 mm | 55 | 2 | 1 | 10 m | 0.3 m | 13 ms | Yes | Yes | Yes | PNP/NPN | Other | | Safety Light Curtain, F3SG-SRB Standard, Type 4, 14 mm resolution, range 0.3 to 10.0 m, height 560 mm, PNP/NPN |
| | 4 | Hand detection | 25 mm | 600 mm | 20 mm | 30 | 2 | 1 | 20 m | 0.3 m | 8 ms | Yes | Yes | Yes | PNP/NPN | Other | | Safety Light Curtain, F3SG-SRB Standard, Type 4, 25 mm resolution, range 0.3 to 20.0 m, height 600 mm, PNP/NPN |
| | 4 | Finger detection | 14 mm | 640 mm | 10 mm | 63 | 2 | 1 | 10 m | 0.3 m | 13 ms | Yes | Yes | Yes | PNP/NPN | Other | | Safety Light Curtain, F3SG-SRB Standard, Type 4, 14 mm resolution, range 0.3 to 10.0 m, height 640 mm, PNP/NPN |
| | 4 | Hand detection | 25 mm | 680 mm | 20 mm | 34 | 2 | 1 | 20 m | 0.3 m | 8 ms | Yes | Yes | Yes | PNP/NPN | Other | | Safety Light Curtain, F3SG-SRB Standard, Type 4, 25 mm resolution, range 0.3 to 20.0 m, height 680 mm, PNP/NPN |
| | 4 | Finger detection | 14 mm | 720 mm | 10 mm | 71 | 2 | 1 | 10 m | 0.3 m | 13 ms | Yes | Yes | Yes | PNP/NPN | Other | | Safety Light Curtain, F3SG-SRB Standard, Type 4, 14 mm resolution, range 0.3 to 10.0 m, height 720 mm, PNP/NPN |
| | 4 | Hand detection | 25 mm | 760 mm | 20 mm | 38 | 2 | 1 | 20 m | 0.3 m | 8 ms | Yes | Yes | Yes | PNP/NPN | Other | | Safety Light Curtain, F3SG-SRB Standard, Type 4, 25 mm resolution, range 0.3 to 20.0 m, height 760 mm, PNP/NPN |
| | 4 | Finger detection | 14 mm | 800 mm | 10 mm | 79 | 2 | 1 | 10 m | 0.3 m | 13 ms | Yes | Yes | Yes | PNP/NPN | Other | | Safety Light Curtain, F3SG-SRB Standard, Type 4, 14 mm resolution, range 0.3 to 10.0 m, height 800 mm, PNP/NPN |
| | 4 | Hand detection | 25 mm | 840 mm | 20 mm | 42 | 2 | 1 | 20 m | 0.3 m | 13 ms | Yes | Yes | Yes | PNP/NPN | Other | | Safety Light Curtain, F3SG-SRB Standard, Type 4, 25 mm resolution, range 0.3 to 20.0 m, height 840 mm, PNP/NPN |
| | 4 | Finger detection | 14 mm | 880 mm | 10 mm | 87 | 2 | 1 | 10 m | 0.3 m | 13 ms | Yes | Yes | Yes | PNP/NPN | Other | | Safety Light Curtain, F3SG-SRB Standard, Type 4, 14 mm resolution, range 0.3 to 10.0 m, height 880 mm, PNP/NPN |
| | 4 | Hand detection | 25 mm | 920 mm | 20 mm | 46 | 2 | 1 | 20 m | 0.3 m | 13 ms | Yes | Yes | Yes | PNP/NPN | Other | | Safety Light Curtain, F3SG-SRB Standard, Type 4, 25 mm resolution, range 0.3 to 20.0 m, height 920 mm, PNP/NPN |
| | 4 | Finger detection | 14 mm | 960 mm | 10 mm | 95 | 2 | 1 | 10 m | 0.3 m | 13 ms | Yes | Yes | Yes | PNP/NPN | Other | | Safety Light Curtain, F3SG-SRB Standard, Type 4, 14 mm resolution, range 0.3 to 10.0 m, height 960 mm, PNP/NPN |
| | 4 | Hand detection | 25 mm | 1000 mm | 20 mm | 50 | 2 | 1 | 20 m | 0.3 m | 13 ms | Yes | Yes | Yes | PNP/NPN | Other | | Safety Light Curtain, F3SG-SRB Standard, Type 4, 25 mm resolution, range 0.3 to 20.0 m, height 1000 mm, PNP/NPN |
| | 4 | Hand detection | 25 mm | 1040 mm | 20 mm | 52 | 2 | 1 | 20 m | 0.3 m | 13 ms | Yes | Yes | Yes | PNP/NPN | Other | | Safety Light Curtain, F3SG-SRB Standard, Type 4, 25 mm resolution, range 0.3 to 20.0 m, height 1040 mm, PNP/NPN |
| | 4 | Hand detection | 25 mm | 1120 mm | 20 mm | 56 | 2 | 1 | 20 m | 0.3 m | 13 ms | Yes | Yes | Yes | PNP/NPN | Other | | Safety Light Curtain, F3SG-SRB Standard, Type 4, 25 mm resolution, range 0.3 to 20.0 m, height 1120 mm, PNP/NPN |
| | 4 | Hand detection | 25 mm | 1280 mm | 20 mm | 64 | 2 | 1 | 20 m | 0.3 m | 13 ms | Yes | Yes | Yes | PNP/NPN | Other | | Safety Light Curtain, F3SG-SRB Standard, Type 4, 25 mm resolution, range 0.3 to 20.0 m, height 1280 mm, PNP/NPN |
| | 4 | Hand detection | 25 mm | 1440 mm | 20 mm | 72 | 2 | 1 | 20 m | 0.3 m | 13 ms | Yes | Yes | Yes | PNP/NPN | Other | | Safety Light Curtain, F3SG-SRB Standard, Type 4, 25 mm resolution, range 0.3 to 20.0 m, height 1440 mm, PNP/NPN |
| | 4 | Hand detection | 25 mm | 1600 mm | 20 mm | 80 | 2 | 1 | 20 m | 0.3 m | 13 ms | Yes | Yes | Yes | PNP/NPN | Other | | Safety Light Curtain, F3SG-SRB Standard, Type 4, 25 mm resolution, range 0.3 to 20.0 m, height 1600 mm, PNP/NPN |
| | 4 | Hand detection | 25 mm | 1760 mm | 20 mm | 88 | 2 | 1 | 20 m | 0.3 m | 13 ms | Yes | Yes | Yes | PNP/NPN | Other | | Safety Light Curtain, F3SG-SRB Standard, Type 4, 25 mm resolution, range 0.3 to 20.0 m, height 1760 mm, PNP/NPN |
Compare products
Show more products