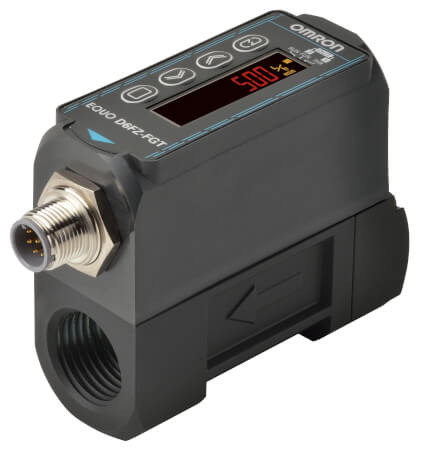 D6FZ-FGT Series
Identify compressed air energy waste at the machine level
D6FZ-FGT200/500 series of compressed air sensors allows you to measure when and where your machine uses excessive energy.
High accuracy flow measurement
Leakage, usage measurement with one unique product
1 Analogue and 2 pulse outputs
RS485 communications
High degree of protection: IP65 (-FGT200/500)
Mountable to curved pipe
LCD display
Threshold value (peak/bottom/leak)
Auto-tuning for leakage measurements thanks to our Dual Gain Algorithm
Specifications & ordering info
Ordering information
Units
| | | |
| --- | --- | --- |
| | | |
| | | |
| | | |
| | | |
| | Air flow sensor set (1000L type) | |
Accessories (sold separately)
(Air flow sensor D6FZ-FGT only)

(Air flow station D6FZ-FGX21 only)
Specifications
Air flow sensor
Air, nitrogen (N2)1

Measurement range2

Accuracy2

Momentary flow/integrated flow/reversing display/zero point adjustment/peak and bottom hold/key lock/eco model/scaling (analog output)/judgement hysteresis/teaching

Current output 4 to 20 mA (1 contact), maximum load resistance 300 Ω max.

Open collector output (2 outputs) 26.4 VDC 50 mA max.

(Outputs can be selected from judgement output, pulse output and unit error output)

2-wire half duplex communication, start-stop synchronized method

Baud rate: 9.6k/19.2k/38.4k/115.2kbps, data bit length: 7/8bit,

stop bit length: 1/2bit, parity: none/even/odd,

termination resister (120 Ω ): ON/OFF,

Momentary flow, integrated flow, judgement output, unit error output
Direct piping:10 kPa max. (0.5 MPa, at maximum flow)

Using coupler (TL type by NAGAHORI INDUSTRY CO., LTD.):

16 to 24 VDC ±10% ripple (p-p) 10% max. (Using single unit),

Current output 4 to 20 mA (2 contact)3 Max. load resistance 270 Ω max.

Open drain output (2 outputs)4 24 VDC 50mA max.

ON residual voltage 1.5 V max., OFF leakage current 50 µA max.

2-wire half duplex communication, start-stop synchronized method

Baud rate: 115.2 kbps (fixed), Data bit length: 8 bits (fixed), stop bit length: 1 bit (fixed), parity: even (fixed), communications protocol: compatible with CompoWay/F

Momentary standard flow, integrated standard flow, pressure, unit error output
---
How can we help you?
If you have a question or would like to ask for a quote, please contact us or send a request.
Request
Contact us
Contact me D6FZ-FGT Series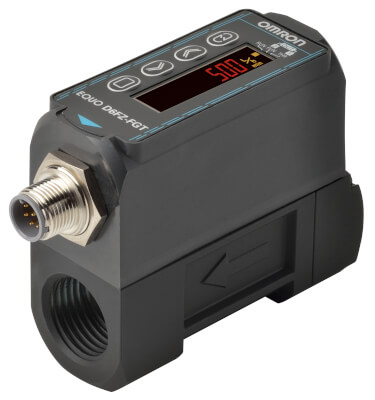 Thank you for submitting your request. We will come back to you as soon as possible.
We are experiencing technical difficulties. Your form submission has not been successful. Please accept our apologies and try again later. Details: [details]
Download
Request quotation
Request quotation
Quotation for D6FZ-FGT Series
By completing this form you can request a quotation. Your personal details will be handled confidentially.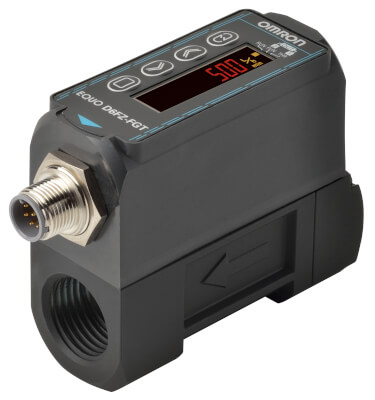 Thank you for requesting a quotation. We will provide you with the required information as soon as possible.
We are experiencing technical difficulties. Your form submission has not been successful. Please accept our apologies and try again later. Details: [details]
Download