Sysmac Integrated Platform expanded with CNC functionality
The complete line control and CNC in one brings flexibility and high productivity for today's manufacturing.
We are constantly evolving and developing new products and functionalities to provide everything that is needed in a controlled architecture. In order to go one step further, we integrate CNC functionality into the Sysmac Automation Platform enabling accurate path-following motion control for standard CNC applications such as XY cutting, milling or lathe among others.
This new functionality in combination with the Sysmac platform's existing motion, safety, vision and robotics capabilities allows complete production line control using G-code and the standard IEC programming languages. The complete integration of all production parts leads to a simplification in development, an increase in productivity and immediate product changeover.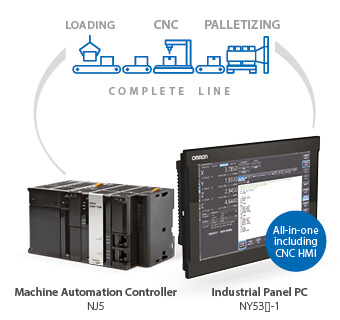 We provide a fully integrated platform for complete production line control in a single controller. This allows the use of the same standard programming languages for all processes, thus eliminating interlocks between machine operations.
Choose between two types of reliable and robust machine controllers: Modular Controller and the Openness of Industrial Panel PC. This high-speed and accuracy controller solution enables the synchronization of all machine devices, maximizing the complete production line throughput.
G-Code: standard RS-274 G-Code interpreter. Syntax compatibility with major CAD/CAM software
Compensation table: table-based algorithm for position, backlash or torque compensation. Typically used to correct leadscrew position or torque ripple
High Performance: Up to 500 μs cycle time including logic sequence, advanced motion and CNC
Advanced Block Lookahead: future instructions are analyzed in advance, movements are blended and optimized for speed and acceleration, providing improved performance
Cutter compensation 2D/3D: tool diameter and shape compensation, matching the cutting point exactly as specified in G-Code
Block Retrace for reversing the path: path can be reversed in order to remove the tool from the cutting area
Follow OMRON Industrial Automation Europe on Linkedin